Review: Camille Claudel 1915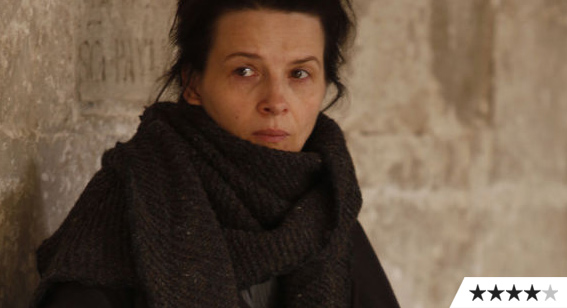 One of the most divisive voices in European cinema of the past twenty years, French auteur Bruno Dumont's work can be so alien in its rigid formalism that it even makes Michael Haneke's most severe misanthropic hectoring seem like a casual stroll in the park. Marked by the po-faced remove of his direction, and consistent employment of non-professional actors, Dumont, whose closest antecedent is Robert Bresson, has never been commercially friendly, so the fact that his latest film, Camille Claudel, 1915, is receiving a theatrical run outside of festival screenings here is a rare occasion that's cause enough for cinephiles to celebrate. That it's his first film to star an internationally renowned name like Juliette Binoche is no doubt a contributing factor to this, but to assume that Dumont is making any concessions to the masses wouldn't be accurate - Camille Claudel, 1915 is as ascetic and austere as anything he's done, and definitely not for everyone.
Focusing on a brief period in the life of Claudel (Binoche), the gifted protégé of pioneering sculptor Auguste Rodin who was confined, for reasons unbeknownst to her, in a mental asylum in Southern France, Dumont removes dramatic signposts expected of traditional biopics, carving a minimalist narrative, in which she eagerly awaits a visit from her brother, from the monastic clockwork routine of her experience. Haggard, frumpy, and surrounded by real-life mentally handicapped patients who unnervingly underscore her isolation, Binoche is stripped of any star quality, producing a performance of piercing, soul-baring purity. A welcome cinematic detox completely unlike anything you'll see in theatres this week.