Review: One Direction: This is Us 3D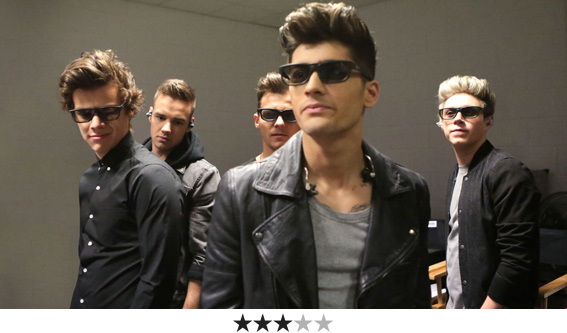 Not intent on converting any naysayers, 1D3D could have easily dumped some badly edited concert footage together onto their supposedly none-the-wiser demographic, but This is Us shows a wholehearted respect for its audience with this cinematic performance-biopic splicer. Morgan Spurlock, documentarian fave amongst many cine-hipster circles, admirably spruces up the concert experience with some post-production love as background graphics burst past the stage and into the foreground – a flashy, amusingly distracting gimmick that feels true to the band it accompanies. As you'd expect, the sound of One Direction proves sufficiently engulfing; it's a shame the music is wasted on my uninterested ears.
When we're not seeing One Direction making dreams come true on-stage, their off-stage shenanigans demonstrate their appealing earnestness as gents who just want to make the best of their gifted limelight. Their willingness to prank their own fans in disguise does a lot to make them likeable to non-directioners (unlike another unbelieberbly douchey pop star), but there's an overabundance of fluffing to the material that goes against the lads' genuineness. Particular 'heart-to-heart' segments feel ridiculously fabricated and repetitive while other more interesting qualities, like Zayn's devotion to the Muslim faith and cigarettes, are omitted. They occasionally touch on the pressure of their fame, but 1D3D's unwillingness to delve into anything stress-provoking or with even the slightest hint of contentiousness leaves us with a film about five likeable lads being… likeable. At 90 minutes, it feels like a stretch.
'One Direction: This is Us 3D' Movie Times (also playing in 2D)