Shelf Life will be my ongoing series of viewing diaries, writing about stuff I've picked off my shelf, seeing for the first time etc. Basically it's a way to force myself to clear the ever-growing backlog of unwatched movies…
---
Lucile Hadzihalilovic's Innocence from 2004 is one of those films that has somehow strangely, glaringly slipped our film festival over the years. And it's not exactly some impossible-to-sell anomaly that's unfit for fest audiences. Hadzihalilovic is a collaborator of Gaspar Noé – she edited his debut feature I Stand Alone, co-wrote Enter the Void (they're married too) – and the film's stylized setting at a girls' boarding school is rich with controversial and aesthetical qualities that would guarantee at least a modicum of intrigue for viewers who like their cinema a little offbeat and weeeird.
It would be too easy, and limiting though, to fixate on its images of prepubescent young girls (i.e. Slant Magazine's Nick Schager: "will likely be the consensus pick for best picture of the year among pedophiles worldwide."). Hadzihalilovic's gorgeously nebulous work, loosely based on German author Frank Wedekind's 1888 short story Mine Haha, or the Corporal Education of Girls, is an example of a true artist in complete, masterful control of everything – actors (and non-actors), wardrobe, sets, lighting, composition – to achieve what she wants.
Okay, Innocence isn't entirely without precedent, as its fairytale trappings (underground tunnels, dark forests, etc.) remind us of the cinematic rabbit holes of David Lynch, the ballet school surrealist horror of Dario Argento's Suspiria and the warped outsider paintings of Henry Darger. Maybe most interestingly, it also echoes cult French dreamweaver Jean Rollin with its tableaux of coffins and grandfather clocks, and still, trance-like pacing. But overall Hadzihalilovic's film transcends reference points; for a highly abstracted, thickly symbolic narrative about the experience of adolescence on the cusp of maturity, there's nothing quite like it. Innocence has yet receive a DVD release here but it's available from Artificial Eye in the UK.
---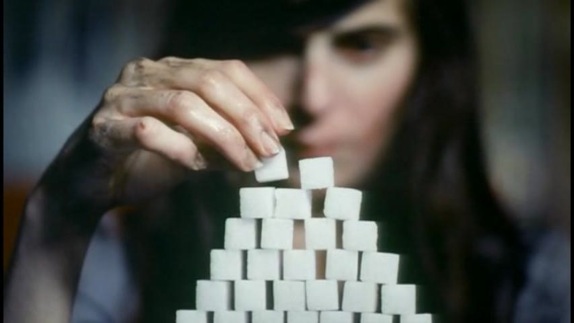 I've been meaning to check out this little-seen 1982 Aussie horror pic ever since Tarantino raved about it in Mark Hartley's terrific Ozploitation doco Not Quite Hollywood. The film's credentials are worth briefly mentioning: both director Tony Williams and writer Michael Heath are Kiwis, the latter wrote Sam Pillsbury's The Scarecrow and David Blyth's Death Warmed Up. Jacki Kerin stars as Linda, a woman who inherits and takes over her late mum's retirement home when spooky things begin happening, like taps being left on, old people turning up dead in baths and details of her mum's diary materialising in real life. On the surface seemingly a slasher, Next of Kin unfolds more in the slow-burning, suggestive Gothic tradition. The script's uneven, but the film is atmospheric as hell, stylishly shot, and arrives at a cracker of a finale that you leaves wondering why on the heck Williams hasn't made any more films after this. Komische giant Klaus Schulze's disquieting synth score is a monumental addition to the film's overall feel and impact. An Australian DVD came out several years ago but has since gone out-of-print.
---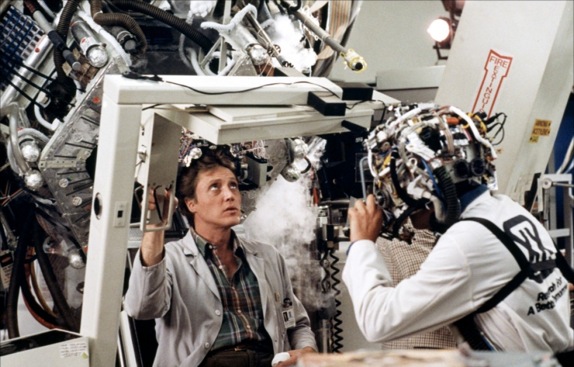 Douglas Trumbull is probably still more well-known today as the visionary behind the visual effects of 2001: A Space Odyssey, Blade Runner, and most recently The Tree of Life, but he also directed a couple of great films, the 1972 ecological sci-fi film Silent Running, and 1983′s Brainstorm, which delved into concepts of virtual reality well before the likes of Strange Days and The Matrix came along. Thoughtful and driven by big, stimulating ideas, it's the sort of "adult sci-fi" that's rarely made anymore, though if a remake to gussy it up was announced tomorrow I wouldn't be surprised. Louise Fletcher and Christopher Walken (in one of his more normal roles funnily enough) play scientists who create a device that is able to record brain activity and transfer it into another person's consciousness, i.e. you can put it on and feel like you're on a rollercoaster without leaving your office meeting.
To convey the vicarious, out-of-body intensity of experiencing "the Hat", Trumbull originally wanted to use a process he invented called Showscan, but when it didn't pan out it was shot normally on 35mm film with the virtual reality sequences opening up to 65mm 'scope dimensions. The magic is obviously lost on the small screen, but that doesn't stop the film being a timely, thematically provocative parable cautioning against the misappropriation of technology for nefarious military use, excessive personal pleasure and commercial gain. On another level, it's also works just well  as a sensorially ambitious trip into that unknown cosmic intersection of science, love, sex and death. Brainstorm was Natalie Wood's last film, she mysteriously died before the film was completed. Available on Blu-ray from Warner US.