Sourballs and Star Ratings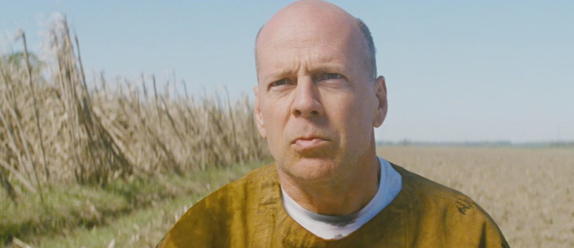 A couple of weeks ago after my review of Rian Johnson's time-travel noir Looper was published, two readers ("Edward", "liz") left mildly dismissive comments that got me thinking. My knee-jerk reaction was to respond in a snide, similarly toned manner, but I eventually decided otherwise, since the more I thought about the issues they were getting at, the more I thought a full blog post was necessary, and ultimately more constructive, to address them (as opposed to starting a 140-character tweet-sized flame war). It probably seems that I'm on the defensive (I partially am), but the intention is not to put these commenters on the spot, but to discuss stuff that might lead to a possibly better understanding of certain sentiments that readers have of film reviewers/critics* (or something like that).
---
Okay, first up is Edward, who commented:
"Flicks – what a sourballs review. She's a 5-star."
There are two things that we can unpack from this comment:
A SOURBALLS REVIEW
It basically sounds like the reader felt I was too harsh with a film he unconditionally loved, and didn't deserve the negative remarks I made about it. I'm guessing Edward's being a little facetious, but I'm not exactly sure how a largely positive review would count as "sourballs", especially when I say things like "jammed with clever ideas", "pleasures are plenty", "deserves kudos", etc. Did his reading of the few negative points (Willis's acting, lack of emotional ending) completely erase the impression that I actually liked the film?
A few questions to think about: do readers need critical validation of the film they loved anyway? What prompts a reader to place a comment of that nature, when there's no changing what they thought of the film – unless they do in fact, feel like they've been challenged, or made to rethink, however small, what they thought of it? I dunno.
Which brings me to…
STAR RATINGS

If I could live in a world where star ratings are not required to accompany a review, I'd be completely content. But it's a necessary evil. After reviewing films for nearly 10 years – for publications that do require ratings – it's something you quickly come to accept and deal with. There's nothing "bad" as such with star ratings. There's a place for them. Readers can get a quick gauge of a film's quality. Film distros can use them for PR/advertising purposes. And yes, it can even be useful for reviewers – as a form of discipline, a focusing tool – to help them write a review that matches the star rating.
But the downsides? Because they are visually powerful, immediate and final, people tend to fixate on them. You'll get pissed off distributors harassing editors over your 2-star review of The Day After Tomorrow (true story). In reality, stars are simply indicators. A star rating is the lazy person's review; if you really want to know how the reviewer felt about the film, READ the entire review. I mean, a 3-star film can actually be good and worth watching. Even 2 or 1 star films. It all depends on the person and what they want to take away from the film. I can enjoy a mediocre 2-star movie on the basis that it simply filled 90 minutes without demanding too much of me, and I can appreciate a 1-star film for how terrible it is, how it needs to be seen at least once.
There are many levels at play here, and the criteria for judging films varies. As far as I'm concerned, there is no All-Encompassing Rule of Star Ratings – you just need to be consistent with your logic, and sure there is a general logic (higher the rating, the better the film is). You could be a reviewer who thinks 5 stars = faultless masterpiece, or you could be one that assigns 5 stars regularly to any ol' film that gives you a massive boner. You could be writing for a newspaper that gives 5 stars to "Must Sees", 4 stars to films that are "Excellent". I fall into the camp where 5 star rating is left for something truly special. Something I could call a favourite film, a classic, a masterpiece.
I don't think Looper falls into either of those categories. How do I decide what gets 5 stars? When I watch a film from start to finish and there's nothing about it that irks me in any way, then it's likely to get a 5 or something close. It's that feeling where you connect 100% with everything a film does. It burrows into your soul and stays there. This rarely happens of course, that's why when it does it's all the more amazing. I don't see the point in handing 5 stars to just anything. On average most films are 2-3 star films. For me to give Looper 5 stars would mean that it's on the level of something like – to use another time travel film – La Jetee, which it is definitely not. Looper's a solid, entertaining film, but it doesn't resonate any more than that.
---
Second comment – Liz asks:
"Why is someone who has to turn their head when Willis is on reviewing a Willis movie?"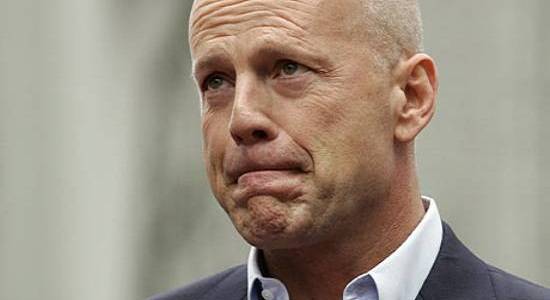 WHAT'CHU TALKIN' 'BOUT, WILLIS?
A few things here. Firstly I just need to get nitpicky and slightly correct that statement: I don't actually say that I turn my head when Willis is on. Only when he emotes. Turning the head is just an act of cringing. It doesn't mean I can't properly judge his performance – obviously I've watched it, and it's made me feel this way. Secondly, I'd argue that Looper is NOT a "Bruce Willis movie". Not a "Bruce Willis movie" in the sense that he gets single top A billing and plays unstoppable action hero (Die Hard et al). It's as much Joseph Gordon-Levitt's movie as it is Willis' movie.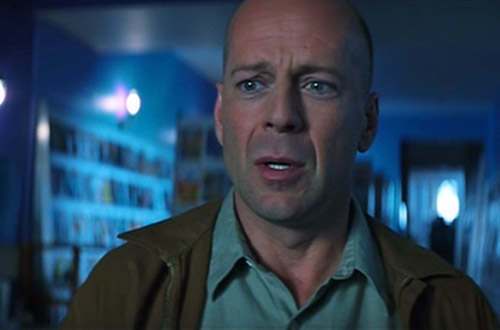 The third point is the one that seems to assume that you have to be a fan of Bruce Willis to review a movie starring Bruce Willis. I may be entirely wrong about this, but it reads to me like she might have assumed I have something against Willis so I shouldn't be reviewing his films. But that's not true – and how would I have known I was going to turn my head watching this performance BEFORE watching the movie? (this is getting as confusing as time travel!) What I was trying to say was that Willis' acting range – or more so, overall appeal – has lessened over the years. And it's apparent he's a lot less relevant these days. The guy's gone from doing films like Twelve Monkeys, Pulp Fiction, The Sixth Sense and The Fifth Element to slumming in DTV fare like Set-up, Catch .44 and The Cold Light of Day lately.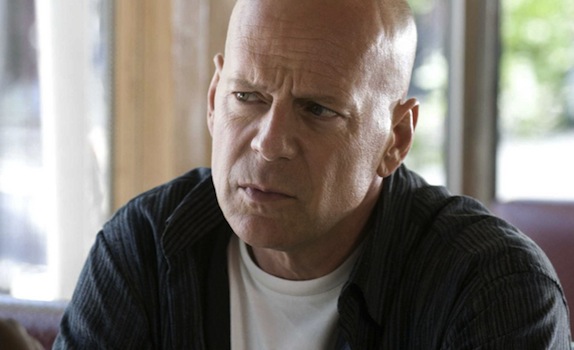 Anyway, getting back to the point about "only reviewing types of films you're a fan of, or starring actors you're a fan of etc" – well it does make sense, and it happens in practice. I try to review a wide variety of genres, but the truth is, like anyone, I'm drawn to specific genres (action, horror, thriller, sci-fi) more than others (rom-coms, costume dramas, quirky indie, anything bland). This is a problem too. Even if I feel more suited to review say, an action flick, I also hold higher standards for that genre, because I LOVE that genre, and KNOW that it can be done well (why is Stallone churning out self-satisfied dross like The Expendables 2 when he can make a real action movie like Rambo?). So yeah, they'll get a harder time from me.
---
* I've always felt uncomfortable/weird calling myself a film critic. I guess it boils down to semantics but I tend to say that I'm a "film reviewer". There seems to be a loftiness attached to the word "critic", like you need to add 20 years of experience before you actually can attain that title. Pauline Kael, Robert Ebert and Andrew Sarris are film critics, I'm just happy to review films for a little bit of pocket money.