Strange Encounters (Part 2)

[Part 2 of my revisitation of old Incredibly Strange Film Fest favourites; click here for the first part]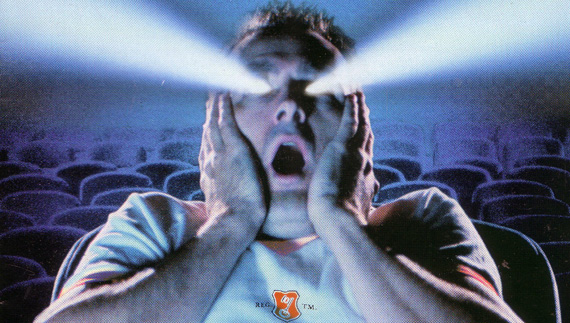 Oh man, Anguish. If there's one ISFF film I'd kill to see on the big screen again it's this severely blazed 1987 horror pic by Spanish director Bigas Luna (Jamón, jamón). Do NOT under any circumstances ever view this on a cropped VHS. The film's power is significantly diminished on home video and not because it just 'looks good on the big screen', but because its entire raison d'être is that it's designed to be seen in a theatre with an audience. It's about watching movies, and also about watching people watching movies. It's about how movies affect us when we watch them; in fact, if a film censor or watchdog ever required propaganda to prove the physical effects of cinema on the mind, or more specifically, how life can imitate art, all they really need to do is just present Anguish as evidence in court.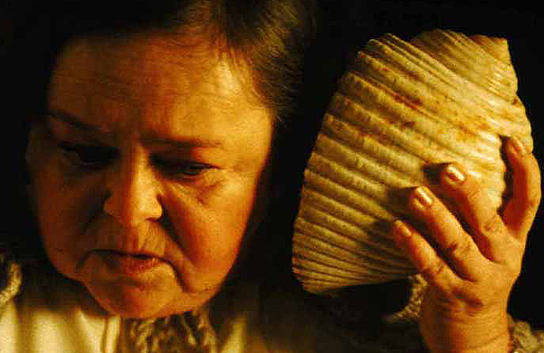 A difficult film to synopsize without ruining the whole experience, Anguish is best watched cold, but it's not a huge secret to reveal that it involves a film-within-a-film gimmick, and it actually holds up on repeated viewings even once you know the twists because it's so well-constructed and there's a giddy kick in seeing it all come together. The first portion of the film, introducing us to Michael Lerner as a psychotic, eye-scalpelling ophthalmologist and his domineering psychic mother Zelda Rubinstein, has some of the most incredible hypnosis sequences ever devised, with Lunas' surreal imagery of spirals and shells effectively pulling us into an ingenious narrative vortex.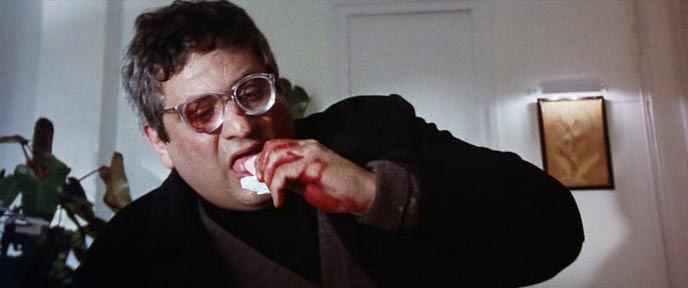 The body-count-in-a-cinema setting owes a bit to earlier self-reflexive films like Peter Bogdanovich's Targets ('68) and Lamberto Bava's Demons ('85), but Anguish takes the meta reality-bending much further, culminating in a thrilling, fabulously disorienting, and just frankly awesome hall-of-mirrors crescendo that'll make perfect sense and/or none at all once the credits roll and lights go up.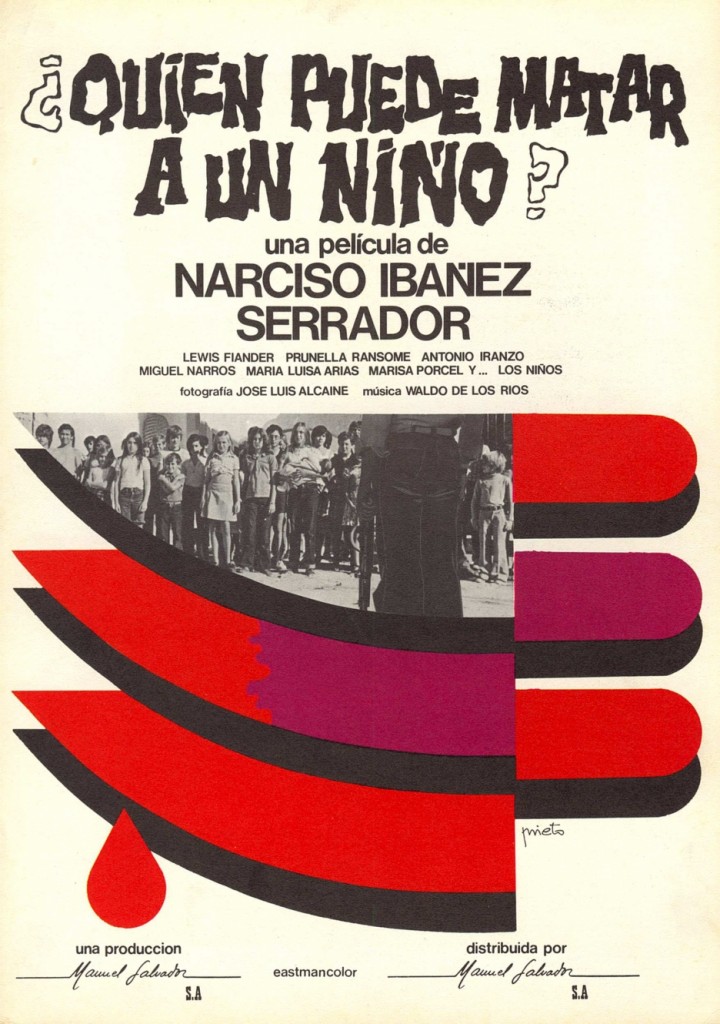 From ISFF 2000, Narciso Ibáñez Serrador's 1976 Who Can Kill a Child? (screened as Island of the Damned, the shortened American International Pictures print) stood out above all else. This wasn't some trashy Euro horror flick ripping off Village of the Damned, it was a dark, chilling, expert crafted thriller by a director who knew exactly what he was doing (Serrador's only other theatrical film The Finishing School is well worth the hunt too). What sets Who Can Kill a Child? apart from other entries in the evil-children genre is its angry politically-charged subtext, bluntly displayed in the long opening credits where grainy archival footage of children victimised in various wars of the 20th Century set an unnerving, unpleasant tone for the terror to come. Child death and violence remain fairly untouchable taboos in film today, but Serrador fearlessly confronts it, and plays up the notion of children revolting against their adult tormentors, while cleverly exploiting the fact their invincibility, if you will, as monsters lies in their deceptively innocent appearance.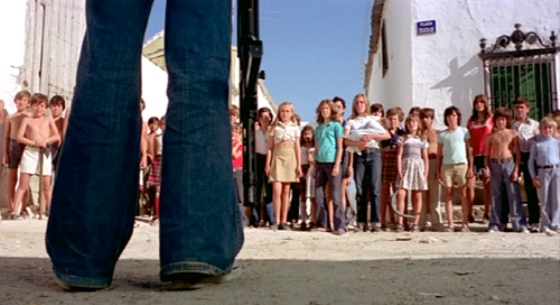 Fans of the slow-burn will love this one. The first shocks don't come until nearly an hour into the film, where its two main characters – an English couple played by Lewis Fiander and Prunella Ransome – discover that the adult inhabitants on the isolated Spanish island they're visiting have strangely disappeared and the children have taken over. Where Juan José Plans' novel made explicit the nature of the children's behaviour, Serrador's script leaves it open for us to decide. Freak evolutionary development? Something bad in the water? Either way, it fills the film with dread and sinister children gazing dispassionately on-screen when they're not beating old men to death and using their corpses as piñatas. Shot mostly in daylight by regular Almodovar DP José Luis Alcaine, the film's masterful use of locations adds to the eerie atmosphere. The ending will stay with you.

Funnily enough, ISFF '00 also saw the screening of another little known child abuse-themed parable, albeit one at the opposite end of Who Can Kill a Child? as far as creative vision goes. One of the few features made by gay porn director Larry G. Brown, Psychopath ('75) maybe the most neglected of all ISFF's trash jewels. Fans fondly remember Manos: The Hands of Fate and The Sinful Dwarf but it seems no one ever mentions wee ol' Psychopath, a film so misguided and loony it might have pushed lead actor Tom Basham to retire from the screen for over 20 years.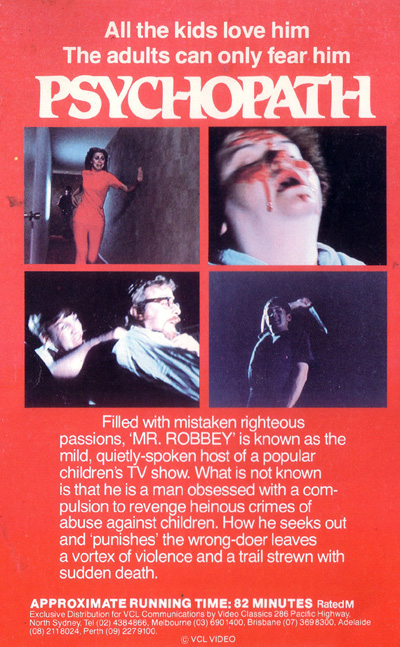 Basham, who bears a strange resemblance to Gus van Sant, plays Mr. Rabbey, a kids puppet TV show host who goes on a murderous crusade knocking off child-beating parents. The violence is fairly tame – we do get a strangling or two, a baseball bat to the face, an off-screen lawnmower kill – but it's not really an issue. Mr. Rabbey is already a sufficiently mesmerising weirdo, a gentle, effeminate, eye-liner-wearing man-child who looooves his chocolate cake and playing a bit of cathartic piano after killin' peeps. Meanwhile, the film's tonal imbalance – think a slasher film made by PSA writers – is further highlighted by a stupidly inappropriate score that sways from horror cues to chirpy honk tonk to funky beats without any rhyme nor reason. A message movie only the '70s could get so horribly, but magnificently wrong.
Anyone keen for a part 3 of Strange Encounters? Or shall I stop here?