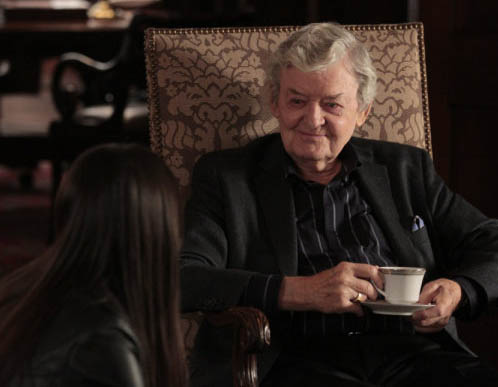 I've been plowing through the silliest TV series I've had the strangest pleasure of watching in a while. NBC's The Event only survived one season, and it's no surprise why after you've seen the pilot: there was no way in hell it could ever satisfyingly resolve the ludicrous narrative overreach of its Lost-meets-V-meets-FlashForward set-up. The show's not without moments that hint at potential, but this is essentially bad serial television – stupid twists, hammy performances, lame characters, a complete absence of identity and direction – and mostly fascinating and watchable because of it.
However, one of the actual GOOD things about the show is veteran actor Hal Holbrook, who pops in and out of the story as a character named James Dempsey, an old man of unknown power and wealth who appears to be pulling a lot of strings of what happens (just to be vague and un-spoilery should feel like watching it). In a show where a lot of the actors flounder hopelessly to "find" their characters in the midst of all the labyrinthine plot requirements, Holbrook lends an air of relaxed credibility and authority to the drama, even if he doesn't appear in every episode.
Best known for All The President's Men, where he played Deep Throat, and more recently his acclaimed and Oscar-nominated supporting part in Sean Penn's Into the Wild, Holbrook maybe one of the greatest unassuming actors of his generation still around. Javier Bardem, in a gracious display of respect and appreciation, said the latter was "one of the best performances" he had ever seen. Thinking about Holbrook prompted me to dust off the VHS of a relatively unknown 1979 movie he starred in called Natural Enemies, a remorselessly desolate character study about a man on the verge of wiping out his entire family.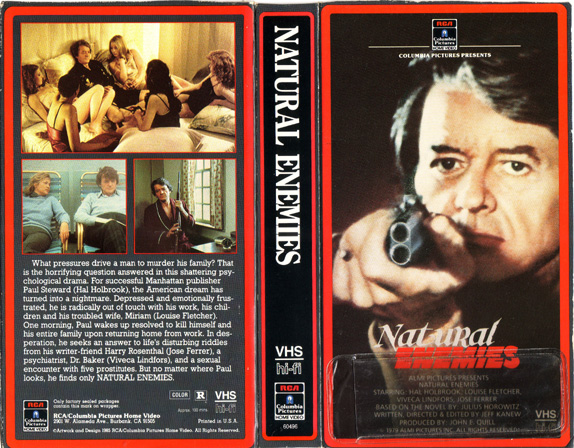 Based on a novel by Julius Horwitz, this is a powerful, gut-twisting, soul-destroying movie – it's hard to believe writer/director Jeff Kanew is the same man gave the world Revenge of the Nerds a few years later. If you're a fragile family guy in your 40s, best advice I can give you is to tread with caution before seeking it out. From the very first frame, you know things ain't gonna end happily: we close in on Holbrook, as magazine publisher Paul Steward, pensively looking out the window, talking about how "all men think about killing their family" before getting his rifle and loading it. His narration is heavy with resignation – there's no goddamn hope in his voice – and in the next scene, he creeps into bed with his manic depressive wife Miriam (Louise Fletcher), whom he hasn't slept next to in 8 months, and begins to jerk off under the sheets.
Natural Enemies is one slow psychological tumble from there, with Kanew shying away from exploitative, sensational elements and remaining true to the dreariness of Steward's routine, and the film's jaded worldview that once a man's incapability to provide for and protect his family has gotten the better of him, the only sensible – or "natural" – option is to get rid of them. It's heavy-duty stuff: at breakfast, Steward looks over to his daughter in a state of mind that ponders how sad it must be that men like him will want to sleep with her, and as the film progresses to its haunting, chillingly restrained conclusion, there's more dialogue about loneliness and his overwhelming dissatisfaction with everything in life. Holbrook's grimly internalised performance deserves more recognition.
---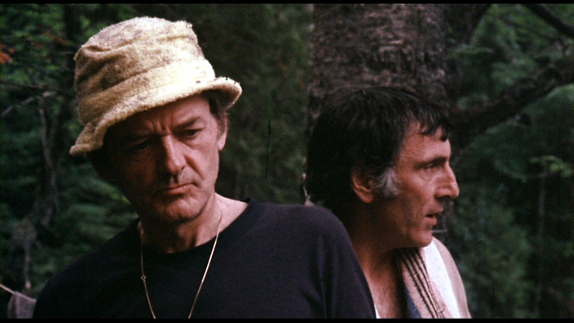 Peter Carter's 1977 Canadian backwoods shocker Rituals also features another superb Holbrook perf that's unfortunately not better known because the film's been dumped on for the longest time. Leonard Maltin BOMBED it while Siskel and Ebert deemed it bad enough to be "dog of the week" on their show. It also was butchered, released under the less evocative title of The Creeper, and because of its woodsy setting, often been described as a Deliverance rip-off. Sure the similarities are there, but it's way, way better than that lazy comparison would suggest, and its reputation as a superior survivalist horror film has grown substantially over the years – it's easily my favourite of the genre.

Enormously suspenseful and harrowing, Rituals rises above the norm of its template (a group of men go camping and get picked off individually by an unseen assailant) with uncommonly fleshed-out characterisations and the sheer nightmarish terror of its imagery (the finale is a genuinely hellish hair-raiser that could easily go up against any of today's more graphic horrors). Predominantly shot on location in the Canadian wilderness, the film is a grimy, sweaty, at times agonising experience; you can feel every gruelling, physically taxing moment the characters spend in the merciless terrain, helplessly trying to make their way to safety as they're being hunted. Code Red's DVD release is a godsend, the print's not perfect but it's completely uncut and the best way to view this great film right now.
---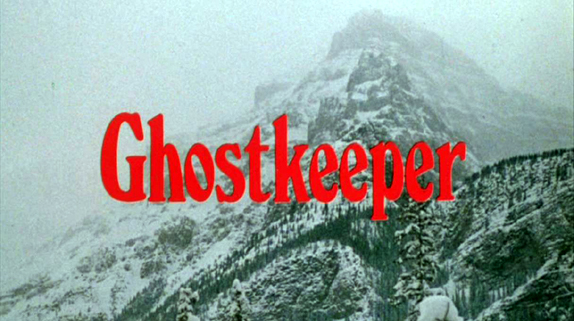 Speaking of things which are (1) low-budget horror (2) Canadian (3) location-based and (4) released by Code Red, I just wanted to quickly mention a little gem they recently put out: Ghostkeeper (1981). It's also maybe timely (unintentionally so) with the current fest film fever over The Shining (and its terrific accompanying doc Room 237), which Jim Makichuk's film most resembles with its spookily isolated, snow-covered hotel setting. By any conventional storytelling standard, Ghostkeeper is a failure, especially its fumbled attempt to take on the Native American legend of the Wendigo. The mythology is underwritten and doesn't pay off in any eventful way, but location is everything in this film, and Makichuk has created a thick, enveloping and hypnotic atmosphere from his threadbare production.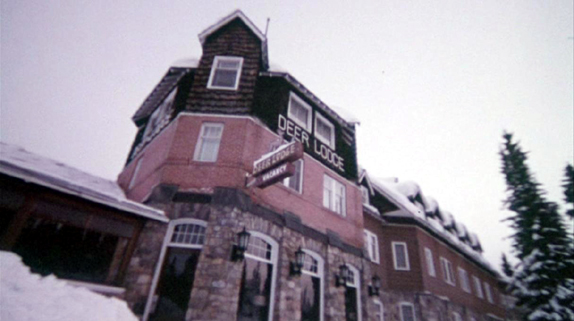 Ghostkeeper is filled with many moments where absolutely NOTHING happens on screen, but as with a lot of these regional shoestring horrors of the era, the zoney padding – where you sometimes feel like you're about to lose your mind waiting for something to happen – is actually a favourable quality. If that sounds like your kind of drug, don't hesitate to purchase the DVD direct from Code Red's site (I SWEAR I do not work for these guys) – it's a limited run, so won't be around for long. And just before I go… apparently the transfer was taken from the only surviving 35mm print and I have to say it's one of the most beautiful things I've set my eyes on this year. Felt like some kind of refreshing visual tonic that I didn't want to end.