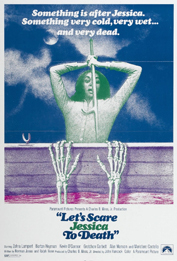 Like Jessica you won't be too sure what's real in this tale of psychological fragility
"Jessica (Zohra Lampert) has recently returned from being institutionalized for six months to deal with some seriously paranoid delusions. Her husband buys a farmhouse in a small community hoping the fresh air and life away from New York will help the situation. Unfortunately a strange and seductive house guest and the echoing voices in her head saying 'Jessica, come with us Jessicaaaa' conspire to throw a gnarly old chisel in the cogs of her recovery."
"Things really take a turn for the worse when her new pet mole ('Look darling, it has no eyes, can we keep it please?') is beheaded by red-headed temptress Emily, who bears a striking resemblance to a woman who drowned in the lake behind the house in the 1800s. The film is beautifully shot and extremely trippy, with an excellent minimal score featuring some nice old analogue synths."
"Plus there is some of the least carbon-neutral use of pesticides I've ever seen, and a dead man driving a tractor."