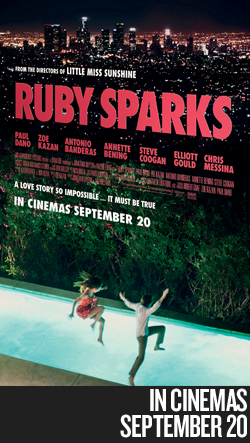 Win a double pass to our Christchurch preview of 'Ruby Sparks'...
Flicks is hosting screenings around the country that could give you an early chance to see Ruby Sparks, an offbeat romantic tale from the directors of Little Miss Sunshine.
Ruby Sparks tells the tale of struggling writer Calvin (Paul Dano, There Will Be Blood) who finds himself in an unusual relationship with his fictional character, Ruby Sparks (Zoe Kazan - also the film's writer).
Once a praised young author, Calvin has hit both a creative and romantic slump. In a sudden burst of inspiration, he creates the character Ruby Sparks, a beautiful figment of his desires. A week later, Ruby appears in the flesh and on his couch. Unable to explain the phenomenon, Calvin can't help but feel drawn to the girl created from his own words.
Also stars Annette Bening, Antonio Banderas, Steve Coogan, Elliot Gould and True Blood's Deborah Ann Woll.
The Christchurch screening of Ruby Sparks is happening on Monday September 10th at Hoyts Northlands at 6.30pm - enter below for your chance to win a double pass.