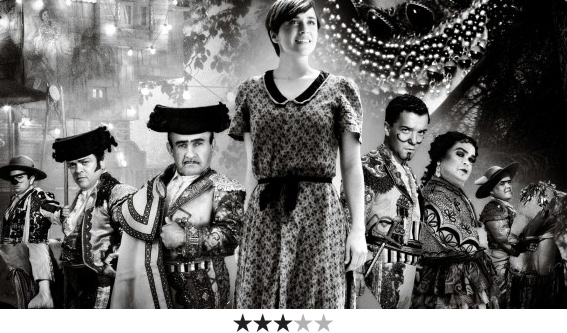 Taking its cue from the Grimm brothers' fairytales – but not, bizarrely, The Artist which was made at the same time – Spanish writer/director Pablo Berger's Oscar-nominated Snow White adaptation announces its self-importance from the off. It's silent, shot in black-and-white and extraordinarily expensive-looking, with the edges of the frame mimicking the boxy aspect ratio of the 1920s era.
After a tragic accident in the arena, legendary bullfighter Antonio (Daniel Giménez Cacho) and his pregnant wife Carmen (Inma Cuesta) both end up in hospital, a beautiful transition linking him lying in agony on the operating table with her dying in childbirth. A covetous glance from nurse Encarna (Maribel Verdú from Pan's Labyrinth) tells us we've found our Wicked Stepmother.
As the baby, little Carmencita (Sofía Oria) grows into wide-eyed Carmen (Macarena García) under Encarna's brutal tutelage, telling details combining to paint a traumatic picture of her upbringing. Heady and heavy with symbolism – a communion dress dyed black, a phonograph needle creaking to a stop, not to mention Pepe the rampaging cockerel – it's suitably dark for a film with barely concealed undercurrents of child abuse and necrophilia. Fans of Mirror Mirror need not apply.
But there's something limiting about the lack of dialogue. Back in the 1920s silence was a necessity, not a choice, and the film's later stages suffer because it can only dramatise big emotions in the broadest of strokes. Though superbly made and acted, it's a film that remains forever at a distance, a beautiful girl locked in a glass coffin of her own making.