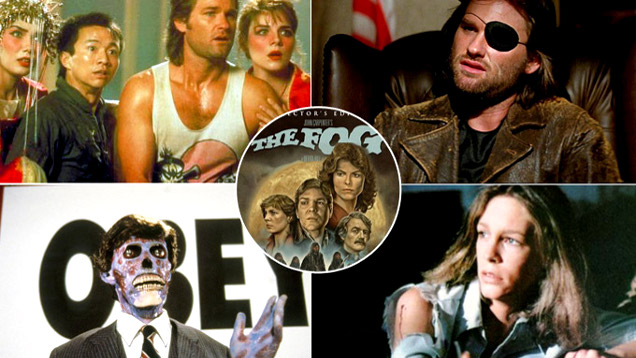 All of horror maestro John Carpenter's film scores, ranked from best to worst

---
The legendary John Carpenter is known as a master director of horror. But he is also a great film composer, most recently scoring the new Halloween remake. Sarah Ward ranks all of his scores from best to worst.
Another Halloween film is upon us, and that means more than just the return of Michael Myers and Laurie Strode. A familiar piano theme tune echoes through both Haddonfield, Illinois and cinemas everywhere – and familiar synth-heavy riffs as well.
While John Carpenter hasn't sat in the director's chair for any of the 10 sequels and remakes to his 1978 classic, the legendary auteur has composed the score for three (including the new Halloween). He might be known as a master of horror, but Carpenter's musical prowess is just as legendary.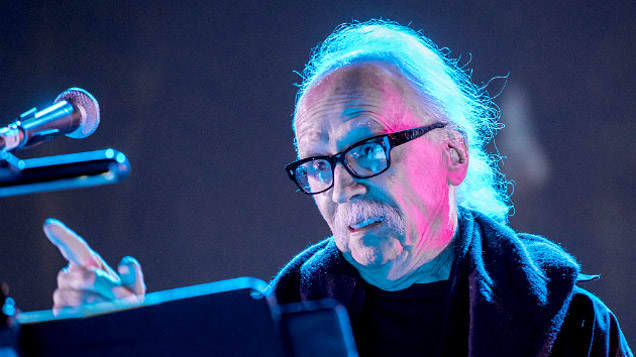 In fact, Carpenter has helmed and composed the music for his films more often than he has simultaneously written and directed. With 17 feature film scores to his name in total, we've ranked them all from best to worst. Combined, they all make for one hell of a soundtrack.
Halloween (1978)
A piano has never sounded as menacing as it does in Carpenter's iconic horror score. Amped up in the film's theme via a 5/4 time signature, each press of a key is insistently ominous. Slowed down throughout the rest of the film – especially in 'Laurie's Theme', and its many reprisals – the act of tickling the ivories oozes masterful unease. Here, Carpenter creates a score that does what only the best can: makes the listener relive every second of the film with every note.
The Fog (1980)
After Halloween, The Fog might just be Carpenter's best theme track – and the entire soundtrack lives up to that high standard. With the filmmaker's trademark blend of piano and synth, its key melody evokes the feeling of terror slowly rolling in. Elsewhere, percussion softly but persistently hammers away like the film's unrelenting sense of dread.
Assault on Precinct 13 (1976)
There's a looseness to Assault on Precinct 13's score. Accompanying Carpenter's action thriller, the score has a spring in its step that instantly puts a spring in the audience's as they're listening, too. The director wrote the film's music in a matter of days, which may explain the feeling of urgency – one that simmers rather than shouts, but makes its presence known.
They Live (1988)
Carpenter infuses his love of westerns into They Live, and the film's score certainly has the swagger of the genre. It also has the slow-rolling cool of strolling through Los Angeles – even if Carpenter's vision of LA sees the city controlled by aliens who are manipulating the populace. With percussive beats and saxophone slinkiness, it's both moody and otherworldly (and while it predates it, a kindred spirit to of Twin Peaks).
Escape from New York (1981)
Escape from New York possesses a sense of triumph that many of Carpenter's scores don't. Following Snake Plissken's attempts to save the US President from a futuristic Manhattan that's now a prison, the filmmaker's action-sci-fi great plunges into dark, bleak, post-apocalyptic territory. But the movie's music always comes with a sliver of optimism, in Carpenter's first co-credited score (with Alan Howarth).
Halloween III: Season of the Witch (1982)
Halloween III: Season of the Witch doesn't feature Michael Myers. It spins a different set of horrors on the titular date, anthology-style, and it references the original Halloween movie by showing it on TV within the film.
Sign up for Flicks updates
That said, it's one of the franchise's highlights – as is its thoroughly '80s score. Carpenter works with Howarth again, and the synth-heavy end result strikes such a dreamy chord that it's easy to forgive the film for its incessantly catchy Silver Shamrock commercial jingle.
Big Trouble in Little China
Carpenter and Howarth's Big Trouble in Little China score rocks by design, with the duo pairing the filmmaker's beloved synth with guitar riffs to suit the action-comedy. The director wanted to eschew all of the clichéd music choices typically used in American films featuring Asian characters, an aim he rousingly achieved with assistance from Halloween franchise alum Nick Castle and Tommy Lee Wallace.
Halloween (2018)
Working with his son Cody, and his godson and regular collaborator Daniel Davies, Carpenter's 2018 Halloween score isn't a mere remake of his 1978 effort. Rather, it mimics the film itself – nodding to, reworking and updating the original, yet finding its own shape around the man also known as The Shape. It's a grimmer collection of music, but the darker tenor adds both gravity and importance.
Christine (1983)
Carpenter and Howarth combine once more, this time for a sparser piece. Christine's soundtrack is filled with well-known acts and tracks – including one of the first cinematic uses of 'Bad to the Bone' – but the movie's score is stripped back and atmospheric. Even when the beat picks up momentarily, sustained refrains continue to make an impact.
In the Mouth of Madness (1994)
Collaborating with Jim Lang for the second time – following made-for-TV effort Body Bags – Carpenter's In the Mouth of Madness score starts with guitars, then descends into enticing moodiness. It is a stirring combination, starting with a theme tune that rises and falls with electric power.
Dark Star (1974)
Dark Star marks a host of firsts: Carpenter's first feature, first feature score, and first exercise in setting a compelling, commanding tone with the press of a few keys. Every beat deepens what's on screen. And yet, as with most of his other music, the score also works as standalone piece.
Prince of Darkness (1987)
Prince of Darkness might reteam Carpenter with Halloween's Donald Pleasance yet again, as well as Big Trouble in Little China's Victor Wong (and co-composer Howarth too), but it's a distinctive listing on the filmmaker's resume. The film is both somewhat silly and surreal, but no matter what happens on screen, its score seethes synth-meets-gothic flair.
Ghosts of Mars (2001)
A rare later-career solo effort, Carpenter goes metal, but in his own way. Ghosts of Mars benefits from almost ethereal synths clashing with thrashing guitars. The latter was provided by members of Anthrax, multi-instrumentalist Buckethead, Grammy-winner Steve Vai, Guns N' Roses and Nine Inch Nails' Robin Finck, and The Cars' Elliot Easton.
Halloween II (1981)
Michael Myers returned in Halloween II, and so did a familiar score given a new interpretation. Ditching the piano solely for a synthesizer, the title track's deeper notes sadly weren't indicative of a deeper film, with the movie relying on the music to do much of the suspense-generating heavy-lifting.
Escape from LA (1996)
Escape from LA's score begins with Escape from New York's theme but, elsewhere, it doesn't quite have the same impact. What the film's music does boast is a contribution from Shirley Walker (joining the director and Howarth), who Carpenter had enlisted to score Memoirs of an Invisible Man solo before that.
Village of the Damned (1995)
Both the film and the score for Carpenter's Village of the Damned remake can be summarised with one word: workmanlike. The music fares better than the movie, with the latter notable for being the director's only remake. For Village of the Damned's standard brand of creepy unease, Carpenter joined forces with Dave Davies, best-known for being part of British band The Kinks.
Vampires (1998)
Vampires doesn't rank highly among Carpenter's output and nor does the undead western's soundtrack. Never one to do the same thing again and again (even when he's trifling with his own previous material), the filmmaker's effort here starts with honky-tonk country rock, and gets moodier. It's a cohesive mix that lacks the potency of most of his work, although it represents a musical stepping-stone between Big Trouble in Little China and Ghosts of Mars.