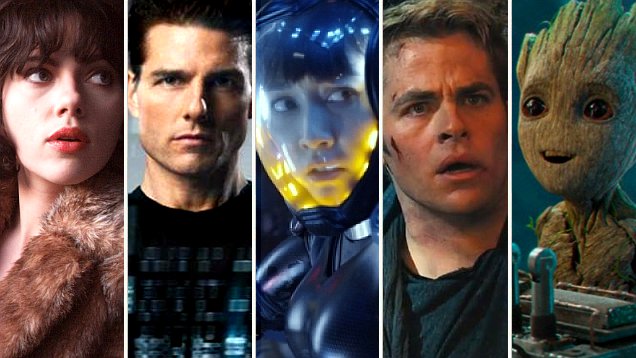 Top 20 science fiction films on Netflix and Stan

---
Science-fiction shows us what we've never seen to tell us about what we've always known. It's a genre that transforms our perceptions, which is why it was such a natural subject for the cinema screen. Whatever our reality is, science-fiction and those who create with it are always a step ahead.
Here are the top 20 sci-fi films currently available to stream on Netflix and Stan.
Sign up for Flicks updates
Netflix
Ultimately there are too many explanations in Alex Garland's adaptation of Jeff VanderMeer's inscrutably elegiac novel about an alien zone growing in a Florida swamp. But the lead-up is gripping, with Natalie Portman as the biologist who volunteers for an all-female exploration mission in a bid to discover the fate of her absent husband. Nature's disrupted order is a creepy, discombobulating and ultimately threatening backdrop.
Fresh from the breakthrough success of Jaws, Steven Spielberg masterfully turns the first contact by alien beings into a conspiracy thriller, an American odyssey, and a celebration of the everyman's obsessive endeavour. Richard Dreyfuss is the suburban dad drawn to the escalating U.F.O. visits, while legendary French filmmaker Francois Truffaut plays the scientist following their otherworldly trail.
Luc Besson's vision of the 23rd century is cartoonish, screwball sardonic and impeccably designed. Each of the stars – Bruce Willis' gruff soldier, Gary Oldman's ludicrously accented villain, Chris Tucker's futuristic DJ, and Milla Jovovich's perfect being – appear to be in separate films, but their interaction is one of the pleasures of this idiosyncratic blockbuster about the return of an evil entity.
Space opera gets a bum rap as the populist wing of science-fiction, but as writer/director James Gunn proves in his follow-up to Marvel's 2014 hit about a group of intergalactic outlaws, the genre can be a thing of vibrant wonder. Digital effects light up in delight and the wisecracks bounce around like asteroids as Chris Pratt and Zoe Saldana lead the returning cast's on song delivery.
Even at his most portentous, Christopher Nolan is such a natural filmmaker that his depiction of a dying Earth and the desperate exploration mission through a wormhole to save it – led by Matthew McConaughey and Anne Hathaway's astronauts – is a feat of immersive visual storytelling. Nod your head at the multi-dimensional malarkey, but gaze wide-eyed at Hoyte van Hoytema's cinematography.
More Spielberg, as he makes fine use of Tom Cruise's physicality and unchecked commitment to suggest a zealot caught out when his job arresting the people who are about to commit murder sees him on the run for a killing he believes he'll never do. Spielberg indulges himself with future tech by staging a chase on a wild 2054 transit system, but he also uses the likes of Meryl Streep and Max von Sydow to illustrate the ethical dilemmas.
Giant mecha robots defend the Earth against destructive beasts from another dimension. It sounds like a 12-year-old's fantasy, but in the hands of Guillermo Del Toro it's a ground-shaking, cross-cultural extravaganza whose biggest flaw is the notion that Sydney's water-facing property owners would allow a giant protective wall to be built. The best bit? The gangsters and boffins who circulate in the wake of the monsters.
Technology's ability to trap us in a reality we never agreed to is neatly illustrated by Duncan Jones' thriller about a U.S Army pilot, played by Jake Gyllenhaal, who is bounced from one timeline to another on a passenger train that is about to explode. The plot is neatly tied together, but Jones also outlines the tragedy of predestination and the threat of your mind becoming someone else's soldier.
The second and the best of the trio of rebooted Starship Enterprise adventures has the likes of Chris Pine (Captain Kirk) and Zachary Quinto (Mr. Spock) making the most of their famous roles, while Benedict Cumberbatch is a terrific foil as a mysterious terrorist whose actions open up contemporary implications such as drone attacks while plugging into the lodestar of Trek mythology.
J.J. Abrams, with a healthy nod to Spielberg, turned the coming of age tale into a thrilling adventure when a group of amateur adolescent filmmakers get caught up in the military cover-up of an unknown creature's escape. The set-pieces hum with wonder and last gasp opportunity, but the movie never foregoes the protagonists' youthful mindset. Grief and good times rub shoulders to provide a healing perspective.
Stan
Deploying digital effects so complete that they transformed but never overwhelmed the story, Neill Blomkamp's debut revisits South Africa's xenophobia as a race of stranded insect-like aliens live inside a Johannesburg ghetto. When Sharlto Copley's bumbling bureaucrat on an eviction is exposed to an unknown substance, he begins to transform into an alien. It's a high-tech action film, mixed with The Office and Kafka's Metamorphosis.
If you've ever had a bad thought about Tom Cruise, this alien invasion blockbuster is the film for you: his character, callow soldier William Cage, endlessly dies in a daily loop tied to an alien invasion of Europe. Respawning like a video game character, he trains with a hardnosed warrior, Emily Blunt's unyielding Rita Vrataski, as the battlefield carnage becomes the blackest of jokes and dying becomes the only way to stay alive.
Five years before The Last Jedi, Rian Johnson made the rare time travel thriller where the knotty mechanics of the plot are secondary to the stark emotional ramifications. Joseph Gordon-Levitt plays a young hitman who disposes of targets sent back from the future. But when he encounters an older version of himself, played by Bruce Willis, he falters. Time is a cruel certainty that none can escape.
Mankind's eventual struggle with the machines we've empowered is a science-fiction staple, but it's never been depicted with the evocative infrastructure and wondrous enhancements that the Wachowskis revealed in their landmark action epic. Keanu Reeves plays the mythic saviour fighting his way through a simulated reality housing humanity's captured minds in a movie that is daring, comprehensively detailed, and self-contained.
Directed by Barry Sonnenfeld in the creative window where his mordant instincts had a delightful pop of the fantastic, Men in Black has Tommy Lee Jones school Will Smith in an action-comedy about the human agents who secretly police the alien exiles living undercover on Earth. It's a film of note-perfect contrasts: Jones's dryness and Smith's spark, plus the wild comic book concept and the mater-of-fact execution.
Most science-fiction films are set at the apex of change, but what happens on the periphery? In Gareth Edwards' independent debut, a pair of travellers played by Scott McNairy and Whitney Able try to cross an exclusion zone on the U.S-Mexico border contaminated by extra-terrestrial life. The pair are mere specks before the environment's mutation and giant creatures, a viewpoint that is both compelling and dangerous.
In his Hollywood era, director Paul Verhoeven fuelled his pulpy blockbusters with social commentary radiating the bleak warmth of a flamethrower. In a near future Detroit where crime is rampant, a murdered police officer (Peter Weller) is rebuilt as a law enforcement cyborg haunted by his human past. Corporate malfeasance, gentrification, and authoritarianism are all splattered with violently bloody thrills.
The cruel dictates of inequality are magnified to rousing, revolutionary heights in a dystopian allegory of mankind's remnant returned to feudal ranking aboard a train circling an otherwise frozen globe. Chris Evans leads the oppressed masses through the carriages, heading towards the 1% and unpalatable truths about power, propelled by the coiled energy and formal framing of director Bong Joon-ho.
A galvanising B-movie that terrified audiences, The Terminator uses time travel as the device to deliver an implacable cyborg assassin (Arnold Schwarzenegger) and a desperate soldier (Michael Biehn) from a post-apocalyptic future into 1984 Los Angeles, where the latter has to stop the former killing the disbelieving mother of a future human saviour (Linda Hamilton). Tragic logic; fierce momentum.
You are an alien on Earth, in a woman's body but with no understanding of gender. You trap men for their flesh, and you look like Scarlett Johansson after a stint on a Scottish council estate. Eerily quiet and often filmed with hidden cameras and non-actors, Jonathan Glazer's meditation on the failings of human nature and the limits of alienation is arrestingly sparse and ultimately savage filmmaking.