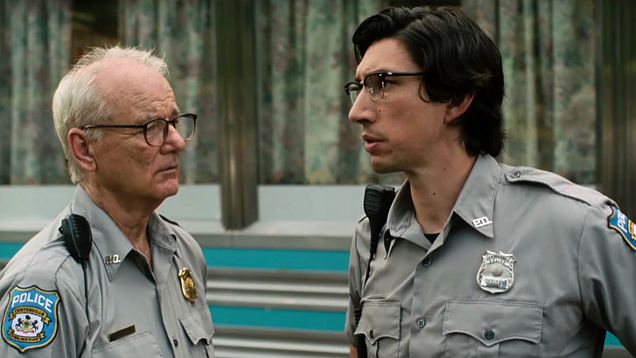 Why we're pumped for Jim Jarmusch's zombie film The Dead Don't Die

---
Even if you're sick to death (ha!) of the zombie apocalypse subgenre, the news that adored indie maverick Jim Jarmusch is entering the field should get your blood pumping.
Based on the scant early evidence available, Travis Johnson breaks down all the reasons you should be counting the days until the release of The Dead Don't Die, starring Adam Driver and Bill Murray.
We're always here for a new Jim Jarmusch film. The venerable American indie pioneer has been delivering the goods ever since his first feature, 1980's micro-budget effort Permanent Vacation.
Since then, he's proved to be a rare marathon runner in a world of indie sprinters. Jarmusch has never stepped up to mainstream blockbuster filmmaking, and he's never descended into solipsistic self-parody. Instead, he's hoed his own row, giving us such cinematic delights as Down by Law, Dead Man, Coffee and Cigarettes, Broken Flowers, and many others, maintaining his own idiosyncratic voice while still stretching himself creatively.
So, when the news recently broke that Jarmusch's latest film, The Dead Don't Die, is his take on the largely played out zombie subgenre, we sat up in our seats. Right now, we have only the briefest and most generic of synopses ("The peaceful town of Centerville finds itself battling a zombie horde as the dead start rising from their graves") and a trailer to go by:
…but let's see what else we can augur from these scant entrails.
The Title Is More Meaningful Than It First Appears
Not just a snappy bit of alliteration, The Dead Don't Die is actually a homage to an earlier film of the same title.
Released to little fanfare in 1975, The Dead Don't Die v1.0 is a supernatural thriller based on a story by Psycho author Robert Bloch, and concerns a sailor (George Hamilton) who, in trying to clear his executed brother's name, is drawn into an occult conspiracy.
What does that have to do with Jarmusch's new film? No idea, but the entire 1975 offering is up on YouTube if you feel like sifting through it for clues.
The Jim Jarmusch Players Are All Present and Correct
Jarmusch is renowned for attracting top notch casts, many of whom he works with over and over again. The Dead Don't Die is no exception.
We have Adam Driver (Paterson) and Bill Murray (Broken Flowers) as two small town cops trying to deal with a sudden zombie uprising; Tom Waits (Down by Law) as the evocatively named Hermit Bob; Steve Buscemi (Mystery Train) as Farmer Miller (presumably an agriculturalist of some description); Iggy Pop (Dead Man and, obviously, Gimme Danger) and Carol Kane (who appeared with Jarmusch in Alexandre Rockwell's In the Soup) as zombies; and Tilda Swinton (Only Lovers Left Alive) as "a Scottish morgue worker." RZA, who had a brief cameo in Ghost Dog: The Way of the Samurai and had some fun in one of the Coffee and Cigarettes shorts with Murray, also crops up; plus there's Selena Gomez, Chloë Sevigny, Danny Glover, Caleb Landry Jones, Austin Butler, Rosie Perez, and more.
That's a killer cast lining up to be killed – no wonder Jarmusch calls it "The greatest cast ever disassembled." Which brings us to our next point…
Sign up for Flicks updates
It's A Comedy, More Or Less
Even in his grimmer work, Jim Jarmusch has his tongue at least occasionally jammed in his cheek. The Dead Don't Die is no exception, as the droll tone of the trailer indicates.
Bill Murray, who knows a thing or two about being funny, more or less confirmed that The Dead Don't Die was leaning towards laughs when he spoke to The Philadelphia Inquirer, calling the script "so hilarious" and noting the he himself does not play a zombie. Horror/comedy is a difficult cocktail to mix, but Jarmusch has the chops to pull it off because…
Jim Jarmusch Loves Genre
Some filmmakers see themselves as being above and outside the horror ghetto. These are the kind of schmucks who bandy around the term "elevated genre" when talking about supposedly B movies that attract some measure of critical acclaim.
Jim Jarmusch is not one of these guys. Some of his best and most interesting films have been investigations into and subversions of well-worn genres: the spiritual western Dead Man, the Zen/hip hop action movie Ghost Dog: The Way of the Samurai, and the decadent vampire romance Only Lovers Left Alive.
With The Dead Don't Die, he seems to embracing the popcorn-spilling gore gags of splatter movies, seasoning them with his own drily humanistic philosophical musings, which should bring something wholly unique to the screen.
Still…
It's Not Messing Around
There's a moment in the trailer when Bill Murray asks Adam Driver what he thinks is responsible for the dead bodies they've been confronted with, and old Kylo doesn't miss a beat.
"I'm thinkin' zombies," he intones. "You know, the undead. Ghouls."
Hallelujah! Way too many zombie movies refuse to embrace the fact that they are zombie movies, and we've had zombie movies going back to the late, great George A. Romero's Night of the Living Dead in '68. The inexplicably popular The Walking Dead takes place in a world where there is no zombie lore whatsoever, because it's made for fools. But even Edgar Wright's beloved Shaun of the Dead balks at employing "the Z word" because it apparently sounds stupid.
So, hats off to Driver's Officer Ronald Peterson, who knows a zombie uprising when he sees one, and to Swinton's nameless morgue tech, who immediately reaches for the nearest katana when the cannibalistic deceased start shambling (although it seems mean to deny noted martial arts buff RZA a turn on the sword).
The Dead Don't Die will arrive in Australian cinemas later this year.