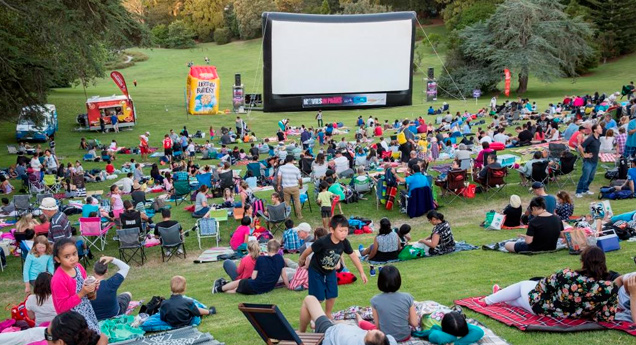 The Auckland Council's Movies in Parks series is back. The alcohol free, smoke free and zero waste events bring 26 FREE movies to different parks all across Auckland this summer. When the sun comes down, the movie lights up the park.
The other free Auckland outdoor cinema, Silo Cinema, has its schedule up too. Located on the corner of Jellicoe and Beaumont Street on Wynyard Quarter, Silo Cinema plays host to films and markets.
The American Express Openair Cinema is also back, a limited-time cinema located in Western Springs next to Auckland Zoo. American Express Card Members get to enjoy VIP perks and ticket discounts.
See below for the full schedule…
---
Movies in the Park (click links for more info)
Fri, Jan 19 – La La Land (Mairangi Bay Park)
Sat, Jan 20 – Sing Street (Luckens Reserve)
Fri, Jan 26 – Spider-Man: Homecoming (Sturges Park)
Sat, Jan 27 – Cars 3 (Keith Park)
Sun, Jan 28 – Sing (Brians Park)
Fri, Feb 2 – Pirates of the Caribbean: Dead Men Tell No Tales (Woodall Park)
Sat, Feb 3 – Wonder Woman (Centreway Reserve)
Fri, Feb 9 – Captain Underpants: The First Epic Movie (Monte Cecilia Park)
Sat, Feb 10 – Three Wise Cousins (Riversdale Reserve)
Valentine's Day – When Harry Met Sally (Tahaki Reserve)
Fri, Feb 16 – Hidden Figures (David Lange Park)
Sat, Feb 17 – Pete's Dragon (Central Park, Papakura)
Fri, Feb 23 – The LEGO Batman Movie (Henderson Park)
Sat, Feb 24 – SECRET SCREENING (Beachlands Domain)
Fri, Mar 2 – Back to the Future (Coyle Park)
Sat, Mar 3 – Pork Pie (Rosedale Park)
Fri, Mar 9 – Guardians of the Galaxy Vol. 2 (Fergusson Domain)
Sat, Mar 10 – Moana (Hayman Park)
Fri, Mar 16 – Fantastic Beasts and Where to Find Them (Collins Park)
Sat, Mar 17 – Trolls (Lloyd Elsmore)
Fri, Mar 23 – Hunt for the Wilderpeople (Hoani Waititi Marae)
Sat, Mar 24 – Despicable Me 3 (Rutherford Reserve)
Thu, Mar 29 – Beauty and the Beast (2017) (Milford Reserve)
Fri, Mar 30 – SECRET SCREENING (Harvey Wright Park)
Sat, Mar 31 – SECRET SCREENING (Pt England Reserve)
Silo Park Cinema (click links for more info)
Fri, Jan 26 – Spookers
Fri, Feb 2 – La La Land
Fri, Feb 9 – Labyrinth
Valentine's Day – The Princess Bride
Fri, Feb 16 – Dunkirk (TimeOut Presents)
Fri, Feb 23 – The Trip to Spain (Ghiotti Presents)
Fri, Mar 30 – The Lion King
Fri, Apr 6 – Thor: Ragnarok (TimeOut Presents)
Fri, Apr 13 – Guardians of the Galaxy
Openair Cinema @ WESTERN SPRINGS (click links for ticket booking)
Thu, Feb 1 – Thor: Ragnarok
Fri, Feb 2 – The Greatest Showman
Sat, Feb 3 – Star Wars: The Last Jedi
Sun, Feb 4 – Wonder
Tue, Feb 6 – Downsizing
Wed, Feb 7 – Star Wars: The Last Jedi
Thu, Feb 8 – The Greatest Showman
Fri, Feb 9 – Pitch Perfect 3
Sat, Feb 10 – Paddington 2
Sun, Feb 11 – Jumanji: Welcome to the Jungle
Feb 13 – Grease (Sing-a-long)
Valentine's Day – La La Land
Thu, Feb 15 – Pitch Perfect 3
Fri, Feb 16 – Wonder
Sat, Feb 17 – The Greatest Showman
Sun, Feb 18 – Ferdinand
Feb 20 – The Post
Feb 21 – The Rocky Horror Picture Show
Thu, Feb 22 – Jumanji: Welcome to the Jungle
Fri, Feb 23 – Pitch Perfect 3
Sat, Feb 24 – Coco
Sun, Feb 25 – Downsizing
Feb 27 – All the Money in the World
Feb 28 – Breathe
Sat, Thu, Mar 1 – I, Tonya
Sun, Fri, Mar 4 – Molly's Game