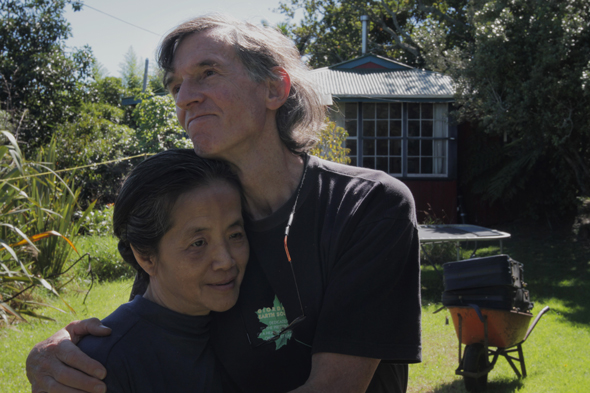 The Red House is a New Zealand-made romantic drama about a couple in their senior years and of different ethnicities (Kiwi and Chinese), being forced apart by family duties.
This is writer/director Alyx Duncan's first feature, and we ask her several questions…
---
FLICKS: Hello from Flicks.co.nz. How are you doing?
DUNCAN: Fine.
What should people expect from The Red House?
The Red House is a love story of a couple migrating from a small community on the edge of the world to a large global city during the later years of their lives. It's a quietly layered film that links different cultures, personal emotions, daily objects and the universal process of ageing.
What are you trying to convey with the film?
The Red House explores the question: Is home the place we come from or something we carry inside us wherever we go? Answering this question is inexplicably linked to exploring how personal and political history influence our life experience and how our physical and emotional environment defines us.
What first drew you to make a non-traditional documentary?
It's not a documentary actually, but an essay film. A lot of people assume it's a documentary because my father and step-mother play the lead characters, yet the story is indeed fictional.
That said, I did initially set out to make an experimental documentary. It was to be located in the real environment of my childhood home, with the house as the main character. The human characters (my non-actor parents) were really only there as background extras. However, once we started shooting I found my lens was increasingly drawn to the real people and so we moved to devising a fictional story more focused around characters that they could play. There's something very intriguing and honest about the movement of people within their natural setting. It's quite different to actors on a set.
What thoughts about Aotearoa came to mind, or you were hoping to convey, while making the film?
Our country is layered with stories of people whose land has been taken away from them, those who have been transplanted, or who have arrived seeking to find a new life. In the film I was curious about the contrasts of two distinct places and the familiarity or isolation my characters felt in each. I deliberately tried to represent the locations as 'a small island' and 'a big city'. Doing this enables me to situate these ideas in a poetic space rather than a literal political and social context.
I'm also interested in how the generation we are born in changes our relationship to a place and our perception of/approach to/aspirations for life. I think the characters' generation have seen Aotearoa change a lot.
---
Lee's character… says: "ideally the relationship between land and people is like that of a couple deeply in love".
---
I was interested in how it feels when the causes you were committed to and the contributions you made don't have the same emphasis now as you grow older. Your impact in the world is waning. Lee's character who was part of the 70s activist generation is still an idealist. He says: "ideally the relationship between land and people is like that of a couple deeply in love". He is trying to understand his place in a world that's changing.
Jia is much more accepting of the fates that govern the changes in her life. She says: "I come to this life not by my self wish, I have no judgment." So I was interested in the different outlook of the characters: of a man who has grown up feeling like he had a choice and having the weight of that 'choice' on his shoulders to do something good with the world, and a woman who didn't have much choice has but has tried to make the most of what she has been given to help the people around her.
If you could make a film about anyone living or dead who would it be?
To be honest, I'm fascinated by ordinary people who live close to me, the intimacy of whose lives I've been privileged to experience. There are so many incredibly interesting people who have led extraordinary lives and done amazing things, but the 'one person' I hope to make fiction films about in the future will probably be an amalgamation of people nearby.
In my current documentary project called Return to the Planet Mongo, I'm loving the life stories of a Chairman Mao impersonator who I interviewed in his home in Guiyang last year.
Could you share your strongest memory from filming?
Everything was done on such a shoestring that looking back I was always finding myself in unusual situations. When I was filming in China, I couldn't afford to have a translator around all the time and I don't understand Mandarin. So I would write what I imagined the script to be in English, shoot my characters saying their lines in Chinese and then pass it my translator afterwards to confirm that the story or scene was as I'd intended. It meant when we were editing, we would have to do a translation signoff, sending all the parts in Mandarin to my translator and asking "have they said that line?" or  "was it believable?"
What was the last great film you saw?
What's the best piece of advice you've ever been given?
"You have a lot to do during your lifetime and your body alone cannot contain all the energy you require to achieve these things. Therefore, you need to learn to draw energy from the earth and let this support you to do what you need to do." – Beto
What are you thinking about doing next?
There's still a bunch of work to do giving The Red House a good chance of life in other parts of the world. I'm about to go to the MIFF 37 Degrees South Market in Melbourne for this purpose.
Then straight after the NZFF Wellington screening I'm going to shoot the next part of Return to the Planet Mongo. The film follows some of the world's top animators and graphic artists during an animation festival in Guiyang, Southern China.  It poses the questions, "Is life an illusion or a concrete reality? Are animation and new technology a replacement for 'real' life?"  I was rather struck by the place when I went there to shoot the first part: it's a surreal mix of new fast development with construction sites, 'new' indigenous villages, waterfalls, and hills on which one has to be careful not to be pounced on by monkeys. While I was there I also got to meet and interview local people (including a billionaire property developer, a highland horseman, a Chairman Mao impersonator, a female construction worker), asking them similar questions to the animators. So I'm looking forward to going back to do the next part of the shoot.
Apart from this I have two feature script ideas in early development, a music vid, and dance film, which I look forward to working on once I'm back from China.