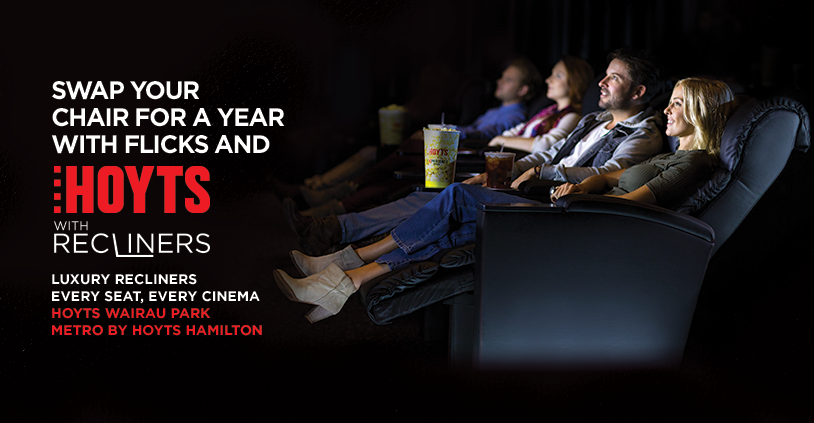 Hoyts Wairau Park and Metro by Hoyts Hamilton now have sensationally luxurious recliner armchairs.
Now, this level of comfort is dangerous. Once you've sat in this sweetness it's hard to go back to any old chair. It's a comfort paradigm shifter. Your own chair, we're afraid to say, just isn't up to standard.
So we feel it's necessary to stage a seat intervention. With our friends at Hoyts we've arranged to swap your chair for a year.
So, if your chair is astonishingly bad, you stand to win a year's worth of free reclining at Hoyts Wairau Park or Metro by Hoyts Hamilton. (That's 52 passes, one for every week of the year. One winner in Hamilton, one in Auckland).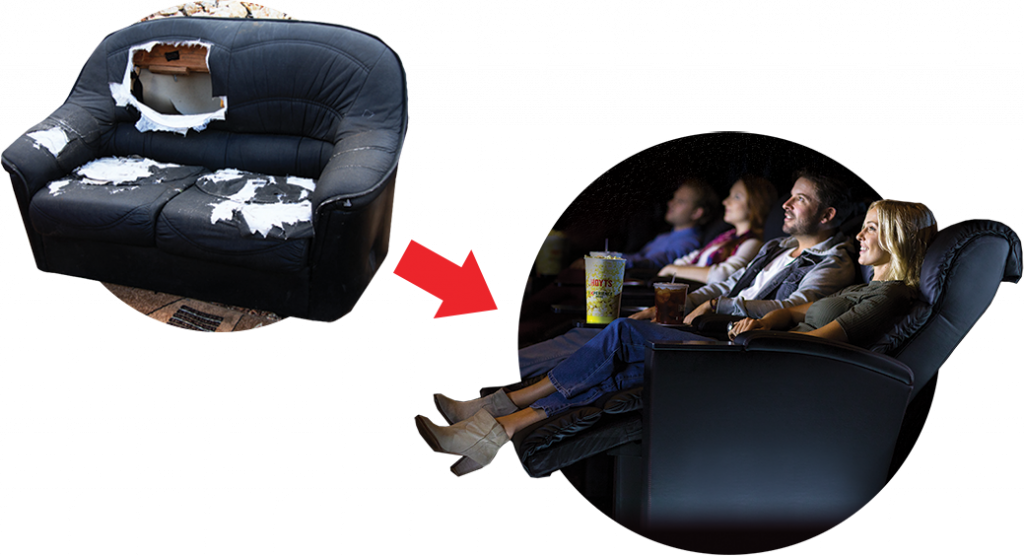 HOW TO ENTER
* Send us a picture of your rubbish chair, seat or couch (and an accompanying bio on the chair, if you wish)
* Post to our Facebook page
* Or, email it to swapyourchair@flicks.co.nz

Worst chair wins –  in the sole and final expert chair-assessing opinion of Flicks.
That's it. Entries close November 10. Winners announced by November 14.
Here are all the entries so far…
---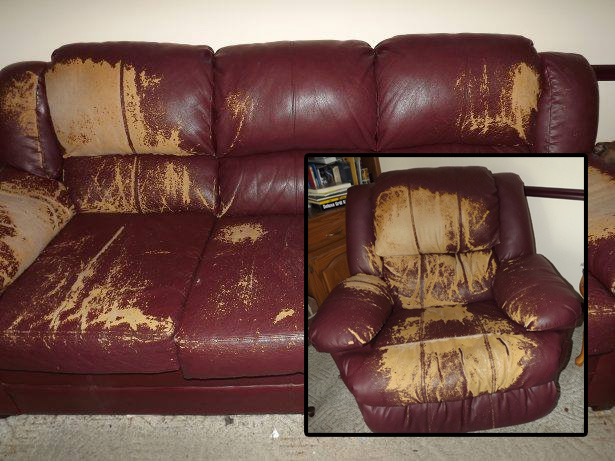 Owned by John Howlett
"It may not be the worst sofa here but boy it sure looks the worst. The colours are gross and even the dog won't site on it. I don't know why we put up with (what we call Sarah the sofa) probably that we don't have two grand to buy a new one. Oh and it's too big to get out the door; how it got in I'm never sure!
"And did I tell you we have a matching… [re: image on bottom right]"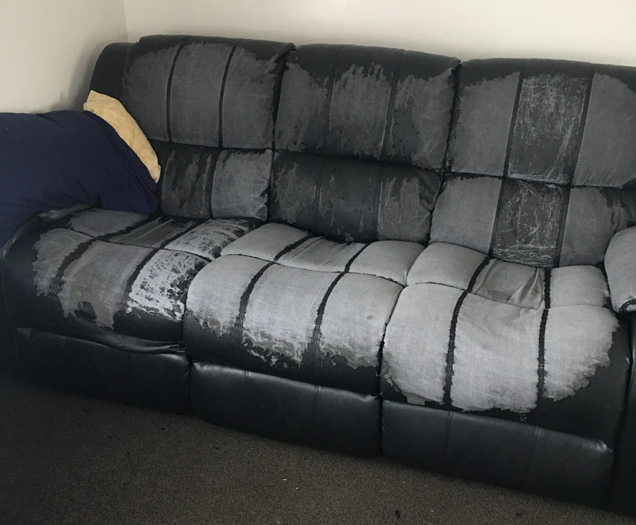 Owned by Holly Arthur
"Our other chair has lost most of its padding and is easy to fall back on when its reclined – but this one looks worse."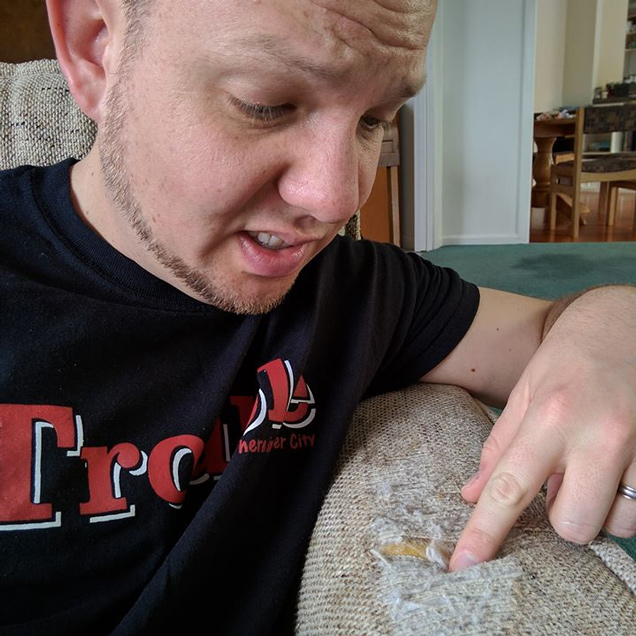 Owned by Nathan Mills
"Definitely time for a new chair!"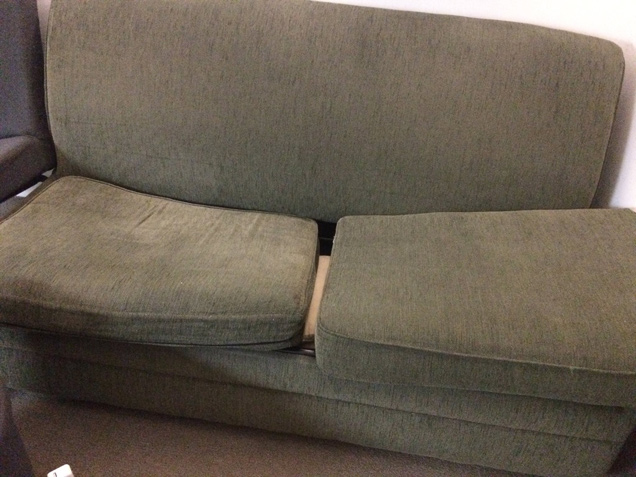 Owned by Marian Angeles
"Check out this sad sack of a couch! It eats away at you. No seriously… it actually swallows you whole."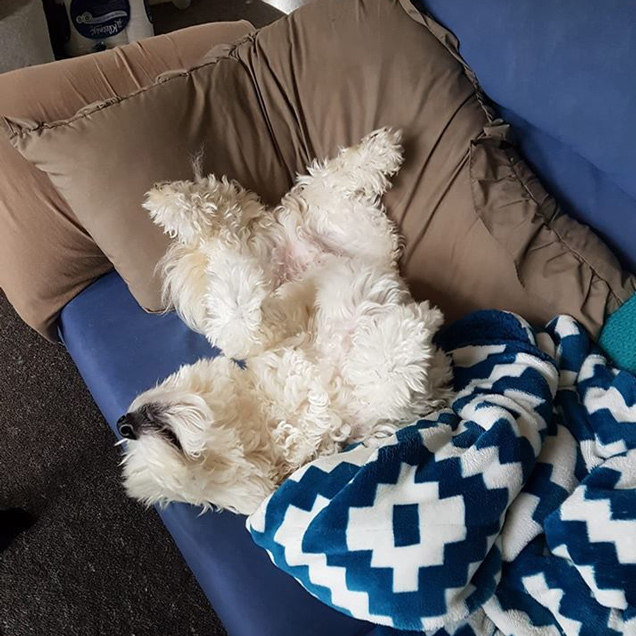 Owned by Kristen Tutlewski
"When the dog decides to share…"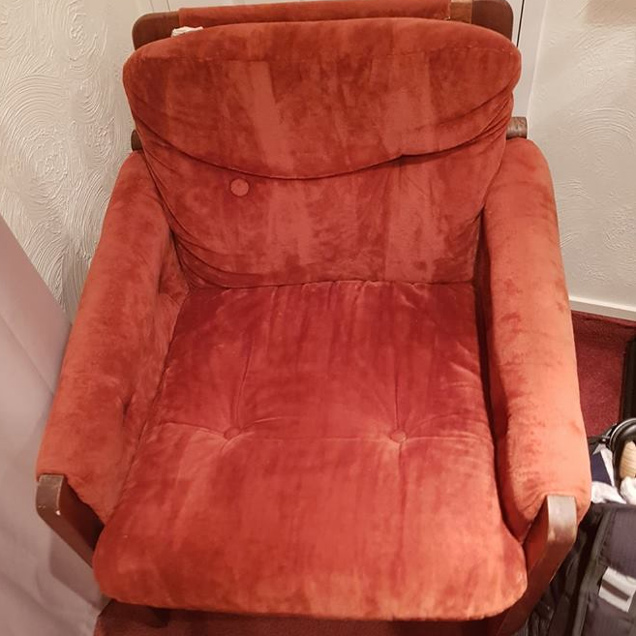 Owned by Elissa Barrington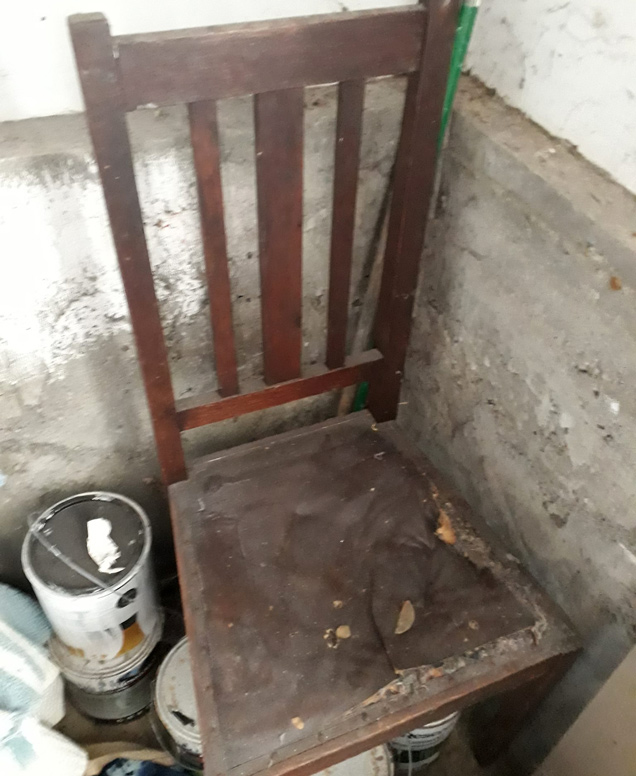 Owned by Bridget Bids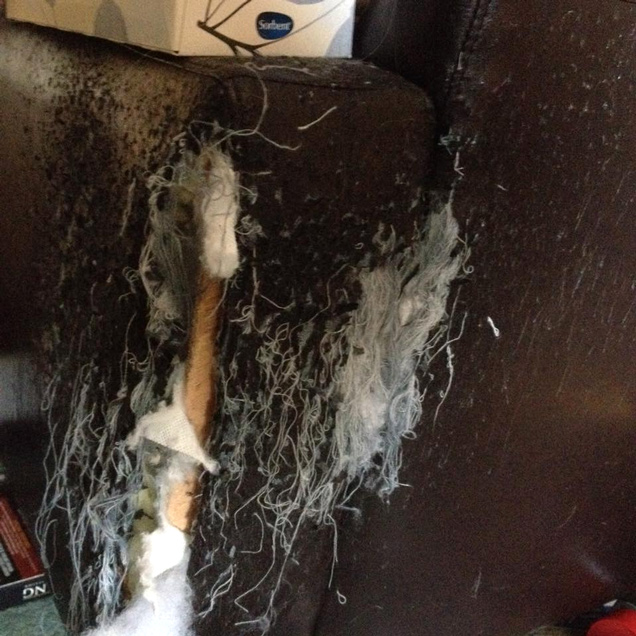 Owned by Carolyn Pape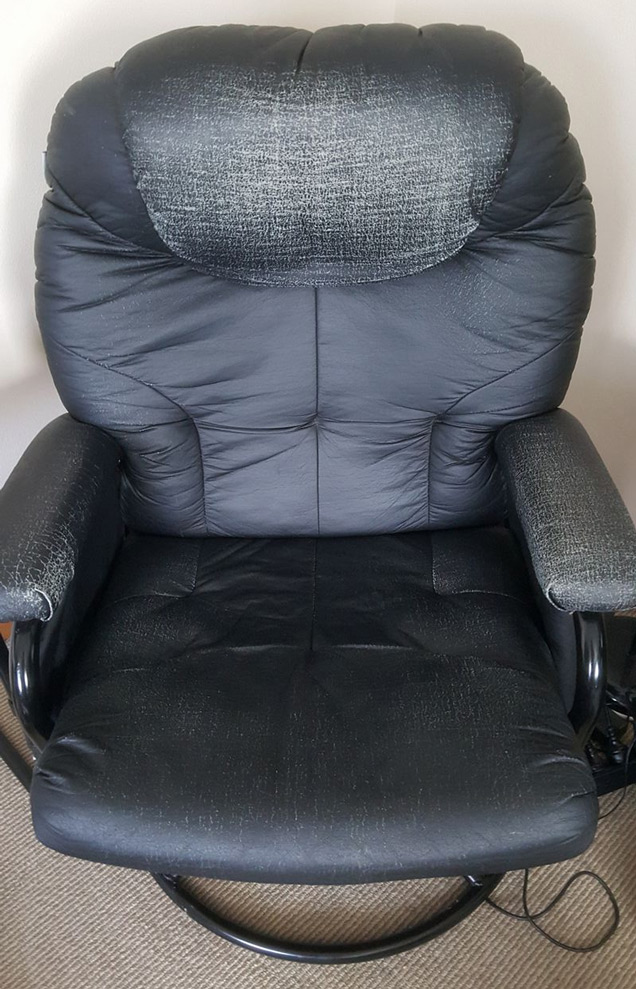 Owned by Adam Reeve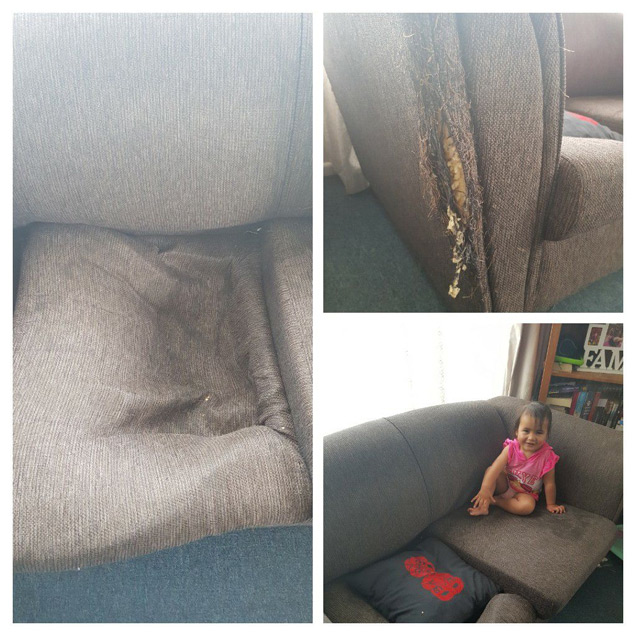 Owned by Adrienne Drollett
"This is our old girl. Usually she's covered in a mountain of clean washing but I'm expecting visitors today and thought I should fold it all."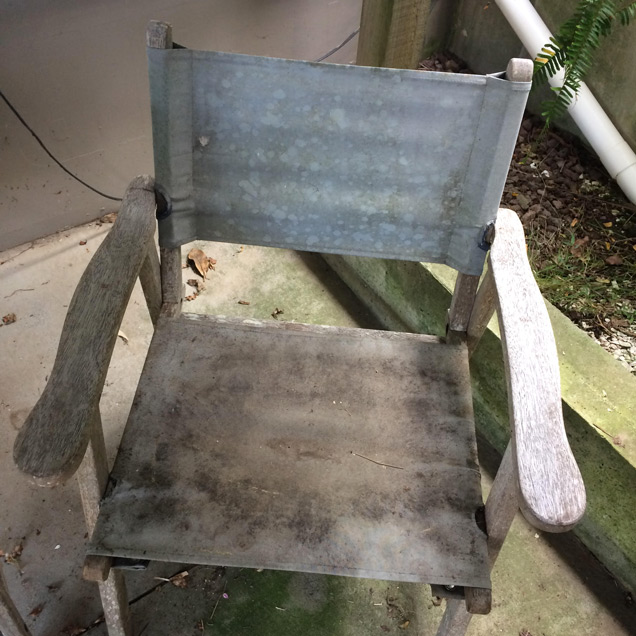 Owned by Cameron Smith
"This chair has been sitting under the deck for over 2 years and we have been searching for new ones ever since."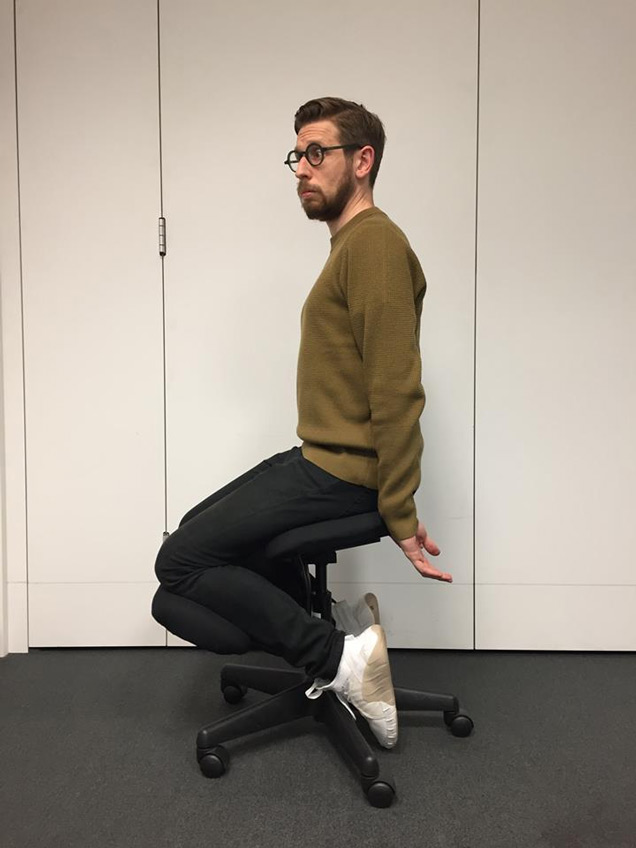 Owned by Conrad Smith
"Worst movie watching chair EVER!"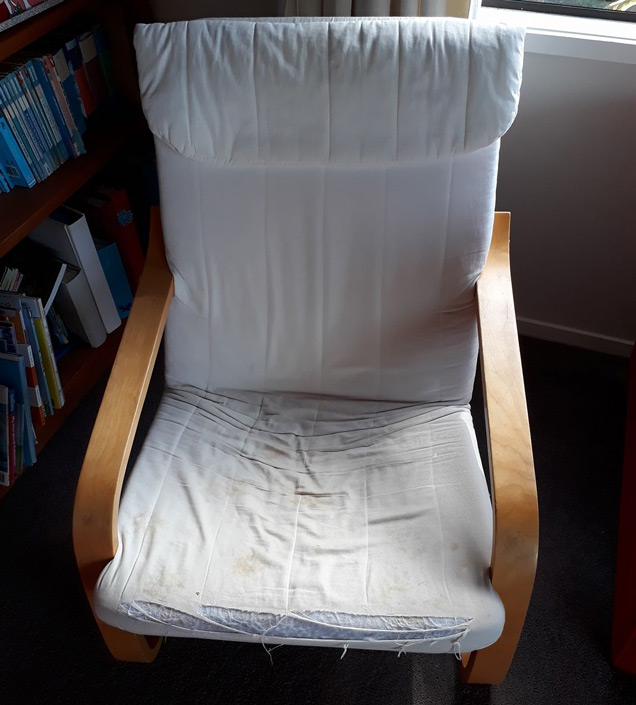 Owned by Danny Crocome
"My favourite reading/movie-watching/chilling chair. Questionable stains from doggy's muddy pawprints. Chair clinging to life. I'll be gutted when it gives up the ghost."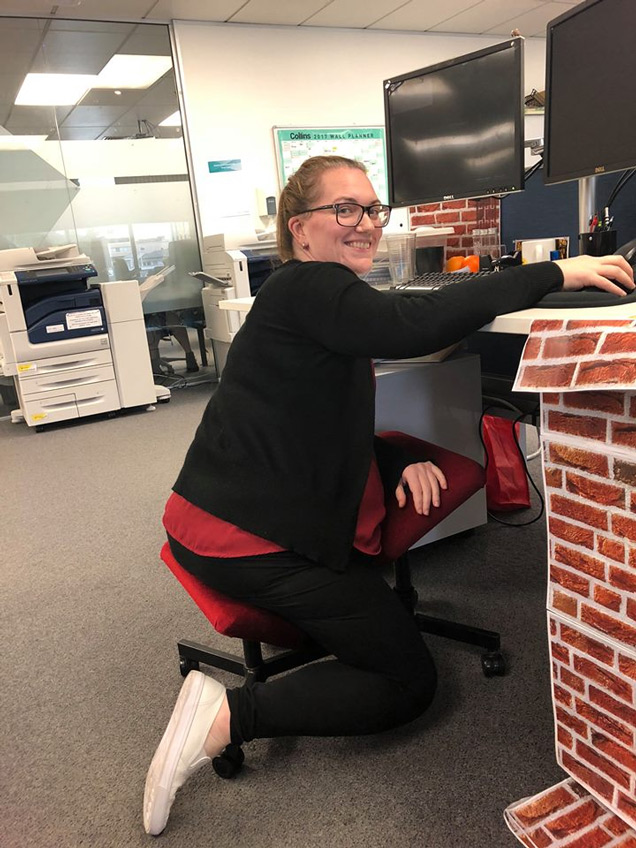 Owned by Erin Brearley
"Am I doing it right? It's hard enough to reach the keyboard let alone watch a movie in this thing."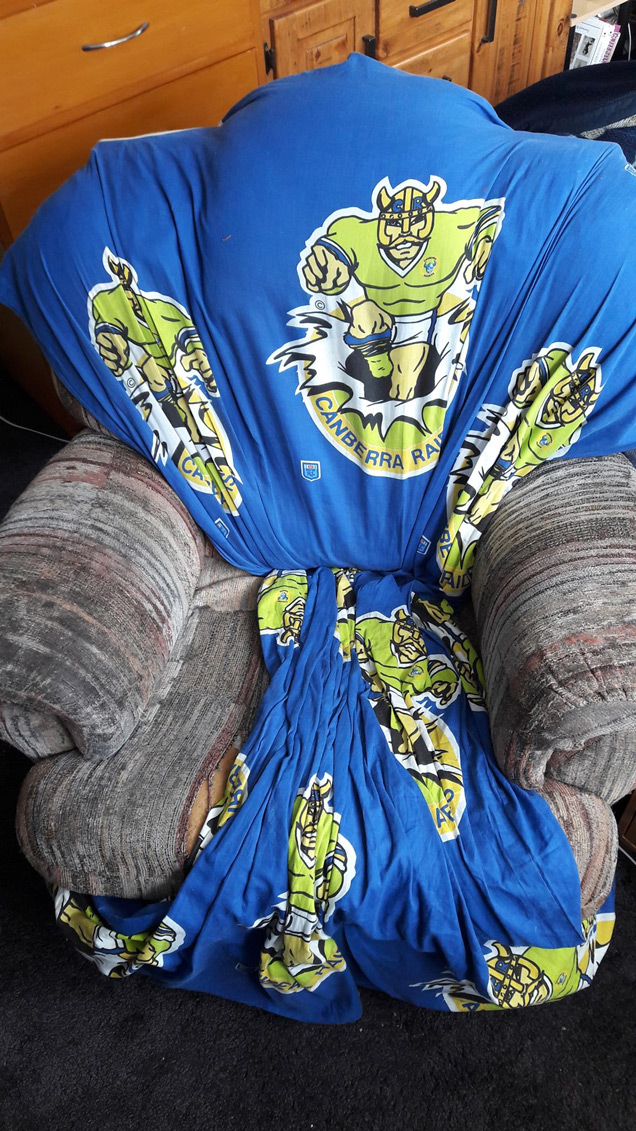 Owned by Ermie Mason
"A few more holes held together by cable ties under the cover."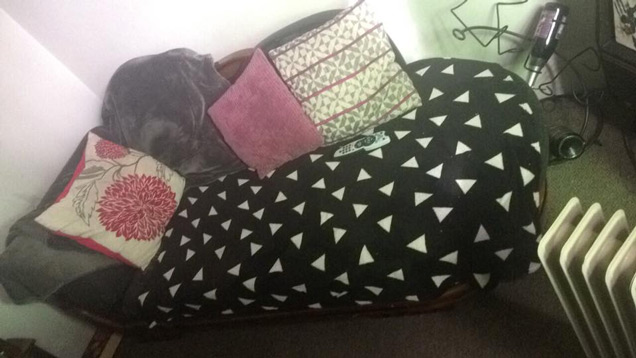 Owned by Nadine Zaric
"Not as comfortable as it looks. It's rock hard."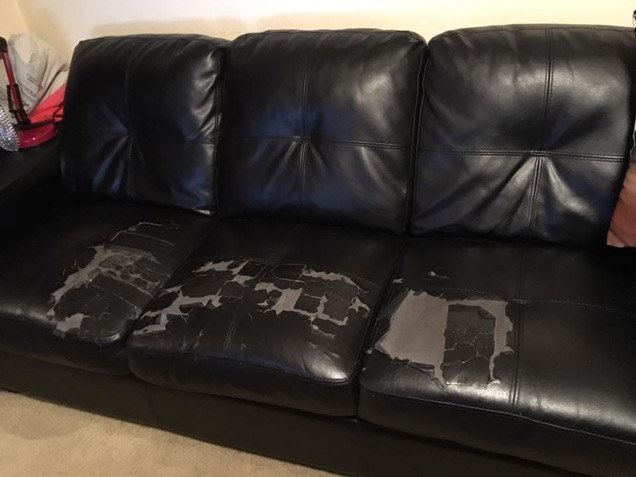 Owned by Ngatasha Whitley
"This was supposed to be a "good buy" but has turned into a "goodbye!" The tape you see is black duct tape and when you get up, you take part of the couch with you. We've had people over and as they leave, we've picked bits off them. Without them knowing! Choose us – we need this!"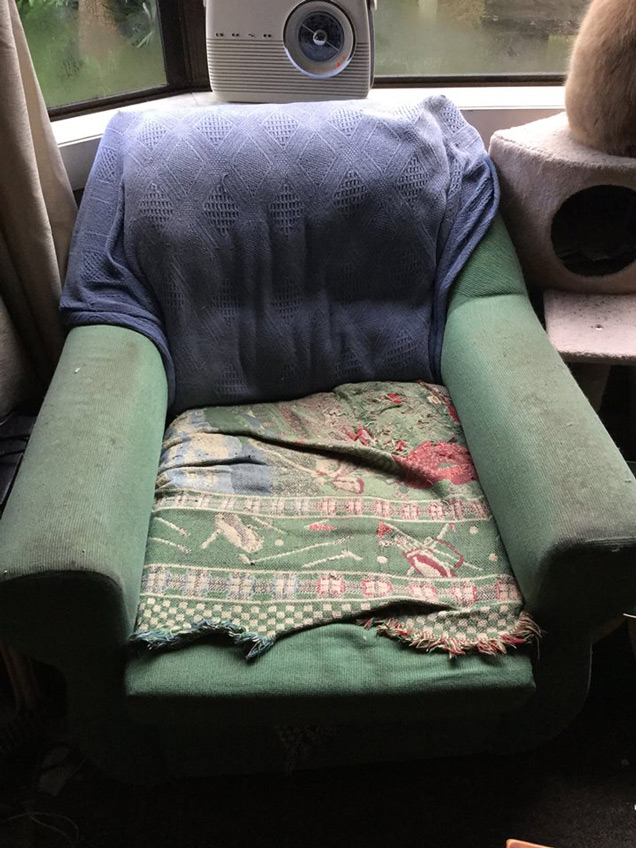 Owned by Sandra Spencer
"Stained and old. Covered with throws to hide the mess from kids and pets."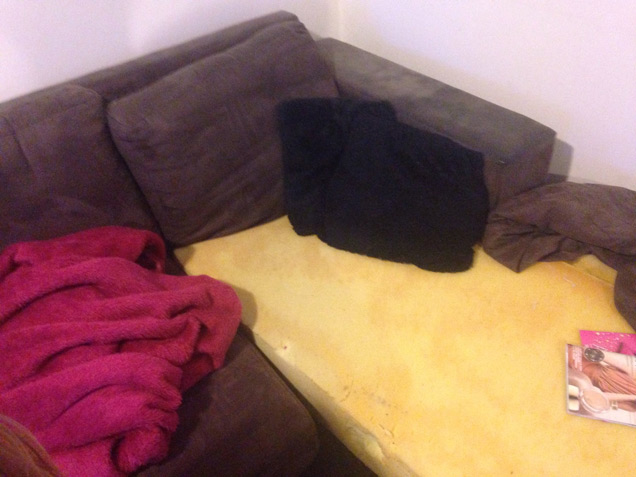 Owned by Stephanie England
"We've had this old couch for about 10yrs and it has suffered cat pee, child pee, child vomit and other spills such as coffee etc! The covers no longer zip up and the padding is wearing thin with holes thanks to kids and cats!"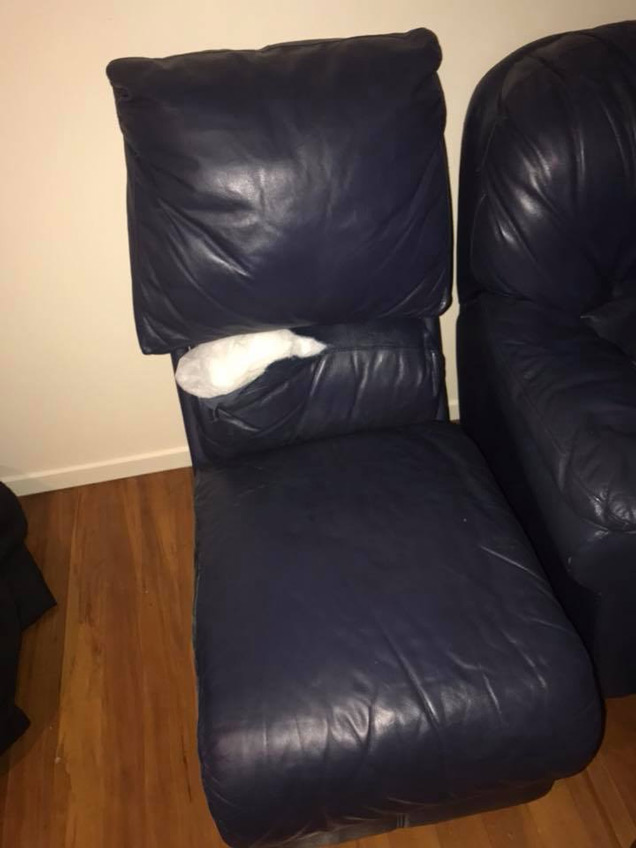 Owned by Troy Cornwall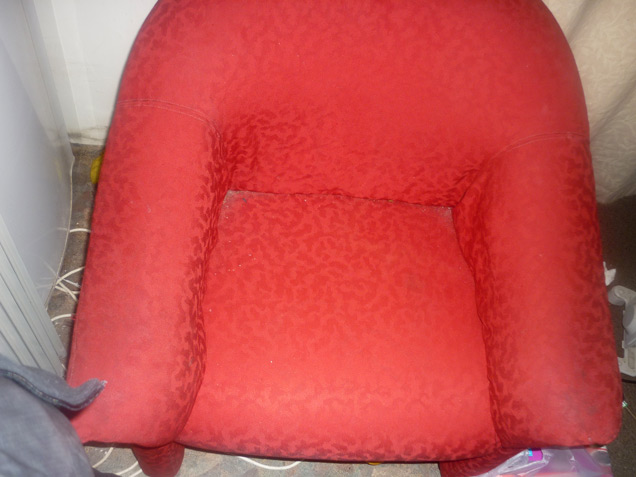 Owned by Tony Carroll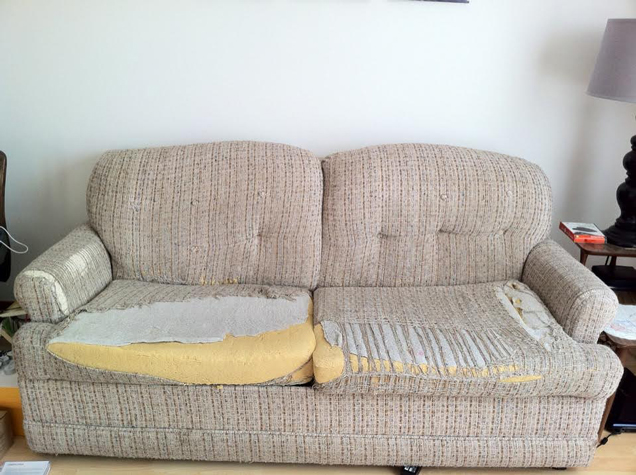 Owned by Murilo Pontes
"Oh old sofa how we love thee. How we hate thee. How we would rather be at Hoyts."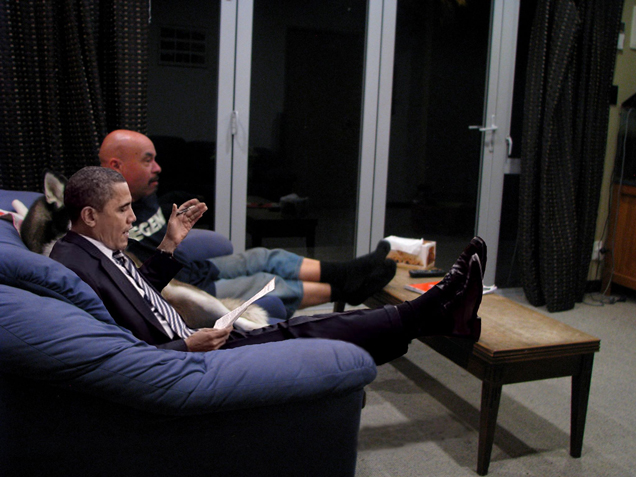 Owned by Dave Chapman
"I was so embarrassed by the state of my chair when Barrack Obama came to visit because of all the holes in it."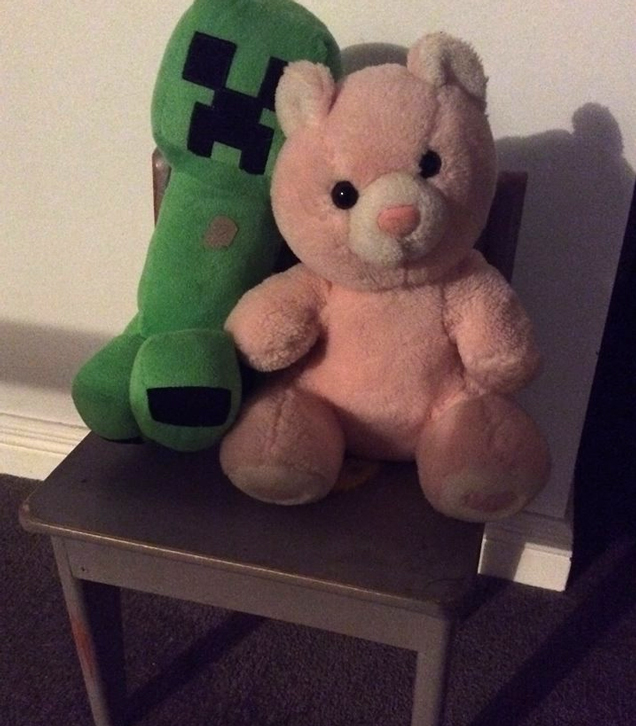 Owned by Jenny Faulls-Gash
"There's even two of us fighting over this…"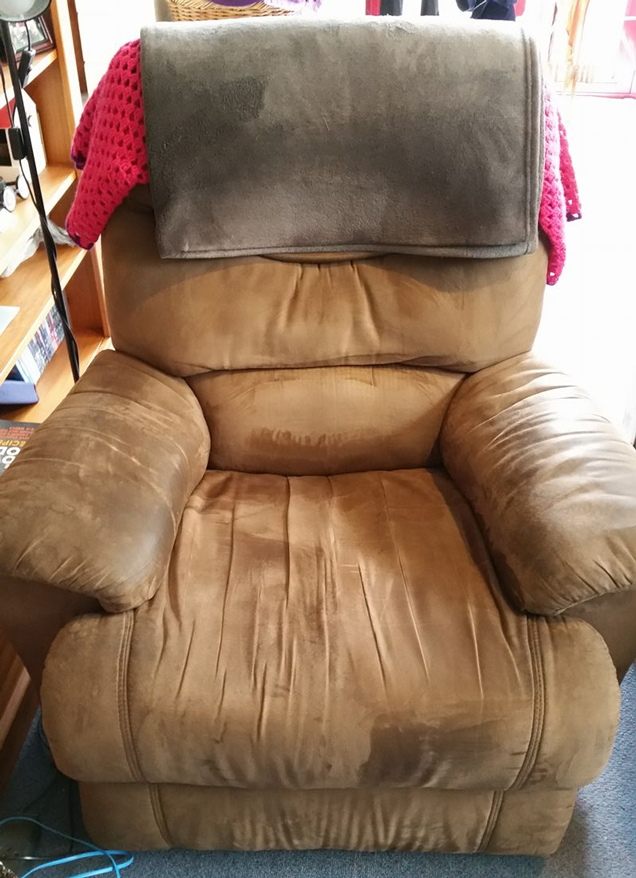 Owned by Amanda Hunter
"My very sad second hand lounge chair."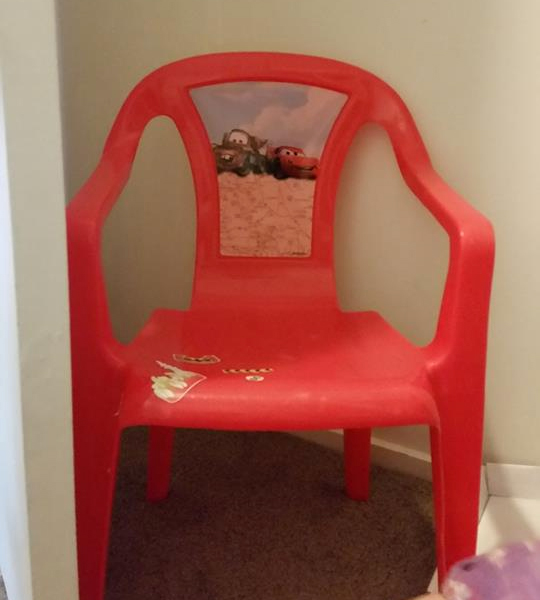 Owned by Christina Dunbar
"That's what I sit in every time."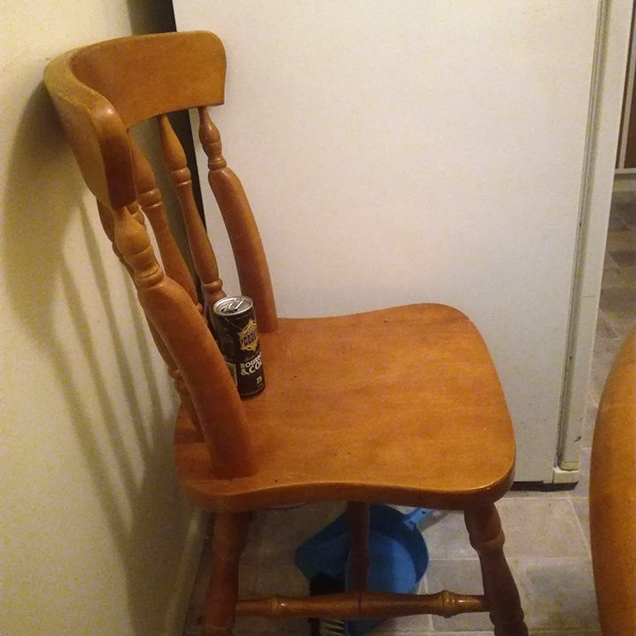 Owned by Pango Winterburn
"There's a cody on that seat…"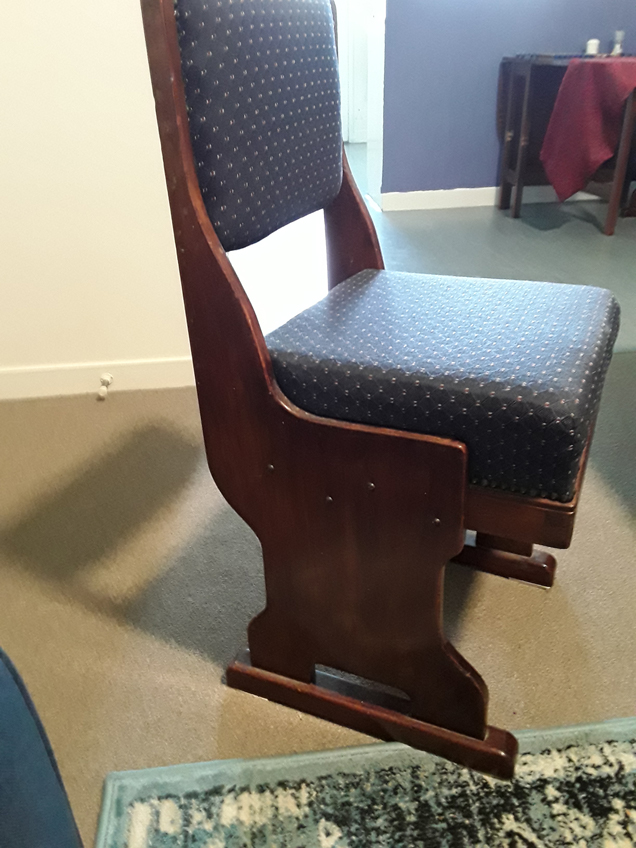 Owned by Diane Davidson
"It is the most stern, and unforgiving seat. It looks a bit as though it was part of a church pew arrangement. Possibly to ensure that parishioners did not fall asleep during the sermon. And feels like it. Or a Victorian 'naughty chair' to punish inattentive youngsters and train them to 'sit up straight'. (Because you do need to sit very straight to stay on it.)"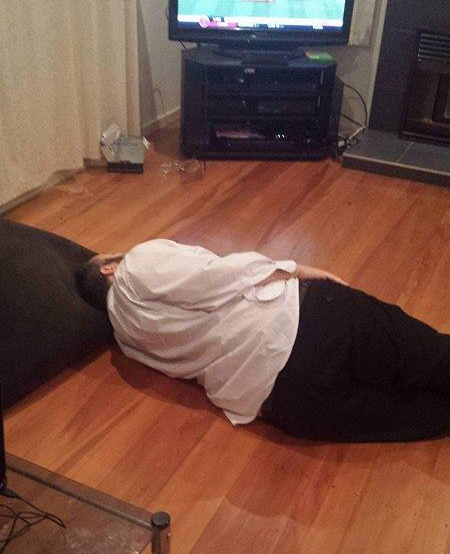 Owned by Alex Moulton
"Our couches degraded to the point that when we finally moved into a nicer place, the couches were in no state to follow us. That was 10 months ago now, and we still have yet to get more furniture. We've just been trying to make do with the bean bags, but it really doesn't fulfil our needs to stretch out."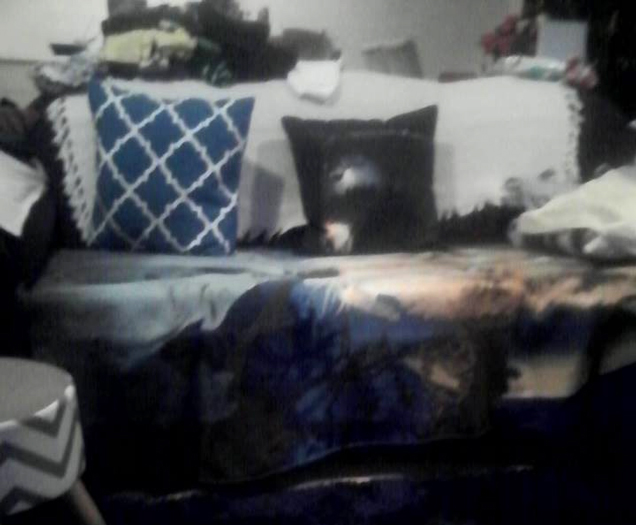 Owned by Rachael Kennedy
"Sadly my couch is over 10 years old and while it's OK, would love an upgrade."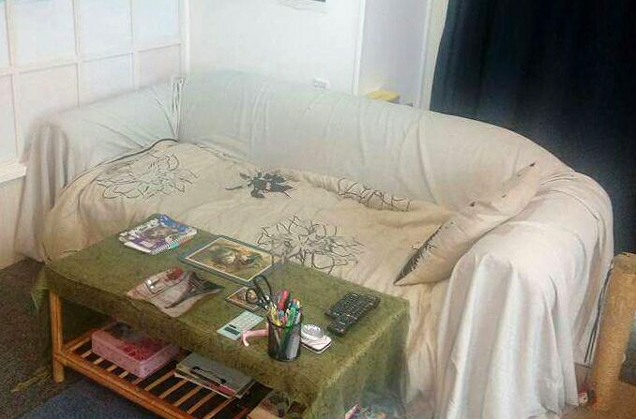 Owned by Karen Victoria Doody
"My couch is covered up with sheets to hide all the rips and tears from when my cat was little. Have not had a chance to replace it."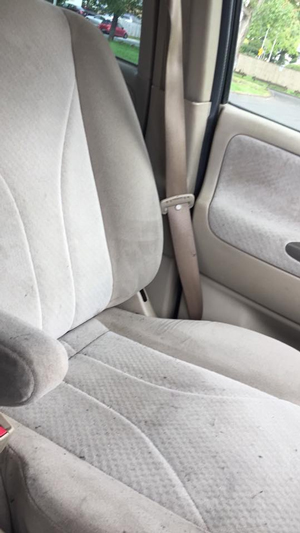 Owned by Martin Edmonds
"This is poor Marty's passenger seat, which often doubles as a movie seat as he watches on his broken phone… Poor Marty. Poor, poor Marty!"