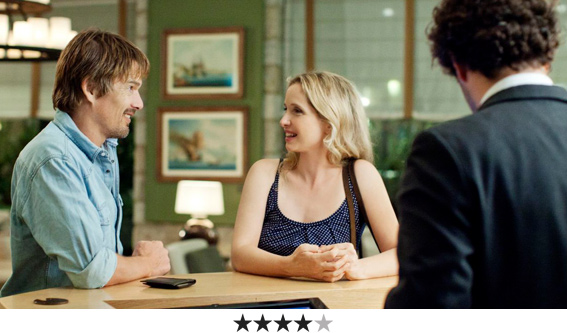 It's doubtful that anyone cares more for longitudinal love birds Jesse and Celine than Richard Linklater, Ethan Hawke and Julie Delpy, for this third entry in the Before series continues to treat them with devoted dignity, even when life threatens to render their devotion less dignified.
As the film opens, Jesse and Celine catch us up to speed with the nine years we missed, shooting the delightful shit for almost the entire first act. It serves as reassurance that their conversational chemistry has not deteriorated, largely due to the continued quality of their superbly-written/ad-libbed exchanges.
However, while the autobiographical 'honeymoon' stories of Sunrise and Sunset acted as creative fuel for Jesse's two best-selling novels, the concepts for his next book reflect murkiness in the pair's relationship, one that grows salient during an innocent brunch session. This segues into the film's golden scene: a roundtable discussion of love that presents brilliantly-argued ideals of romance, spanning and varying across generations.
When the two are finally alone, the worrying undertones that dose the dense script become overt in confrontational fashion, and it all strikes true – perhaps too true when the arguments diverge into bickering over who cooks dinner and picks up the dirty socks. It's uncomfortable to watch, but that's Linklater's intent as he exposes their fears, regrets and potential resentments with surgical precision. As one of the most thought-provoking movies I've seen all year, Before Midnight takes its traditional romantic tale into more insightful territories, with romance being the film's subject more than its genre.