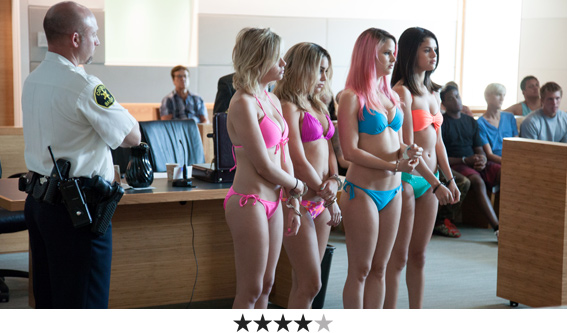 Described by the Hollywood Reporter as "porn-pulp" and nominated for top honours at the Venice Film Festival, 'Spring Breakers' follows four college girls on a decadent spree of partying and crime as they head off on Spring Break. A diverse range of talent assembles for this blend of arthouse and exploitation: James Franco, former Disney starlets Vanessa Hudgens and Selena Gomez, and filmmaker provocateur Harmony Korine (Kids, Gummo).
Read more and find movie times
---
Part indie festival fare and part T&A exploitation flick, Spring Breakers is going to attract aficionados of either genre – as well as an inevitable wave of barely legal thrillseekers – but Harmony Korine's oddly emotionally distant blend of styles isn't likely to completely satisfy either camp's initial expectations. There's perhaps too true a depiction of young 'uns (in all their annoying naïve dumbass glory) as well as too excessive a use of dubstep for the arthouse crowd. And those seeking to revel in those exact elements may be thrown by the film's often-slow pace and predilection for repetition and dreamy meandering when what they're really after is more nudity, gunplay and bass.
Perhaps this confounding of expectations is what Korine had in mind, or maybe the film simply evolved that way as the 40-year-old finally indulged in a spring break of his own. Either way, Spring Breakers is its own beast, a simultaneous celebration and criticism of youth and narcissism that posits the pursuit of selfishness and hedonism as the American Dream while not being entirely clear on whether this is an amazing or terrible thing.
Further challenging preconceptions, the chronically overexposed James Franco turns in one of his best performances as gangster and rapper Alien, which on form alone should've been unwatchable. The quartet of youngsters at the film's core also impress, the film reminiscent of Kids - Korine's breakout as a screenwriter – in its depiction of youth seemingly far more truthful in spirit than Hollywood's, and also when Korine approaches Larry Clark levels of lecherousness as the camera lingers on their scantily-clad frames.