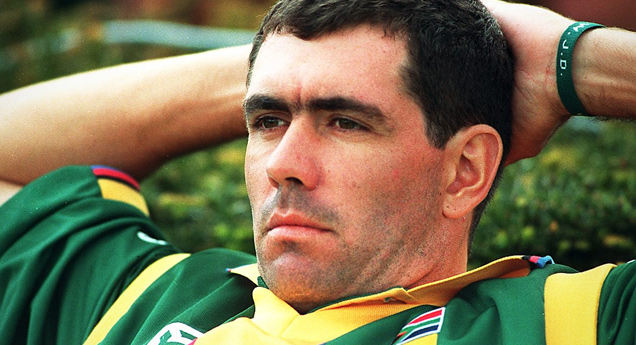 One of a range of documentaries playing in the NZ Fraud Film Festival – taking place at Auckland's Q Theatre next week on November 18 and 19, The Captain and the Bookmaker delves into the fascinating story of South African cricket captain – and matchfixer – Hansie Cronje.
The film screens on Saturday November 19, followed by a panel discussion with the sweetheart of NZ sport Valerie Adams, presenter Hayley Holt and Paul David QC who will discuss the effect corruption can have in the sporting arena.
Director Paul Yule joined us on the phone from South Africa to offer an insight into the troubled subject of his film.
---
FLICKS: I think Cronje's story has probably got a lot in common with anyone that's ripping people off or doing things that are underhanded in terms of the motivating factors. Do you see a commonality between him and the Bernie Madoffs of this world?
PAUL YULE: I'm in South Africa at the moment, and there is an enormous ongoing investigation into President Zuma's so-called "State Capture" – corruption on his part. I mean, some of the evidence which has come out reminded me so much of Cronje, actually. It's when an individual gets too much power, and is kind of flawed and forgets the common good – why they're there in the first place – these things can happen.
Cronje's not like some of those young Pakistani players who were being groomed into this behaviour, right? It seems to have arrived sort of at the peak of his career, fair to say?
I think so. The argument which I make in the film is that he did it because of a disagreement over racial transformation in South Africa, as much as anything. I mean, there were personal reasons of greed mixed in as well, I'm sure that's common always. In 1999, South Africa played against the West Indies at the Wanderers in Johannesburg with an all white team, and were basically told after that match that this could never happen again. I mean, this was eight years after South Africa had been reintegrated into world sport and they were playing the West Indies with an all white team.
I think Cronje's view – and he shared it with Bob Woolmer, who was the coach at the time – was that "well, if we're not going to play our best team, it's fixed already", "We're fixing it ourselves, so what does it matter?". I think that sport, and in particular cricket, had played such an important part in bringing to the notice of the world what Apartheid really was. Which makes the betrayal doubly egregious, really.
This film was the second that I'd done on sport and politics in South Africa. The first one was about Basil D'Oliveira. He was racially classified under Apartheid as 'coloured', and he was therefore not allowed to play cricket for South Africa. He was the Bradman of South African cricket, actually. I mean, head and shoulders above everybody else. And he, by very good fortune, managed to get over to England and play in the leagues where he was spotted, and then played for Worcestershire, and then for England. He became a British citizen and played for England.
In 1966, he made his debut, and in 1968, England were meant to be touring South Africa. Basically, the South African government said, "You cannot bring Basil D'Oliveira in the team." He had become the kind of star of the team by that time. And there was a grand conspiracy run from the prime minister's office in Pretoria, working in cahoots with the MCC at Lord's to basically not have him in the team. The trouble was that in the Ashes series against Australia in the summer of 1968, in the last test match he scored 158 and basically won the match. And 40 minutes later when they went into the selection meeting for the tour in South Africa, he wasn't in it, and the fix was in already.
And that led to the sporting boycott at South Africa, after which Cronje, 22 years later, was part of the first tour to India in 1991 when South Africa was brought in from the cold. So, there's a kind of symmetry in the two stories. As I say, the Cronje film, in a way, is about how the rainbow dream went wrong. And led to a kind of corruption which we see in the highest echelons of the state at the moment, under Jacob Zuma.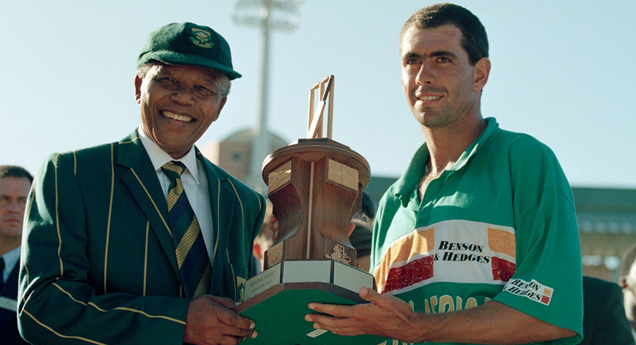 Obviously, for us here in New Zealand, we have been dragged into match-fixing controversies fairly steadily for the last sort of five or six years. But, I think if you look at some of the alleged conduct by Chris Cairns, the speculative narrative that formed around him was different to Cronje.
I think that is fairly similar though. I think that's quite similar to the Cronje thing. I mean, there's an allusion to that in the film, actually. This kind of idea of what top-class sportsmen want from it, what they get from it. Obviously they're brilliantly talented, and they work hard, and all of that, but there's a huge kind of adrenaline rush in the idea of performing on these big stages, and I guess it just adds another thrill if you're fixing it as well.
But it's such a betrayal. This is the thing, because the reason that people love sport is because it's a kind of metaphor for life. It's a team effort, normally, where people are joining together to achieve a common goal, while others are trying to stop them doing it. It's quite similar to a kind of industrious life. It depends upon everyone doing their best, and that means their best for the team and not just for themselves. If the whole thing is fixed, it leads to an enormous disillusionment. It's the same with politics, really. You can see it in the American election now. I mean, Donald Trump seems to be harping on an, I think, basically unfounded idea that all politicians are corrupt – which they're not.
But if a few are, it leads to a kind of disenchantment with the whole system. I think the movement of the centre of gravity towards the subcontinent in cricket has been important too, because betting on cricket in the subcontinent is very rife. There's so much money going around and it's so easy to fix, isn't it? That's the trouble with cricket.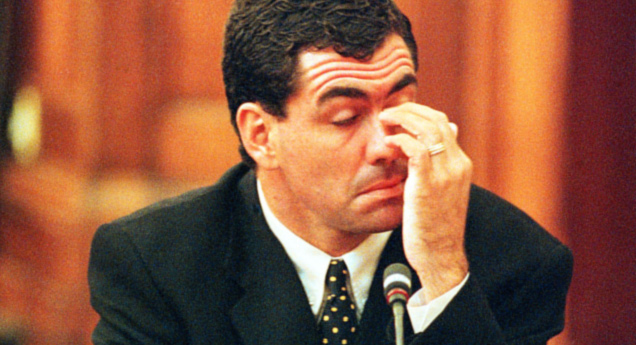 Do we have to accept that this is going to happen in some instances? I mean, has Pandora's box been opened in terms of our awareness of this happening in sport?
No, I don't think it has to at all. No. I think the rest of us have the task of bringing prominent people who transgress in this way to account. And they have to publicly atone, and there has to be a kind of public catharsis which has to go through. That's how institutions work. They have to be brought to book and be made to account. We can't just accept that it goes on, otherwise what's the point of watching it? I mean, what's the point of watching a race which has been fixed, but you don't know what the fix is?
---
'The Captain and the Bookmaker' screens at Q at 3pm on Nov 19