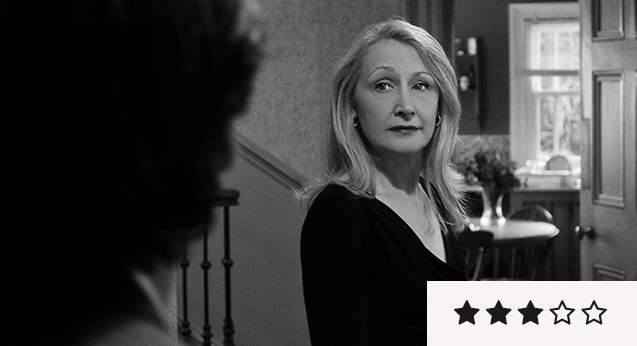 Even though this one-room British film shot in black and white assembles the talents of Kristin Scott Thomas, Timothy Spall, Patricia Clarkson, Emily Mortimer, Cherry Jones, Bruno Ganz and Cillian Murphy, this isn't some Oscar bait based-on-a-play dissection on the follies of the human condition. Writer-director Sally Potter's The Party is an up-the-guts intellectual comedy for people sick of intellectuals, cutting with its script and performances for 70 minutes before booting you out the door. It's not memorable, but it's short-lasting fun.
Thomas plays a host to her own party, celebrating a career milestone until her lethargic husband (Spall) drops a bombshell announcement right when the champagne pops. The guests attempt to deal with this situation only to call out the other unacknowledged elephants in the room. If I sound annoyingly vague, it's intentional – the humour relies on plot turns taking you by surprise.
There isn't a single slack performance in this ensemble. Spall somehow makes a lumbering and pathetic loaf feel lively; Mortimer and Jones play a couple that bicker with believable angst; Ganz eats up the role of a cliché-talking "spiritualist" who isn't as wise as he thinks he is; Murphy goes against his good looks as a banker who sweats out his insecurities; and Thomas keeps the comedy grounded as the distressed straight woman. However, Clarkson hits the hardest as a no-fucks-to-give vixen, mining each line for the most gold. ("Sisterhood is a very aging concept, sweetheart.")
The Party will almost definitely get on the nerves of those who overuse the term "stagey" when criticising bottle films. Most of these exchanges and monologues are very turn-based, coming across more like re-enacted debates than real-life kerfuffles. The ending also doesn't fully satisfy the subplots, but it's a classy finish nonetheless – like tying four presents together with one shiny bow.