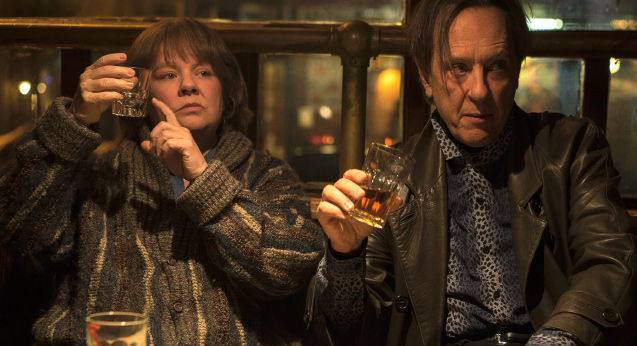 Can You Ever Forgive Me? is powered by exceptional performances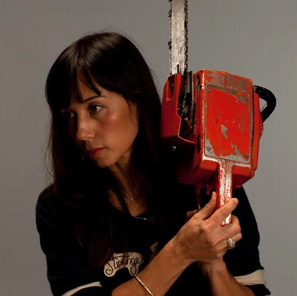 ---
Melissa McCarthy is literary fraudster Lee Israel in this biopic that traces her descent into forgery alongside a burgeoning alcoholic friendship (Richard E. Grant co-stars).
Sarah Voon praises Marielle Heller's deft, sensitive direction and the exceptional performances of her leads.
---
Redolent of a gentler era, Can You Ever Forgive Me? presents a warm little time capsule of pre-tech New York in 1990—all familiar-looking worn streets, dive bars and an abundance of cosy crumbly bookstores, enhanced by a rich palette of blues, browns, burnt orange, burgundy and mustard.
This true story picks up at arguably the lowest point for protagonist Lee Israel, played by Melissa McCarthy (yass, from Bridesmaids et al), a mildly successful biographer of celebrities including Tallulah Bankhead and Estee Lauder, who was then known for her work in the 1970s and 80s. Following a self-inflicted fall from grace, slowly alienating her editor (Jane Curtain) and repelling her peers with her antisocial behaviour, McCarthy as Israel executes a performance of such authenticity, that at one point I could almost smell (and dry retched to) the funk of her New York apartment.
Sign up for Flicks updates
Israel's isolation is compounded by alcoholism, a relentlessly surly disposition and a preference for her cat's company over socialising with humans. The one friend she eventually gains, flamboyant drifter and fellow alcoholic Jack Hock, played excellently by Richard E. Grant, attaches himself to her after a bender in a local bar. Having used up social favours at various literati parties in his quest for hors-d'oeuvres and free wine, he's been recently excommunicated for drunkenly peeing in a socialite's coat closet at a party they both attended and becomes Israel's unlikely confidante and consequent partner in crime.
Their companionship grows as Israel discovers she has a knack for forging personal letters by deceased famous authors—in high demand as collector's items—affording her a sorely needed income. Although Hock's tenuous devotion often plays second fiddle to more hedonistic pursuits, their rapport and dialogue is acidly funny and at times heartbreaking. Deftly and sensitively directed by Marielle Heller, the pace, narrative and visuals of this wonderfully understated film combine in perfect complementary balance with both McCarthy and Grant's exceptional performances, and as the heat on Israel increases and things start to fall apart rather shockingly, we are led squirming to the incredibly satisfying conclusion.