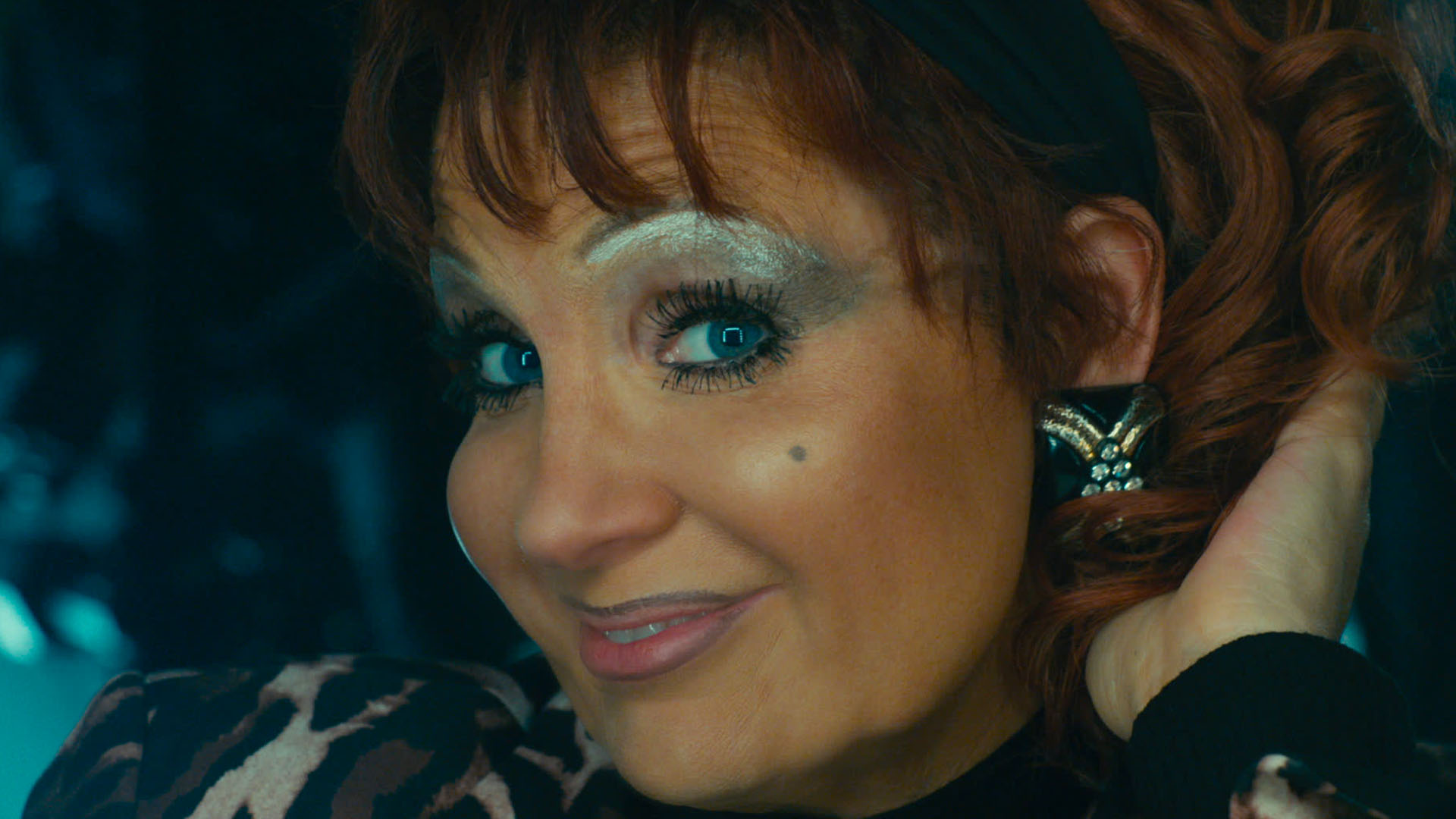 Jessica Chastain and a camp, comic tone elevate The Eyes of Tammy Faye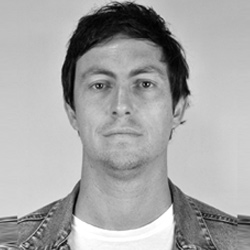 ---
Jessica Chastain and Andrew Garfield are Tammy Faye and Jim Bakker in this biopic on the televangelist couple. It mostly works as a piece of diverting entertainment, writes Steve Newall, with Chastain's efforts elevating the pic.
What eyes! As the film opens, we're treated to them in all their glory through grandiose fake lashes as Tammy Faye explains to a makeup artist that "it's all tattooed on anyway"—the eyelids, the lips too. Metaphor for the multiple veneers of Faye's life, yes, but also a literal introduction to the peepers through which the events of the film will unfold.
Swiftly moving from the rapid courtship and marriage of Tamara Faye LaValley to James Orsen Bakker and on to their professional and public partnership, Tammy (Jessica Chastain) and Jim (Andrew Garfield) are depicted as an ambitious duo. Watching them work their way up the showbiz ladder, hustling to get on network airwaves and exponentially increase their audience has a chutzpah familiar to biopics (as do the prosthetic appliances sometimes distractingly nudging the actor's familiar features slightly closer to the real-life couple's).
The key difference, of course, being that Tammy and Jim are not run-of-the-mill entertainers but televangelists—their audience is being revved up by the word of God and some choice usage of puppets, but will soon be encouraged to pledge more and more and more of their dollars in service of the good word. And to fund an increasingly lavish lifestyle, naturally…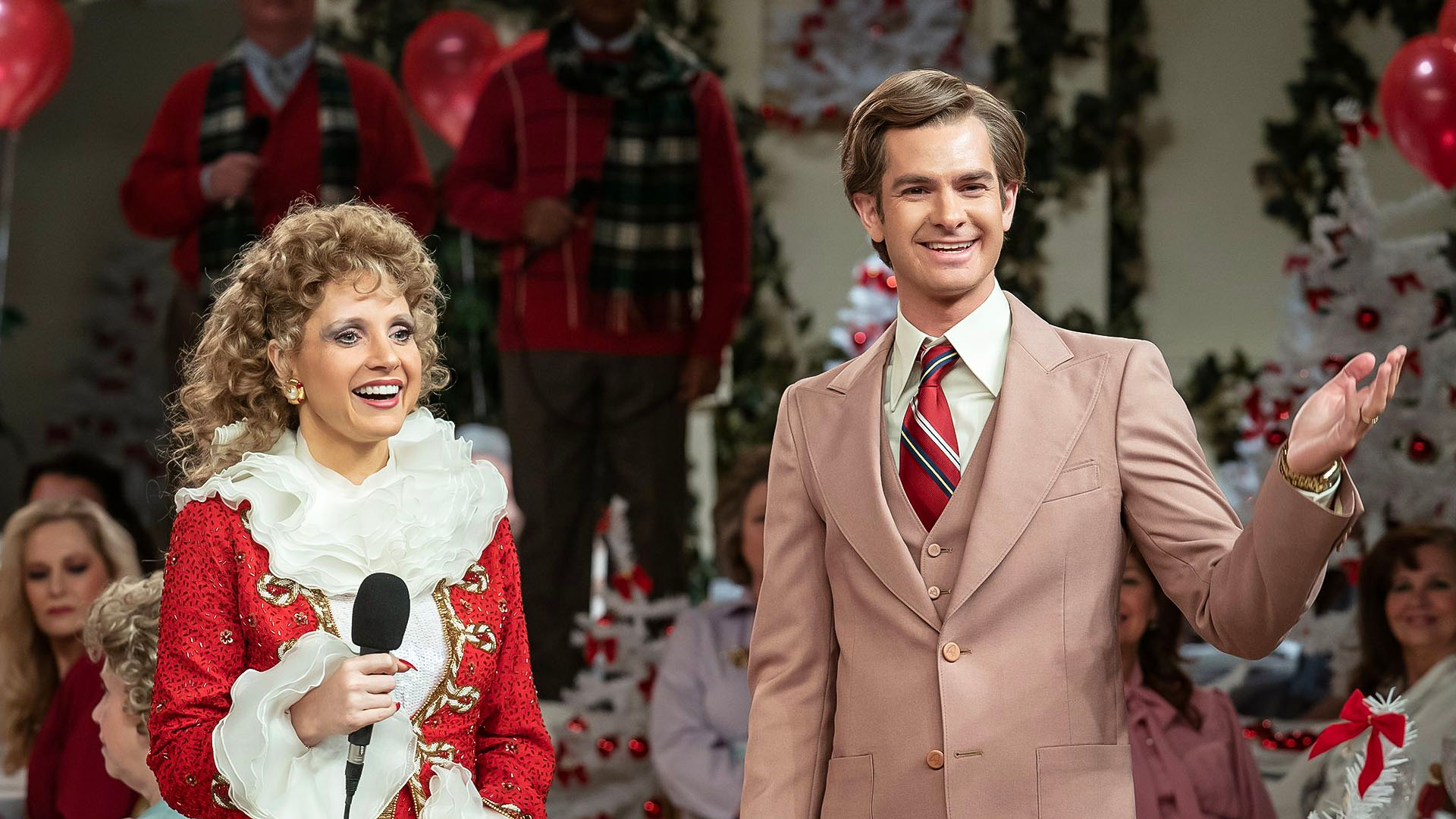 Chastain brings Tammy to life with a guileless, winning warmheartedness, humanising Faye while seeming to relish the opportunity to play a character with cheeky and comic touches that we don't get to see enough of from her. Unfortunately, Garfield can't really keep up. A charitable interpretation of his performance might blame his character for not being an entirely convincing actor, prone to duplicity that's more apparent than the star preacher would like to think. We're also not privy to his internal machinations—as the title suggests, he's seen from a distance—but maybe it's just that Garfield isn't a match for his co-star.
As her husband moves from slick up-and-comer to an increasingly theatrical presence, Chastain's portrayal of Tammy shifts into more sympathetic territory—a becalmed marriage and prescription drug addiction dent Tammy's previous vibrancy, an extra-marital rush becomes crushing when it's ripped from her grasp. Chastain sells the drama as the film descends into soapy b-grade territory around her, her character increasingly championing topics controversial to religious broadcasting (urging love and acceptance for gay people and the HIV-positive, demonstrating penis pumps for the impotent).
Sign up for Flicks updates
The film embraces a camp tone as it moves through the decades—hair gets bigger, fashion and makeup louder, in step with the pair's growing disconnect with everyday life and growing histrionics. With director Michael Showalter (The Big Sick, They Came Together) at the helm, there's also outright comedy threatening to explode at any moment—from an early bathtub moment of hand relief that feels straight out of Wet Hot American Summer to the OTT aspects of the couple's excesses and personal lives.
All up, it kinda, mostly works as a piece of diverting entertainment, with Chastain's efforts the most memorable elements in elevating the sometimes borderline TV-level pic. While it may (conveniently?) minimise Tammy's role in financial scandal, it's a humanising and occasionally sobering portrayal of a larger-than-life figure told from her perspective—one that even sees Tammy Faye snatch moments of dignity in the face of overwhelming, mortifying, embarrassment.