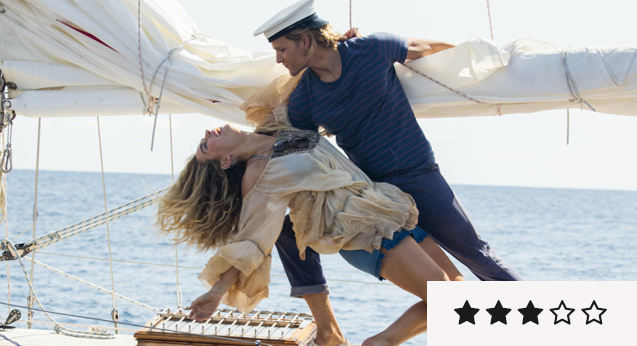 Here We Go Again indeed, because in many ways this is a repeat of the first film's fizzy cocktail of big name stars, belting out Abba hits in a fun rom-com set against postcard-perfect Aegean scenes.
Oliver Parker (writer of both Best Exotic Marigold Hotel movies) directs the sequel to Mamma Mia! – the smash 2008 movie of the hit stage musical. A decade later, Donna's (Meryl Streep) daughter Sophie (Amanda Seyfried) is pregnant and worried that she'll not be able to cope with motherhood. By way of advice, Tanya (Julie Walters), and Rosie (Christine Baranski), take Sophie on a trip down memory lane. We learn how Donna fronted her band, The Dynamos; founded her Greek island villa; met Sophie's dads (Colin Firth, Pierce Brosnan, and Stellan Skarsgård), and single-handedly raised Sophie without the help of her own mother, Ruby, who shows up here in the form of Cher.
With a returning cast of reliable performers and a few fresh star turns (and brief cameos by Abba's Benny and Björn), it's the young newbies who shine brightest. As young Donna, Lily James is no Meryl Streep, but does just fine, alongside Jessica Keenan Wynn as the young Tanya, and Alexa Davies as young Rosie. The Abba hits keep rolling, the cast keep smiling and everything is just as it was in the first film, only somehow brighter and bolder. It would be easy to dismiss this unashamedly feel-good franchise as so much crowd-pleasing fluff, but beneath the cheesy topping beats a heartfelt love-letter to motherhood, family, friendship and ultimately, living life on your own terms.
Fanciful? Maybe. Corny? Absolutely. Escapist? Definitely. Take it all with a sup of ouzo, give in to the good-natured spirit and this sequel delivers everything you loved about the first movie. Then again, Knowing Me, Knowing You, if you loathed the original, this'll have you sticking your head in your popcorn-bucket and wailing Why Did It Have to be Me? all over again, because as every Super Trouper and Dancing Queen knows, when it comes to Mamma Mia!, that's The Name of the Game.