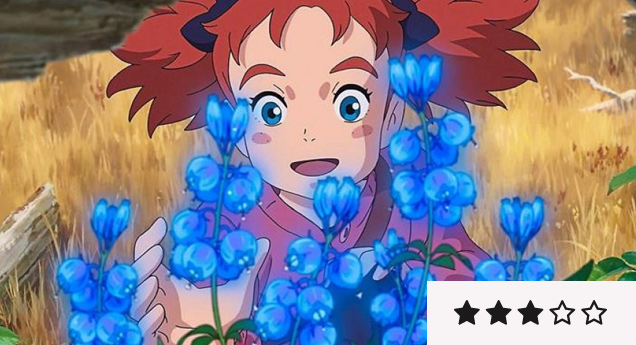 It pains me to say it: the first feature from Ghibli successor Studio Ponoc is underwhelming and unfulfilling in comparison to what we've experienced from film masters Hayao Miyazaki (Howl's Moving Castle) and Isao Takahata (The Tale of the Princess Kaguya). Even on its own merits, Mary and the Witch's Flower lacks a core heartfelt relationship seen in director Hiromasa Yonebayashi's previous efforts Arrietty and When Marnie Was There. Fortunately, like many of Studio Ghibli's lesser films, there's still enough cinematic and literal magic to make this fantasy adventure watchable.
Based on Mary Stewart's The Little Broomstick, it's understandable why this Ghibli crew would adapt a novel about a girl who gets Spirited Away to a Castle in the Sky where she becomes a Kiki-like witch. There, she visits a not-quite-Hogwarts university and the film mines a good amount of awe and wonderment from impossible architectural structures and wizard robotics. Kate Winslet and Jim Broadbent also do superb jobs as faculty leaders Madam Mumblechook and Doctor Dee, loading their voices with sinister slabs of pompousness and eagerness.
Unfortunately, this narrow focus on the magic world doesn't give Mary much time with her Great Aunt Charlotte or Peter the paperboy. It's not a problem at first, but when the climax counts on the audience being invested in these relationships, it can barely make a single shoulder shrug let alone a tear fall.
At least Mary's a gosh-darn likeable lead with her impulsive, happy-go-lucky ability to entertain herself just by going outside to look at flowers or follow the neighbour's cat. The film gets by on her adventurous attitude alone, which will be enough to sweep audiences up in a journey that poses some good simple questions about science and ethics.
Find times & tickets for 'Mary and the Witch's Flower' | Also playing in Japanese with English subtitles