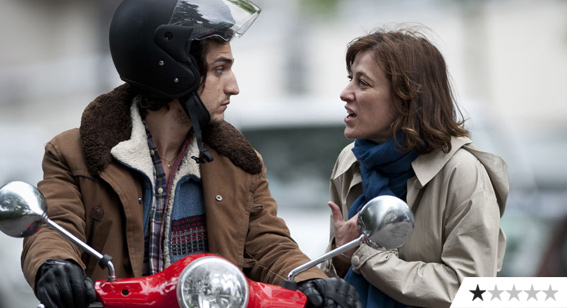 Review: A Castle in Italy
---
"A family is forced to sell their Italian home" suggests the official plot description of this French film. That's not what A Castle in Italy is about, but is possibly the only storyline it maintains throughout. The film portrays the rubble of a dysfunctional once-aristocratic French-Italian family: two middle aged children and their mother, denying debt, health and reality in tragically unbelievable fashion.
It's always a risk when filmmakers make films about filmmakers. There is an assumption that the audience are as fascinated by their trials and tribulations as they are. A few such films work harder to ensure the story and characters compensate. Too many languish in an unappealing world of frustrated creatives and fragile self-esteem. Such is the case here in a film neither as funny nor tragic as it believes itself to be.
The notional subjects are Louise, a forty-something former actress who yearns for a baby, and Nathan, the disenfranchised twenty-something actor she becomes involved with.
From Louise explaining IVF to bewildered nuns to a man fainting from AIDS-related complications, the film lurches from farce to melodrama and back again like the drunk bankrupt Serge who staggers into the film around the half hour mark. The only recurring theme is the self-absorption of the central characters, who remain largely unlikeable and unengaging right to the tacky, unearned metaphoric conclusion.
Valeria Bruni Tedeschi wrote, directed and stars in this partially autobiographical film as Louise, who is frankly a largely unappealing mess from start to finish. Sadly so is the film about her and her castle.