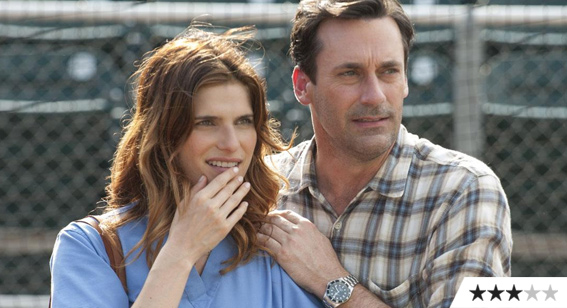 Review: Million Dollar Arm
---
What's not to love about Jon Hamm? The Mad Men star continues to get away with Draper-like behaviour (of the family-friendly variety) in this unconventional true story, told in a conventional way. Hamm plays real-life sports agent J.B. Bernstein, who travelled to India to produce a reality TV show competition to get young Indian cricketers to give baseball a shot in the U.S.
According to the film, having thrown pitchers Rinku Singh and Dinesh Patel into a totally different culture, he gave them all the love and affection you'd offer a computer. Such flaws can only be corrected by the med school girl next door, of course (Lake Bell), as his young protégés suffer from homesickness and high expectations.
Much of this feels like your classic Disney underdog tale with a twist of Slumdog Millionaire as it flits between the US and India, with all the colourful ra-ra you'd expect. But it's a sports film with a little extra. Yes there's that slow-burning romance, the fish out of water/culture clash comedy, and an eventually redemptive feel-good factor.
Oscar-winning screenwriter Thomas McCarthy maintains a breezy wit throughout and remains firmly behind the wheel, juggling several characters' emotional arcs without crossing into schmaltz. That said, the familiar formula means you'll know what's coming.
Bringing it down to earth are great performances from Alan Arkin as the curmudgeonly Ray and Suraj Sharma and Madhur Mittal as the real-life pitchers. Million Dollar Arm may not confound expectations but as far as sports movies go, like Hamm, it's immensely likeable.