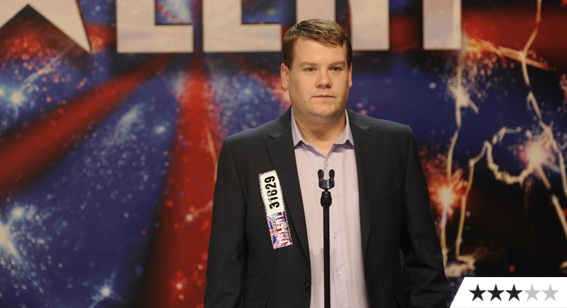 ---
You realise the pop culture machine must've gone a bit loopy now we're making films about reality TV stars. But Welshman Paul Potts, the 2007 winner of Britain's Got Talent, is a surprisingly worthy subject. Whether Kiwis and opera fans care as much about him as European viewers is one thing but if not, they may miss out on enjoying a rather lovely underdog tale.
Potts (who, the film takes great delight in pointing out, shares a name – almost – with the Cambodian dictator) has none of the outer attributes you might associate with stardom, other than a powerful opera singer's girth. He's also woefully under-confident. Gavin and Stacey star James Corden gives Potts a passion, boyish charm and vulnerability – as opposed to a meek, victim mentality – that makes him impossible not to root for. Alexandra Roach as his supportive partner Jules, Julie Walters and Colm Meaney as Potts' parents, and Mackenzie Crook, shaking off his geeky The Office schtick to play Potts' louche best mate, complement Cordon's warm performance.
As for the story, of which we already know the end, screenwriter Justin Zackham tweaks Potts' history to fit your typically emotional biopic mould, as our determined protagonist comes up against every conceivable obstacle, and bully, along the way. There's also plenty for the Puccini fans, including a stint when Potts spends time in Venice and performs for Pavarotti, the friendship he strikes there the only false note in the film. And despite a post-wedding scene that pours on the gush factor, One Chance has, for the most part, more wit than sentimentality. Formulaic but moving.