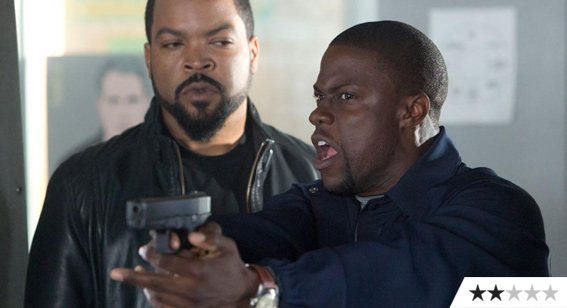 ---
Are you Australian? Then apparently you won't go and see Ride Along. That's according to distributors who think cinema-goers outside of North America won't watch a comedy predominantly starring African American actors. It's a theory worth testing, but it will require a higher quality effort to do so.
Kevin Hart plays Ben Barber, who at 5′ 4" is a small man with big ambitions as well as a huge reputation in cyberspace for his shoot 'em up skills under the moniker Black Hammer. A high school security guard by day, he aspires to be a 'real' cop and to propose to his girlfriend. When he gains admission to the police academy it's his chance to impress his potential brother-in-law, played by Ice Cube, a police detective who is about as real as it gets. Cue the titular ride-along as Black Hammer gets to test his skills in the real world, and inevitably against real criminals.
The problem here has nothing to do with race and everything to do with genre. From Beverly Hills Cop to Police Academy, the low-intellect cop-comedy is a winning recipe that has largely disappeared from our screens, but those famous examples, alongside Lethal Weapon and other more action heavy cousins, have left big shoes to fill. Comedically, Ride Along is more equipped for the kids' sneakers section. The jokes – centred on Hart's ineptitude to the task at hand as events spiral into organised crime – too often take the most predictable path.
With neither enough action nor comedy, Ride Along falls between the cracks to be vaguely enjoyable but largely forgettable.