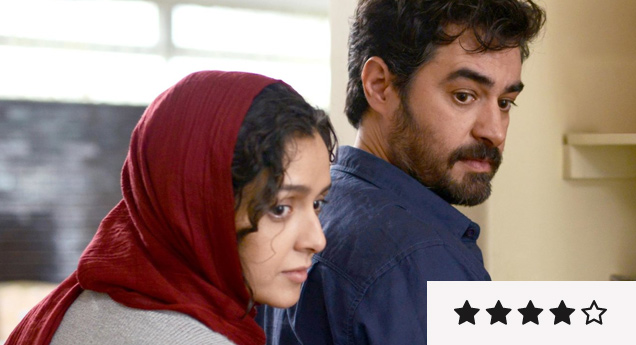 The Salesman gets underway with an unsettling seismic event. Is it an earthquake or a bomb? The apartment building where married couple Emad (Shahab Hosseini) and Rana (Taraneh Alidoosti) live has become unstable and they scramble to flee, stopping only to help a disabled neighbour. These are good people, and as we know from director Asghar Farhadi (A Separation) bad things can most certainly happen to the good.
The cracks on the wall of the couple's apartment provide the metaphor for what's to come, and right to the last frame Farhadi holds the tension so tight you wonder if you might crack yourself.
Things are familiar but also different in Iran. For one thing, the staging of Arthur Miller's Death of a Salesman has to be approved by Government censors and edited accordingly. The grim American classic is the play within this film, and is being performed by the husband and wife protagonists, whose own lives soon become just as tragic and filled with impotent rage. In the midst of the production they find themselves forced into a shabby apartment owned by a sugar daddy to the theatre and previously tenanted by a mysterious woman in the midst of her own collapsing life. Moral questions are the director's key obsession here, that and an understanding of the geography of that great land known as the 'grey area'. So it's a challenging watch, but also a thrilling whodunnit, and a gut wrenching fable, albeit without a clear lesson. What is revealed is why Farhadi keeps winning Oscars.
It occurred to me that this will resonate more for those with knowledge of the Persian culture, but there's plenty of pleasure in being a tourist too. Tehran is familiar and exotic in equal measure. Universality is not Farhadi's overriding goal, and that's a good thing. It keeps things real and the viewer on their toes.