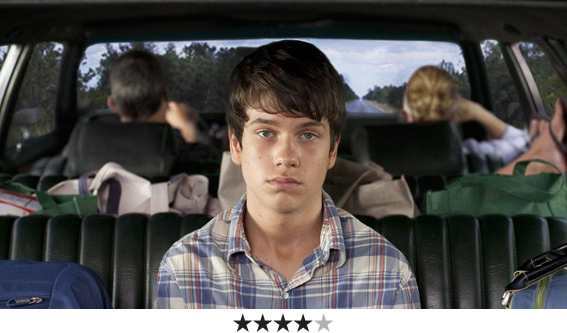 Review: The Way, Way Back
---
A contender for feel-good comedy of the year, The Way, Way Back treads a similar path to Jim Rash and Nat Faxon's other Oscar-winning film, The Descendants, with memorable characters, heartfelt themes and a great cast. This isn't quite as nuanced or complex as the George Clooney drama, sticking to a crowd-pleasing formula, broad humour and familiar coming-of-age sentiment. And although you can fairly predict the girl-next-door romance and protagonists' character arc from gloomily awkward to cheerily confident, it's not hard to warm to the film when you spend a good portion of it laughing out loud.
Much of that has to do with all the fun that comes with its tacky, all-American water park setting (think fat kids getting stuck in the tube, giant hotdog figurines and staff members who are practically part of the furniture). And a lot of laughs come from Sam Rockwell, who gets the majority of the film's great one-liners as Duncan's wise-cracking mentor figure, a guy oozing with "sexual charisma" (his words). The rest of the cast deserve praise too: Liam James as the nerdy Duncan, Toni Collette as his submissive mum, Steve Carrell as her passive-aggressive boyfriend, Allison Janney as the catch-phrasing lush, plus Bridesmaids' Maya Rudolph, Anna Sophia Robb, Amanda Peet and Rob Corddry in supporting roles.
The biggest criticism is that The Way, Way Back is not quite as offbeat as it could be, its gush factor a tad high, and not just because of the hydro-slides. The central theme of standing up for oneself is made abundantly clear, and some of the shallow teens are a little one-dimensional, not nearly as cutting as The Descendants' angsty teens. But this is a pretty safe bet for a fun time no matter your age – a bit like a day at a water park, really.