The Croods: A New Age is an incredibly relevant end to this punch-worthy year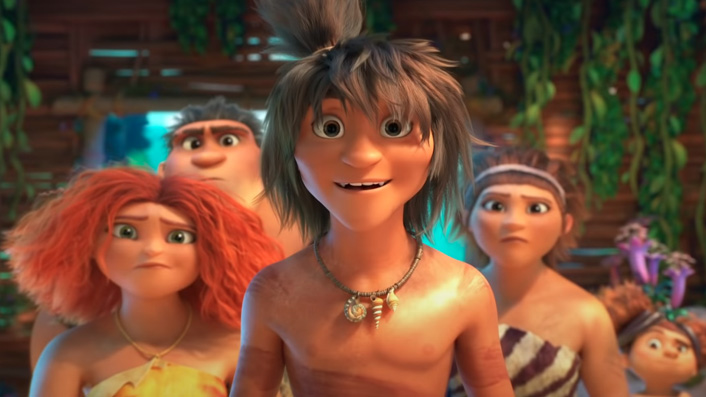 Nicolas Cage, Emma Stone, Ryan Reynolds and Catherine Keener return to lend their voices to The Croods: A New Age. As the sequel of the 2013 Oscar-nominated prehistoric adventure comedy, does it stay relevant in the awful year of 2020? Liam Maguren reckons so.

The children who saw 2013's The Croods in cinemas are almost all teenagers now. While some animated franchises aged their key characters alongside their young audiences—like Pixar's Toy Story series or DreamWorks' own How to Train Your Dragon trilogy—The Croods: A New Age has no interest in doing that. So it's somewhat incredible that this sequel somehow finds a story angle in their prehistoric world that feels so relevant to ours, especially at the of a year that deserves a monkey punch to its face.
Taking place immediately after the first film, A New Age wastes no time getting everyone back up to speed. The Croods are still surviving the beautiful but deadly outdoors while teenage lovebirds Eep (Emma Stone) and Guy (Ryan Reynolds) make kissy-faces to each other, much to the disgust of protective dad Grug (Nicolas Cage). When they crashland into a bordered-up utopia, full of primitive technology and all the food they could hope for, they think they've landed in paradise. Until they meet the residents: an intellectually superior family called the Bettermans.
As neighbours to Guy's deceased mum and dad, Hope (Leslie Mann) and Phil Betterman (Peter Dinklage) welcome the Croods into their treehouse mansion. And, like a bull in an iStore, the Croods unintentionally lay waste to their confusing new surroundings, causing the Bettermans to unleash their inner Karens.
The first hour plays out like a prehistoric dinner party comedy. Hope and Phil try to hook their embarrassed daughter Dawn (Kelly Marie Tran) up with Guy; Eep struggles to understand Guy's sudden change in behaviour; Dawn and Eep secretly go joyriding outside the wall; Ugga (Catherine Keener) and Hope engage in passive-aggressive warfare; and Phil coerces Grug into some shady dealings inside a literal man cave.
Sign up for Flicks updates
While staying confined in this one location seems to go against the original's adventurous spirit, its purpose becomes clear with its final act, which does indeed venture far beyond the border. Themes surrounding man's compassionless ego, environmental imbalance, class division, and the threads that bind all these together are expressed surprisingly well here. Best of all, it's told with clarity and an abundance of all-ages slapstick silliness, assuring the moral of the story never feels like a lesson in the classroom.
And the slapstick sure does slap. A New Age lends itself to finely-timed physical comedy and the animation team relish in the opportunity to achieve Tom & Jerry-level family-friendly violence (a reoccurring stick-in-the-eye gag ALWAYS got me). Gran (Cloris Leachman) also found a way to make prop comedy funny again (keep an eye on her hair). Both forms of humour are needed because the script (written by a completely different team) can't quite make the dialogue crack this time around.
It's also clear that, with so much to juggle in a 95-minute film, the team didn't fully know what to do with certain characters. Thunk (Clark Duke) is reduced to a one-joke plot about screen-addiction while Guy's fuzzy sidekick Belt makes it click with a girl sloth. (In case you weren't sure she's a girl, they made her pinker than a gender reveal party.)
There's also no real attempt at making tear ducts tremble this time around. Under the direction of Chris Sanders, who helmed the first Croods as well as the first How to Train Your Dragon, a moment about whānau unity could have been heartaching. Sadly, first-time feature director Joel Crawford turns this into a footnote. The only real gut-punch is in the opening minute, but to Crawford's credit, the hit lands.
These aren't massive complaints, mind you. They're just limitations that prevent a very good family film from being a great one. Fortunately, there are no flaws amongst the voice cast. It's hilarious to me that one of Nicolas Cage's more toned-down roles is that of a cartoon caveman, but he's still perfect here as a bighearted numpty father. Dinklage also gives off great cult-leader vibes as Phil Betterman while Stone's skills both comedically and dramatically continue to translate superbly in the voice booth. Reynolds' skills do as well, but he already gets enough praise for that.
There's also no shortage in The Croods' creative mad-lib animal designs. Chicken seals? Check. Land sharks? You betcha. The big Christmas seller this year? My money's on the wolf spiders.
Silly and fun but never mindless, The Croods: A New Age is a cinema-worthy family-friendly event in a year sorely lacking them. While the story of confinement feels weirdly relevant in a world where lockdowns are the norm, its kindhearted attitude towards nature feels more timely than ever in the wake of a climate emergency. So what if it doesn't have that heartaching moment? This awful year's had too many of those.