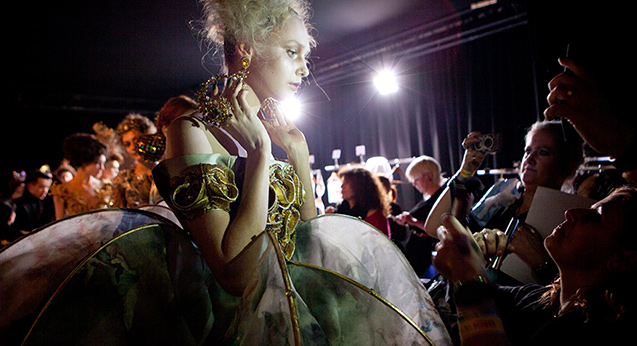 The truly beguiling Yellow is Forbidden captures a visionary Chinese designer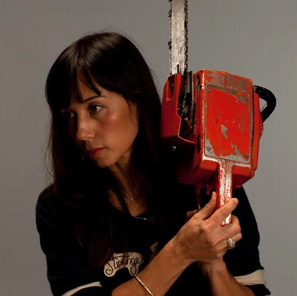 ---
New Zealand documentarian Pietra Brettkelly (A Flickering Truth) chronicles designer Guo Pei's attempt to break into the exclusive and mostly European club of elite fashion designers.
The film returns from a mighty run at the New Zealand International Film Festival for limited theatrical screenings nationwide starting from this week. Critic Sarah Voon says it's impossible not to be captivated.
---
I'm pretty sure Nick Cave was fabric shopping in the back of a shot in New Zealander Pietra Brettkelly's Yellow is Forbidden, and that's just one of a myriad of surprising observations captured in this truly beguiling documentary about Chinese fashion designer Guo Pei.
Brettkelly focuses on Guo Pei a little over a year after Rihanna wore one of her opulent heavyweight designs—a bright yellow, gold thread embroidered, fox fur trimmed, triple cheese pizza slice meme-inducing extravaganza to the Met Gala in 2015, after which attention was well and truly drawn to the couture chops of the diminutive, perfectionist designer. With momentum gained from the celebrity exposure, Guo Pei's predominantly Eastern based notoriety began to spread and grow in the West, and with it her ambition to smash through the ancient patriarchal glass ceiling governing the allowance of the term Haute Couture to be applied to her work.
The tension builds as we flick between Guo Pei's personal life, her design process, and footage of intricate detailing work carried out by her legions of specially trained artisans. Brettkelly deftly captures many sides of Guo Pei—sunny and endearing at home with her ridiculously extensive teddy bear collection, her devotion to her daughters, husband and parents, schmoozing and selling to her wealthy Chinese clientele and zealously driving her quest for an invitation to join the elitist Chambre Syndicale de la Haute Couture. Yet although it's fascinating observing her push for perfection, it is at times uncomfortably juxtaposed with the intense pressure experienced by her team as they meticulously labour for many months on the insanely detailed garments for her Paris couture debut show, at one point berated by a stressed Guo Pei for taking too long.
Sign up for Flicks updates
You have to be impressed with the pure artistic enterprise, drive (and yes, major financial investment) it takes to bring to fruition such a jaw dropping collection, of which some of the garments may not even be purchased. Like Liberace meets Marie Antoinette on steroids, it is impossible not to be captivated by the magnificent magnitude of Guo Pei's vision.