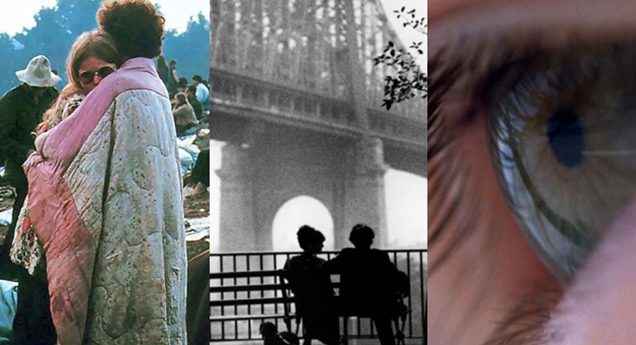 As the awards season dust settles, more cinematic gold rears its head in the form of the NZ International Film Festival's Autumn Events selections. An annual mix of classic titles making a welcome return to the big screen, paired with exciting new films, the mini-festival always boasts some real treats and this year is no different.
Here at Flicks, we are delighted to be partnering with Autumn Events screenings of Voyage of Time: Life's Journey, a forty-year project of director Terrence Malick's. Narrated by Cate Blanchett, Voyage of Time is a documentary examination of the birth and death of the known universe. Playing in 4k DCP format, we can't wait to see what Malick has in store for us, in a film the Guardian describes as "perhaps best appreciated as an abstract, with its sheer profusion of natural beauty and consequent synchronicities of image."
Whether that tickles your fancy or not – we think it should, but we're not judging – three other fantastic flicks have been announced to play Autumn Events (and there are still more to come). Woodstock documents the grandaddy of all music festivals, nay, cultural touchstones; Manhattan showcases Woody Allen at arguably his creative best in fully-restored glory; and Fitzcarraldo pairs peak-lunacy Werner Herzog with his main career foil, the embodiment of insanity that was Klaus Kinski.
Autumn Events films play Dunedin late April, with Auckland, Wellington and Christchurch screenings mid-May.
Read on for more info in the full media release:
---
The New Zealand International Film Festival (NZIFF) today reveals the first four films for its annual Autumn Events programme, which will screen in the four main centres in April and May.
One New Zealand premiere and three classic films will be presented by the charitable trust responsible for the cinematic winter extravaganza that is the NZ International Film Festival (NZIFF). Further Autumn Events titles and on-sale dates will be announced through March.
The four films are Terrence Malick's journey through space and time, Voyage of Time: Life's Journey, narrated by Cate Blanchett; a return to the peace, love and music of 1969 with seminal documentary Woodstock; Werner Herzog's legendary Fitzcarraldo, and Woody Allen's definitive love letter to New York, Manhattan starring Diane Keaton, and Meryl Streep.
"We've jumped at the chance to present these giant screen spectacles on the grandest screens in the country. Bigness is definitely a criterion when it comes to selecting our annual line-up of classics. And when it comes to scale, it's hard to think bigger than Terrence Malick does in the one premiere we are announcing today, which take 90 minute to encompass the beginning and end of time. NZIFF July is still a while away, and programming is well underway, but we encourage you to start booking out your diary now for those winter weeks at the movies." says NZIFF Director Bill Gosden.
Voyage of Time: Life's Journey
Forty years in the making, Terrence Malick's mind-boggling Voyage of Time takes us on a breathless trip through the birth of the stars, the evolution of life on earth and sea, and its eventual obliteration. Narrated by Cate Blanchett.
"It's an experience that I haven't been able to shake, like a waking dream." — Richard Brody, New Yorker
See more 'Voyage of Time' info at the NZIFF website
Woodstock
Over four days in August 1969, 400,00 young Americans travelled to farmland in NY State for a music festival. Facilities could not cope. But The Who, Janis, Sly and the Family Stone and Jimi were on fire. A spectacular 70mm multi-screen documentary by Martin Scorsese was released the following year, and now almost 50 years later, there could be no better way of exploring mythology than a giant screen experience of this newly digitised director's cut.
"Describing Woodstock as a concert movie is a little like calling Notre Dame a house of worship." —  Owen Gleiberman, Entertainment Weekly
See more 'Woodstock' info at the NZIFF website
Manhattan
Shot in ravishing black and white CinemaScope and backed by an all-Gershwin score, Woody Allen's romantic comedy from 1979 surely earns its title: it is one of the great cinema's great odes to New York. It's also Allen's best and definitive film. Presented in 4K digital format scanned from the original camera negative.
"Manhattan is a great film about love in and love for New York." – Peter Bradshaw, The Guardian
See more 'Manhattan' info at the NZIFF website
Fitzcarraldo
Part fiction, part inspired true-life story, Klaus Kinski plays an Irish adventurer in early 20th century Peru who dreams of building an opera house in a remote Amazon port. Local indigenous people are persuaded to assist in a quixotic adventure that took four years to make, three changes of cast, and the dragging of one 40-tonne steamboat from one river to another over a steep isthmus.
"Werner Herzog's Fitzcarraldo is one of the great vision of the cinema, and one of the great follies." – Roger Ebert
See more 'Fitzcarraldo' info at the NZIFF website
Autumn Events screens in Dunedin, Auckland, Wellington, Christchurch in April and May. Schedule and ticketing information will be advised later in March.
The confirmed dates are:
Dunedin, 21 – 23 April, Regent Theatre
Wellington, 6 – 7 May, 13 – 14 May, 20 – 21 May, Embassy Theatre
Christchurch, 6 – 7 May, 13 – 14 May, 20 – 21 May, Hoyts Riccarton
Auckland, 11 – 14 May, Civic Theatre
NZIFF and NZIFF Autumn Events is run by a charitable trust and encourages lively interactions between films, filmmakers and New Zealand audiences. NZIFF screens in 13 towns and cities around the country. The full NZIFF programme will be available from Tuesday 27 June for Auckland, and Friday 30 June for Wellington. NZIFF starts in Auckland on 20 July and in Wellington from 28 July in 2017.