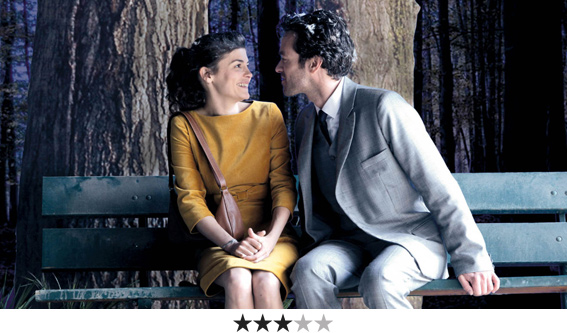 Fans of Michel Gondry bummed at his troubled excursion into big-budget studio filmmaking with The Green Hornet should be pleased to know that Mood Indigo, his adaptation of Renaissance Frenchman Boris Vian's 1947 novel L'ecume des jours, is a spritely restoration of his ol' recognisably quirky and inventive self from Eternal Sunshine of the Spotless Mind and The Science of Sleep.
His fertile, hyperactive imagination is on full blast here, aesthetically summoning up the ghosts of Tex Avery, Ray Harryhausen, Jacques Tati and Rube Goldberg, in a starry-eyed fantasia that's pitched somewhere between the jazzy airiness of French New Wave and the freewheeling, LSD-laced nuttiness of counterculture cinema. The downside is the film tends to feel like we're watching Gondry, backed by a healthy budget at his disposal, realising a sketchbook of visual ideas rather than investing ourselves in what should be a moving story about nursing a dying loved one.
The innate, photogenic charm of Romain Duris and Audrey Tautou shouldn't be discounted; their scenes together don't lack for cute or adorability. But they're also overwhelmed by the organic elasticity of Gondry's universe, which at its most bewitching, showcases his gift for repurposing everyday objects in whimsical, surrealist ways. And though the hand-crafted warmth of his effects work allow a welcome respite from the digital assault of the year's blockbusters, the cumulative result is essentially the same: the novelty wears thin from repetition. As gorgeous as anything you'll see this year, but emotionally unengaging.