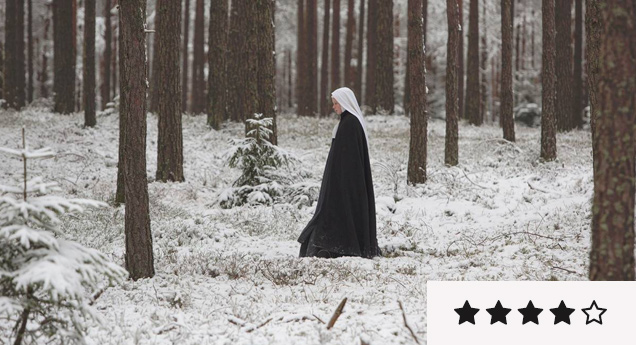 You've never seen a World War II film like this before. Based on actual post-war events, The Innocents follows a Polish convent housing several pregnant nuns – victims of an "indescribable nightmare" – who are due to give birth. They cannot turn to a local doctor, for the nuns would be evicted and disgraced. They cannot turn to a Russian doctor, since their soldiers caused this unspeakable horror. Their only hope – aside from God – is a French Red Cross doctor who must keep their secret.
If this thematic mix of war, sexual violence, and dwindling faith seems way too depressing for you, I can't blame you. Fortunately, filmmaker Anne Fontaine doesn't bombard us with the disgusting acts of men and instead focuses on the ironclad compassion of women. Fontaine uses gloomy dark-on-white imagery and rigid compositions to capture the stark atmosphere inside the convent. When the gorgeous brown of the outside trees come into view, it feels like a completely new world.
Rising star Lou de Laâge, who delivered wholesome charm in The Wait and venomous assholery in Breathe, expands her impressive range even further as battle-hardened doctor Mathilde. Her stern demeanour lets the stone-faced convent Mother (the excellent Agata Kulesza) know she's not messing around – "God's help won't be enough," – but allows just enough shades of vulnerability to coat her strength with humanity. The film's message pairs perfectly with her performance: faith in people can be as powerful as faith in God.
The Innocents examines the devoted during a time when God seems to have abandoned them, revealing an ugly divide between doing right by your lord and doing right by your fellow human. But even in the film's most shocking, gasp-escaping moment, it remains sympathetic to these acts born out of desperation and religious paradox. An utterly graceful film about an almost graceless time.