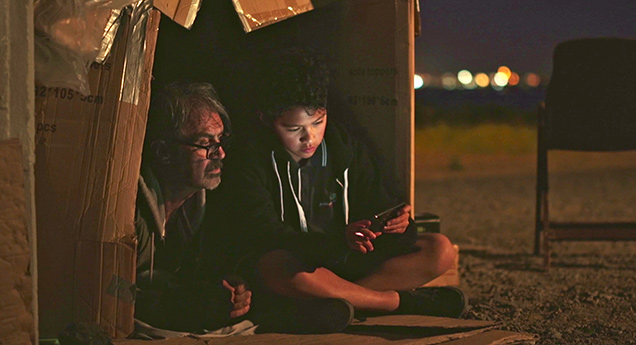 The HP48Hours Filmmaking Competition, where 563 teams from around the country made a <5min short film in just two days, had its grand final at the Auckland Civic last Saturday night. (Watch the whole event here)
As with previous years, there were teams that clicked into some sort of insanity impulse to create viciously funny films ranging from a meta-48hour transformation story to a worthy sequel to Squint Eastwood's Dazza and Bazza: Kiwi Dad Detectives. However, the top accolades went to the brave shorts that kept a serious face, a shift that gains more momentum every year.
New to the competition was 'Ultra48', a challenge designed to shake off veteran teams by forcing them to create a sequel to one of their previous films – and it bloody well worked. Ant Timpson also took out his wallet and slapped down an award for the film that took the biggest risk, with numerous teams taking the plunge.
As a result, the grand final was full of fresh talent that churned out more adventurous and dramatic films than any other year, the type that makes one drop to their knees and yell into the sky "Give these people money!" To be fair, the winners were awarded an absurd number of prizes for their efforts.
However, women were the ultimate triumph of the year. Writer-director Lauren Porteous took home the top directing awards for Under the Bridge, which also won Best Film. "The films were amazing on the night, every single one," Porteous commented. "I did not know the night would unfold the way it did. I'm so blown away and stoked to have met people like Gaylene Preston and hear other women say how excited they are that a woman won."
The efforts this competition has made for inclusion is paying off, with the winning film and the runner-runner-up film both coming from female writer-directors. It's an initiative Preston has been a dedicated driver of, putting her own time and money into the Best Female Director award.
With dates already announced for 2018's shoot weekend (May 11th-13th), this effort should be continued in order to allow more talent to rise.
For now, however, let's celebrate 2017's gold.
---
'Under the Bridge' by Cool Story Bro
Best Film, Best Director & Best Female Director (Lauren Porteous)
Porteous and the Cool Story Bro crew made a drama so professional and painfully relevant to New Zealand, it's almost jarring not to see the Film Commission logo play before it. The fact that they were able to achieve it under all the 48Hours conditions is staggering.
Under the Bridge touches on a topic deeply rooted in this country. In a way, it's disturbing that a film of this quality and sincerity could be made so intuitively as if homelessness in New Zealand is as well understood as rugby union. In other ways, it's beautiful that filmmakers can demonstrate such an impulse for cinematic compassion that they didn't have to wait for months to develop the story, get the funding, and a schedule the production.
It's a film that changes what 48Hours could be. It's no longer just a celebration about what can technically be achieved in a weekend; it can be a platform to address immediate issues.
Keep an eye out for Porteous' upcoming short film, a psychological thriller titled 'Heart to Heart', and lend an ear to this interview with Porteous on the official 48Hours podcast.
---
'Friends for Life' by Missing Pixels
Runner-Up
Suicide isn't the jolliest topic to explore in the 'Christmas' genre, but that's what Missing Pixels did in just four eerie shots. It's a dangerous minefield they chose to cross, but this team managed it by earnestly finding a disturbing truth in the film's key 'friendship'. This may not have been up for the risk award, but it was a risk nonetheless – one that paid off hugely.
A stray thought: In future competitions, perhaps the wrap-up sheet could allow filmmakers to request a trigger warning for their films.
---
'Feeding' by Southern Belles
Runner-Runner-Up & Best Actress (Rhiannon McCall)
This first-time team managed to turn milk-pouring into a squirm-inducing experience with their motherhood horror. With a solid concept, crafty storytelling and two dominant performances, Southern Belles reminds us that great movie-making can be achieved without a hefty studio crew or a freakin' drone shot.
---
'Jack and Joni' by Moffilaide
Ultra Award
While many 48Hours vets struggled with the Ultra challenge, Moffilaide gripped it with the strength and warmth of a loving hug. Their sequel to 2008's Jack & Johnny is equally as manic and fun but boasts far superior technical skills – a testament to those who have grown with this competition.
---
'Some Body at the Lake' by The Creamery
Best Script (Matt Butler)
A great script doesn't rely on sweeping vistas or topical events to hook your interest. It doesn't even need to fill the assigned time limit. Sometimes, all you need are two people to bond over a simple activity. And sometimes that activity is dumping a dead body.
---
'Pizza Money' by Jovial Entertainment
Best Editing (Thomas Asche, Adam Prest, Taylor Wilson & Chris Willemse)
The 'action' genre is a deceptively brutal one to pull off in 48Hours. It's tempting to shuffle around it with smaller set-pieces like a foot chase or a poorly choreographed fist fight. However, Jovial Entertainment went all in with one hell of a shootout that demanded a lot from the editing team. The results are mightily impressive.
---
'Banned Practice' by Rambunctious Gumption
Best Song ("Shut the Fuck Up" by Nick Garrett)
This Christian band comedy isn't a musical, so when the Rule of Three kicks in with a great middle finger of a song, you're taken by total surprise. That surprise is softened a bit with this award announcing the fact, which proves that you can actually be TOO good at something in this competition.
---
'The Real Rare Arctic Firefly' by Lovely Bongo Drums
Best Animation & Best Original Score (Ewan Clark)
This may not have been a grand finalist, but this sequel from Mata Freshwater and Chris Callus was a blinder. How they're able to make such a clean, lean animated film in 48 is beyond me, but a good chunk of the credit should probably go to background artist Mary Guo and VFX head Max Telfer for making this look so gosh-darn pretty. Seriously, compare this to their 2014 film to see how far Lovely Bongo Drums has come.
---
'The Black Ballet' by Super Furious Ninja Dragon
Best Cinematography (James Wilkinson)
Dunedin squad Super Furious Ninja Dragon made an absolute show-stopper with this all-dancing black-n-white noir. It sounds superb, looks amazing – hence, the award – and achieves a rare balance of slickness and silliness.
---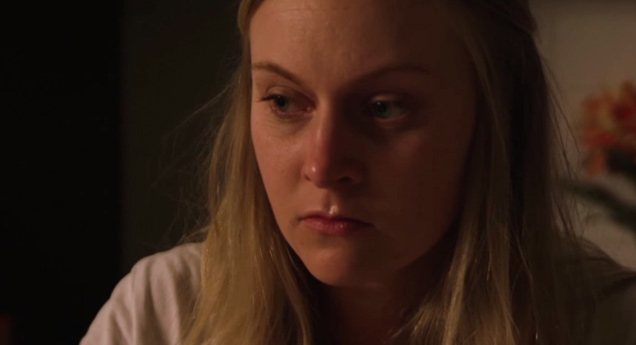 'The Snapper' by Michael's Baes
Ant Timpson's Risk Award
There used to be a 'pretentious art' genre in the early days of 48Hours and it was as hated/feared as 'musical'. Even when done well, they tend to split audiences, which is why Michael's Baes earned Ant Timpson's Risk Award – they crafted a thought-provoking, incredibly well-made sliver of pretentious that proved to be divisive.
---
Other winners include Tom Trevella for Best Actor in 'Last Christmas' by Little Old Lady Productions, The Okay Company of Kapiti College for taking Best High School Team with their Z-grade VHS throwback 'Death Blade Tiger 6: The Revengeance', and Temple of Solitude for scoring Best Disqualified Film with 'Scobies'.
And here are some other non-grand-finalists I personally salute:
'Gym Buddy' by 6 Million Bucks
Maza White directed a very solid buddy drama that doesn't overplay its hand and is kept grounded by two tuned performances from Kat Browne and Chelsea Belle. A finals-worthy short.
'Pandora's Night: Deleted Scenes' by Strang Entertainment
Making a short comprised of only deleted scenes from a pretend feature film? Yeah, it's audacious, and Strang Entertainment do a satisfying amount to tease what could have been. Includes a very convincing mo-cap performance.
'Kaiju Usagi' by Echo Echo Echo
There were some very entertaining 'z-grade' films this year, but this is the only one to feature three white Japanese people trying to defend their land from a gigantic soft toy. It made me laugh through my nose and sneeze out my mouth.