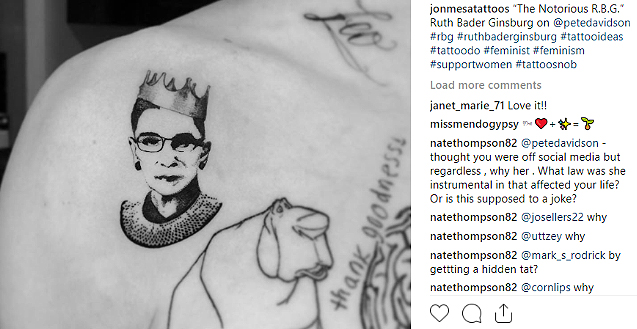 From inspiring political figure to "The Notorious RBG" brand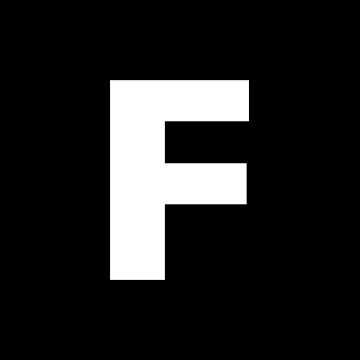 ---
With biopic On the Basis of Sex following recent documentary RBG into cinemas, Katie Parker looks at these cinematic portrayals of the inspiring legal figure who's cemented in the public consciousness as "The Notorious RBG".
It's been a turbulent few years for women, to say the least. In the wake of the Trump election, the 'Me Too' movement and various other reminders that women's modern political progress may have been overstated somewhat, the left—and particularly white women on the left—were hungry for a hero.
Enter Ruth Bader Ginsburg.
At 5'1, with big glasses, big teeth, and the kind of delightfully quirky personal style only a wealthy octogenarian can pull off, the US Supreme Court judge and life-long feminist activist could hardly have been a more ideal candidate to become an emblem of the 'resistance'.
Suddenly "The Notorious RBG" (a nickname coined by a Tumblr account of the same name) was everywhere: on t-shirts and totes; in Saturday Night Live sketches; inked forever on the chest of erstwhile Ariana Grande fiancé and renowned bad tattoo haver Pete Davidson.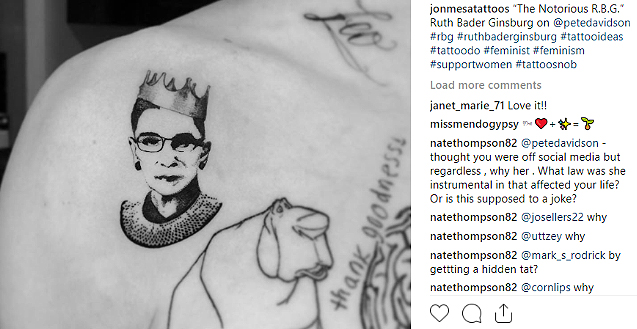 Which is to say that, at 85-years-old, Ruth Bader Ginsburg has suddenly, rapidly gone beyond her status as an inspiring political and historical figure: she is a brand. And now she's a Hollywood brand.
Sign up for Flicks updates
In the space of just a year, two films have been released honouring Justice Ginsburg: Julie Cohen and Betsy West's affectionate, intimate documentary RBG; and Mimi Leder's peppy, pandering biopic On the Basis of Sex.
Neither portrait is un-due: having just celebrated 25 years as a justice on the Supreme Court, and with a lifetime of important political milestones behind her, she has a compelling, and genuinely fascinating story to tell—one that, in the present political climate, does feel particularly relevant.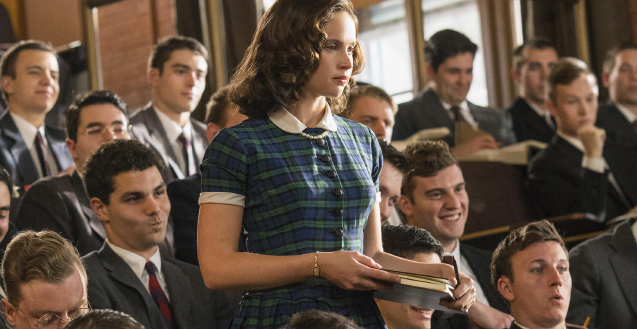 One of the first female students to attend Harvard Law School in the 1950s, at which time she was already a young mother, Bader Ginsburg overcame a hostile and unwelcoming environment to become top of her class.
When law firms refused to hire a lady, despite her phenomenal qualifications, she became a professor at Rutgers University teaching students about the then-unheard-of concept of gender-based discrimination.
Eventually given the chance to litigate such cases herself, Bader Ginsburg went on to spend decades trying precedent-setting cases and dismantling sexist policy on a gruelling case-by-case basis. In 1993 she was appointed a justice on the US Supreme court, just the second woman to do so.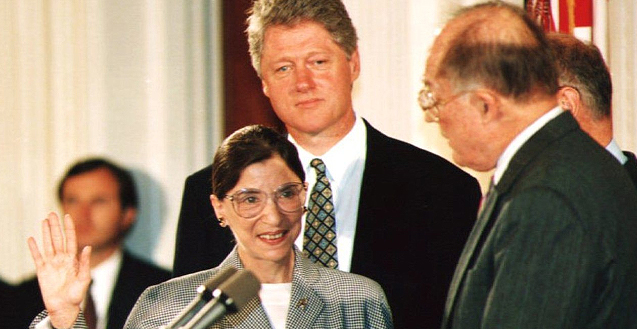 It's a genuinely inspiring story, and one that both RBG and On the Basis of Sex tell with concise, breathless, moon-eyed panache—along with a total unwillingness to engage critically with their subject.
Of course, this is hardly surprising—with Ginsburg still alive and kicking, there was never any chance that either film would take a particularly nuanced approach. Yet, in the midst of such fanfare, one might have hoped there would be some effort to look past the current pop culture moment to something a little bit more revealing, to whatever makes a person spend their life fighting what often feels like a losing battle.
For RBG, however, the present moment is the defining one for Ruth Bader-Ginsburg. After decades of work, her newfound celebrity represents an end to the journey—the thing it's all been leading towards.
Piecing together interviews, public appearances and archive footage spanning the entirety of her career, it is her resonance with millennials that West and Cohen seem most impressed by.
Crowds gather to see her speak; young white women giggle about all the RBG merch they plan on buying. We watch as a frail yet determined Bader Ginsburg works out with her trainer, clad in a bright purple sweatshirt emblazoned with the words 'Super Diva!'.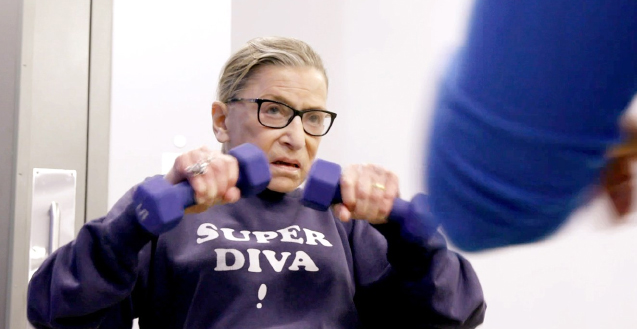 For any filmmaker, it's an irresistible image, but for West and Cohen it could hardly be more perfect. Economically summarising her continued cultural relevance and subversive political prowess, in RBG it's a picture that says a thousand words—whether those are ones Bader Ginsburg would use describe her life's achievements or not.
On the Basis of Sex, meanwhile, is a sweet, soft, sentimental biopic, charting Bader Ginsburg's journey to winning her first big gender discrimination in the early stages of her law career.
Starring English actress Felicity Jones as Bader Ginsburg and Armie Hammer as her oh-so-wonderful husband Marty, Leder imagines the young Ruth's beginnings as a cutesy kind of coming of age tale turned primary school history lesson.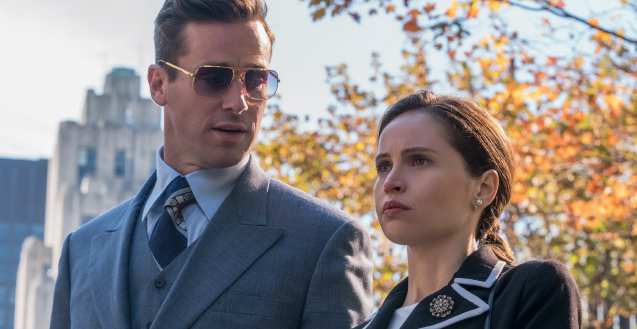 Both give a clear, easily understood account of her life and achievements—yet ultimately, it feels as though neither film really wants to know Bader Ginsburg in her capacity as a real human being.
Instead, On the Basis of Sex imagines her as less of a formidable political force than an incorrigible and utterly wholesome advocate for all that is good and right. Forthright, plucky, and sweet enough not to seem threatening, a particularly interesting fabrication on the part of the writers sees Ruth repeatedly, nervously flub her words as she takes to the podium in the film's climactic moments (something Bader Ginsburg has said never happened).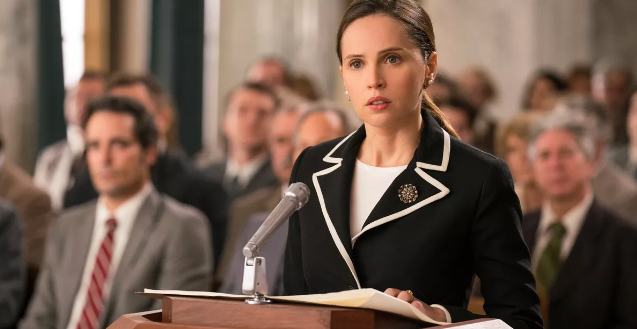 But while Leder wishes to show Ginsburg as a kind of cute, klutzy heroine more suited to a rom-com than a political biopic, RBG takes a somewhat more concerning tack when it suddenly veers from adulation to tsk-tsking over the matter of Bader Ginsburg's comments regarding the election of Trump.
Through a series of (mostly Republican) talking heads, it is made clear in no uncertain terms that Bader Ginsburg's comments—she called Trump a "faker" and joked she would move to New Zealand (!) to get away from him—were highly inappropriate. It's a brief moment, quickly swept away by assurances that Bader Ginsburg later apologised, but a jarring and telling one nonetheless.
One might think that such pronouncements—the kind that surely earned her the nickname the Notorious RBG—would be the kind of thing West and Cohen would enjoy. She is meant to represent the resistance after all.
Yet what this demonstrates is a much greater investment in the static character of the Notorious RBG—who does not really exist—than the woman herself.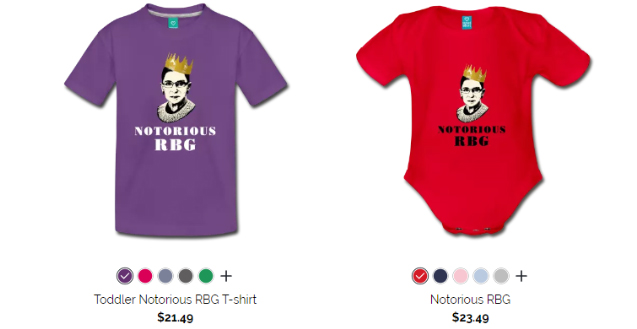 Reduced, distilled and sold in meme, t-shirt and now movie form, her value arguably lies more in her semiotic resonance than it does in any genuine interest in her as a real person, thinking, feeling person.
The problems inherent in this should be obvious: is it really helpful—or feminist for that matter—to reduce a woman down to a name, an image and a jumble of projected modern values?
There is, of course, no room for such questions to be asked or heard above all the yass queen-ing of RBG and On the Basis of Sex.
Never mind that Bader Ginsburg in person seems significantly milder than her rabble-rousing alter-ego. Never mind that in 2016 she described Colin Kaepernick as "dumb" and his non-violent protest "offensive". Never mind that it is not actually possible or desirable to compress the sum total of a person's life and political significance into a single, flat piece of iconography.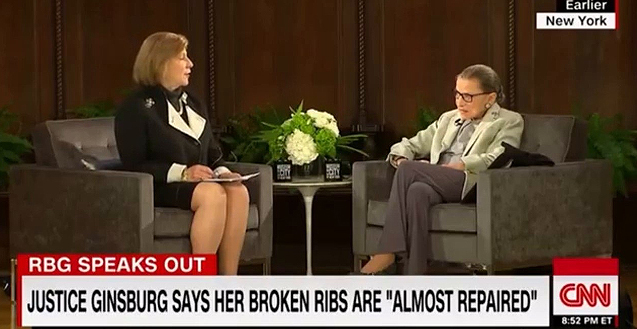 When Bader Ginsburg broke three ribs in a fall late last year, she was praised for working from her hospital bed—still striving, still fighting, still 'notorious'.
Yet rather than the portrait of supreme girl-bossery the media seemed hopeful to paint, the news felt depressing: an elderly woman, literally working to death for a government and democracy that, from an international point of view, seems increasingly doomed.
It's not a pleasant thing to imagine and it's not what either RBG or On the Basis of Sex want to show you—but behind the cute t-shirts, behind the celebrity endorsements, behind the upcoming appearance in The Lego Movie 2, it's perhaps the most honest image of Ruth Bader Ginsburg you're likely to get for now.