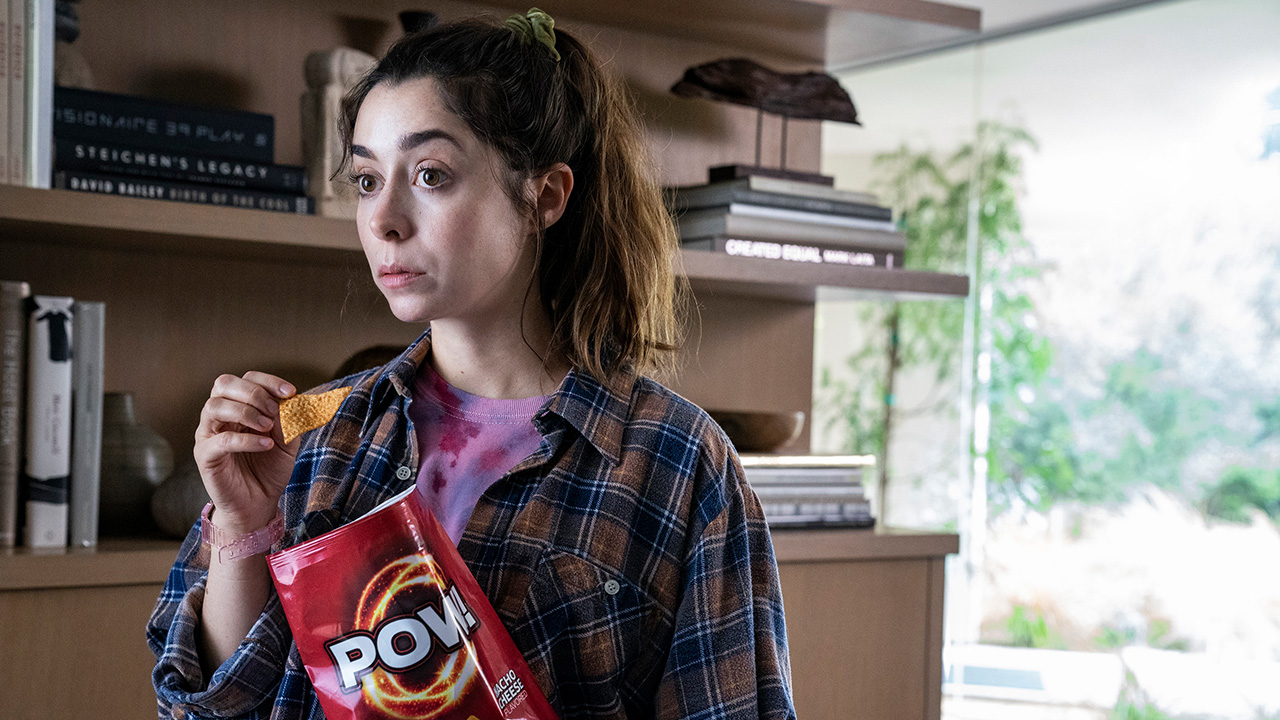 New season of whip-smart sci-fi Made For Love quickly leaps into full Philip K Dick mode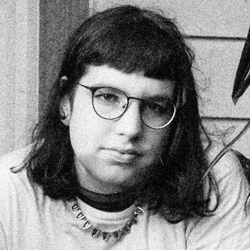 ---

Cristin Milioti (Palm Springs), Billy Magnussen (No Time to Die) and Ray Romano (The Big Sick) return for the new season of surrealistic sci-fi series Made for Love – streaming on Neon. As Amelia Berry writes, season two escalates everything that made the first so damn good.
Sci-fi feels like it's gotten very serious lately. Stories abound of tough and troubled protagonists, pulled into weird worlds of dark secrets and half-remembered ideas from stage one philosophy. If you're feeling a little exhausted by all this galaxy-brain grim-dark television, then thank your lucky stars that the powers that be (HBO Max) have blessed us with a second season of surreal sci-fi comedy Made For Love. Adapted from Alissa Nutting's 2017 book of the same name, Made For Love is refreshing not just because of its wild and macabre sense of humour, but because underneath all the dismemberment, brain chips, and augmented reality cubes, the themes the show deals in are deeply and delicately human.
Picking up right where the first season left off, Hazel (Cristin Milioti) is back in The Hub—the secluded home and research centre of her husband, dead-eyed tech mogul Byron Gogol (Billy Magnussen). Her father Herb (Ray Romano) is also in The Hub, only he doesn't know it. He's living in an augmented reality replica of his home, sedated daily and taken for strange high-tech cancer treatments in The Hub. While Byron is desperate to win Hazel back, she makes it very clear that when Herb's cancer treatment is over, she's leaving.
While this sounds like the recipe for a tightly contained, slow-burn family drama, Made For Love quickly leaps into full Philip K Dick mode, spinning out each of its storylines in profoundly strange directions. There's a bizarre virtual reality Adam and Eve, a surprisingly tender dolphin romance, holographic Paula Abdul, an incompetent FBI sting operation, and that's not even the half of it. Each episode stretches the established ideas further and further out, satisfyingly creeping from plausible tech fable to engaging web of sci-fi weirdness.
The really clever part, though, is how all of these far-out tangents manage to feel so consistent and contained within the show's central message. Where season one used ideas about freedom and control to craft an emotionally impactful story about divorce (and also surveillance society? Good show), season two zeroes in on questions of truth and personal identity. While that may make it sound pretty hoity-toity, what this means in practice is a show filled to bursting with doubles, deception, mistaken identity, secret twins, and all kinds of very cool secret agent business.
Once again, Cristin Milioti infuses Hazel with all the jaded charm that made her character in 2020's Palm Springs such a captivating presence. After spending much of season one desperate and on the run, it's satisfying to see our protagonist get to play in some more diverse scenarios. Watching Hazel struggle with having to deceive her father, and especially seeing her play the role of butter-wouldn't-melt billionaire wife adds a lot of depth to the character and helps to join the dots between the story of season one and her decade spent living in The Hub.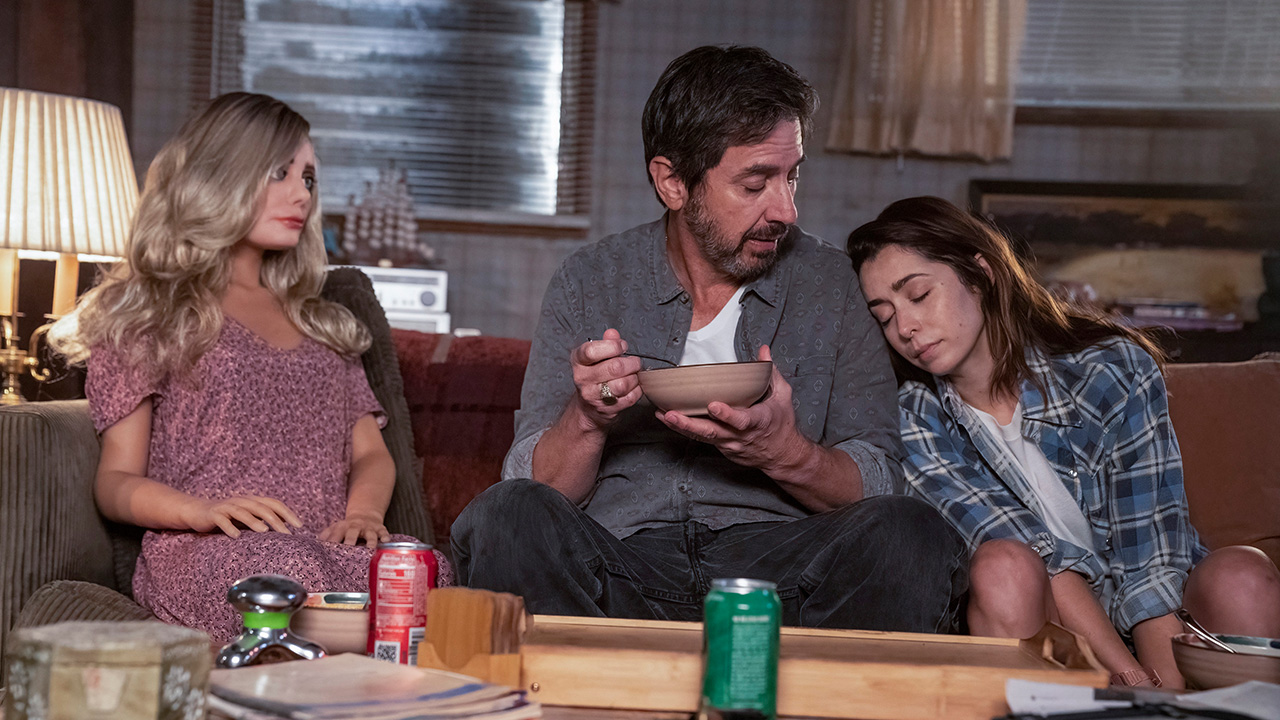 As Byron Gogol, Billy Magnussen creates a palpable divide between Gogol's stilted Zuckerberg-esque public-facing persona, and his increasingly frustrated and desperate private self, both underpinned with a frightening determination. In season one, Ray Romano as Herb was an absolute revelation, bringing an unexpected warmth to a character who spent most of the show drunk and talking to a sex doll. While Herb has a little less to do in season two, Romano is still brilliant, doubling down on Herb's sad and grubby charisma.
While these central characters are what sell a lot of the emotional core of Made For Love, so much of its particular comic tone is down to the fantastic recurring cast. Patti Harrison once again proves that she's the world champion of playing rude idiots as Hazel's pre-Hub bestie Bangles. It's also nice to see Sarunas J. Jackson return in a much larger role after his brief stint as Hazel's love interest in season one. Dan Bakkedahl and Noma Dumezweni as exiled Gogol employees Herringbone and Fiffany are also fleshed out a lot, evolving far beyond their season one 'quirky minion' archetypes while keeping the best of their odd-couple chemistry.
The first season of Made For Love felt very self-contained. Of course, Hazel being forced to return to her abusive husband as a bargain to save her father isn't a very happy ending for our hero. It is, however, exactly the kind of 'makes you think' conclusion you'd expect if the story was an episode of Black Mirror or The Twilight Zone.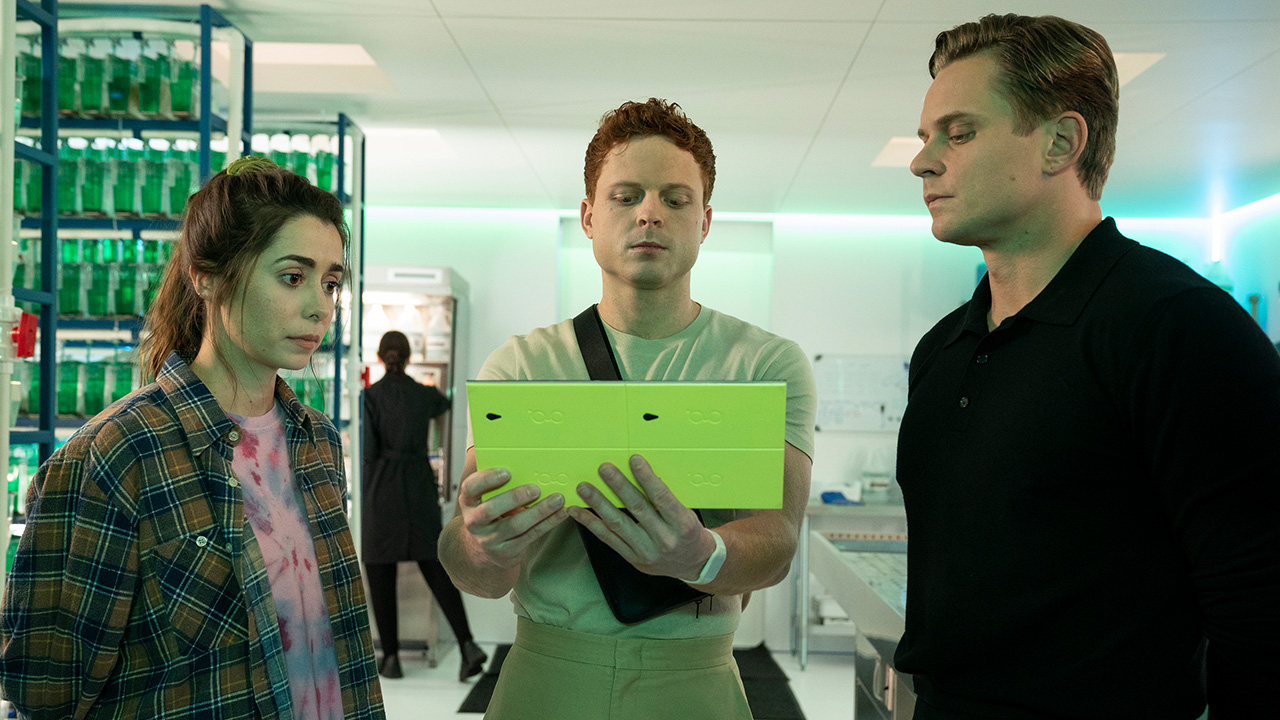 Season two makes the most of this tidy thematic wrap-up, feeling more like a sequel than a straight continuation. Leaving the seedy small-town squalor of season one, we spend a lot more time in Gogol's gorgeously futuristic labs, as well as in strange virtual spaces and dusty government institutions. The set design is gorgeous, with a subtle retro shabbiness that never feels too mannered or twee.
Underneath all the kooky future-tech and mind control intrigue, Made For Love is a show that's deeply concerned with love and relationships in all their strange and glorious variation. Whether it's Herb and his beloved sex doll Diane, Fiffany and Zelda the dolphin, or the central dyad of Hazel and Byron, we're shown time and again that every relationship is a shifting balance of care and sacrifice, of giving and taking. Building from this very human foundation means that even when things go totally bananas and you're wondering when all these nuns showed up, Made For Love always feels engaging, driven, and watchable.
A surrealistic sci-fi caper that balances cackling cynicism with a heartbreaking emotional core, season two of Made For Love is a wild, weird, and whip-smart escalation of everything that made season one so damn good.