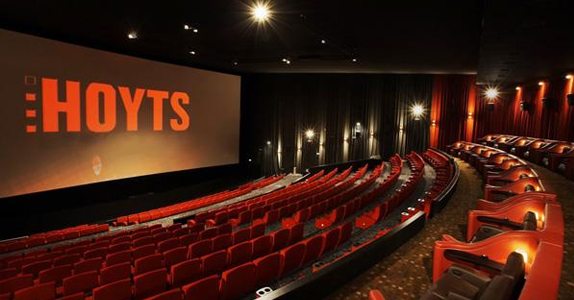 Hoyts Octagon's Last Hurrah
---
When the end credits for Jurassic Park (an appropriate last hurrah for current and former staff) unspool on Wednesday night, a significant chapter of Dunedin's cinematic history will close somewhat unceremoniously.
Yes, there will be no solemn marches like when the Century and Octagon cinemas were replaced by the southern Edinburgh's first true multiplex back in 1993 but I will feel a profound sense of loss for the end of Hoyts Octagon (which will be replaced by a refurbished Reading on the same site later this year).
For it was the place where I landed my first job, my first girlfriends and took the opportunities offered to begin reviewing in both print and on radio. Those three-and-a-half madcap, blue-sparkling bow-tie wearing years of selling tickets, serving popcorn and shaking bizarrely named movie-themed cocktails (just don't ask what was in Cool Runnings) not only kept me student loan free but also gave me an unrivaled cinematic education both in terms of the rich variety of moviemaking and the strange machinations of their exhibition.
At times, life at Hoyts Octagon had all the makings of a sitcom or soap, such was the drama and gossip that went on (we had everyone from a wannabe priest – at age 17 – to a girl who claimed to be "telepathetic"), but I guess that's what happens when the average age of your staff is about 19 (gotta love those youth wage rates), supplemented by a few more experienced heads.
But there are some events that still stick firmly in my mind, like the two occasions an ambulance was needed to treat passed-out cinemagoers – Pulp Fiction's hypodermic claimed one victim while Interview with the Vampire's rat chomping took out the other. I also once had to  "extend" (ie lie) about my credentials with the local paper in order to get patrons out of the adjacent carpark after a timing snafu and distinctly remember wondering about the chain's health and safety policy after carrying a gas bottle through the Octagon from a nearby café after we ran out of Coke machine power. Ah, yes, the less I say about the Candy Bar the better, but suffice to say I don't buy popcorn as a rule and it is amazing how the old choc tops resembled light bulbs in shape and sometimes taste.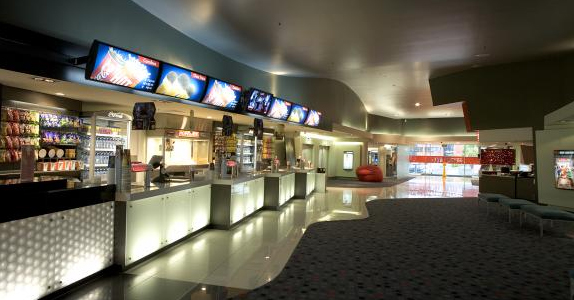 Performance assessments came in the form of mystery shoppers (which was invariably the one time you either forgot to up-sell or ended up trashing the movie they wanted to see), but one of the more strange requests came from a pretty young woman whose spaghetti strap on her sundress had somehow come adrift. We wanted to help her, believe me we did, but unfortunately the one safety pin in the building (which the female manager was sure she'd seen that morning) was sheepishly revealed by my colleague to be keeping his fly together.
Of course there are some incidents that you would never see today. I'm sure no one will ever attempt 24 hour sessions like they did for Independence Day in 1996. You should have seen the state of the 3.20am crowd emerging around 6am! And while I lament the demise of traditional film, my one hands-on experience with the infamous platter system was not one I'd ever like to repeat. Quite a few prints got trashed in the early days (Warlock, I remember, ended up the equivalent of spaghetti) but one Friday evening a platter simply stopped working. The innovative solution: pour me a post-mix coke and raspberry and set me up to move the platter by hand at just the right speed – genius!
We also had the occasional habit of playing the wrong film (which I'm assured doesn't happen at all with digital technology). My favourite was when we had a sombre crowd all settled in for Schindler's List and we unleashed Demolition Man's opening scene on them. I always tried to calm the crowd with a bit of humour about such shenanigans, although that nearly backfired when I mentioned that orang-utan Dunstan had gotten into the projection booth during a troublesome screening of his Checks In movie, only to meet the red-headed projectionist coming around the corner at that exact moment.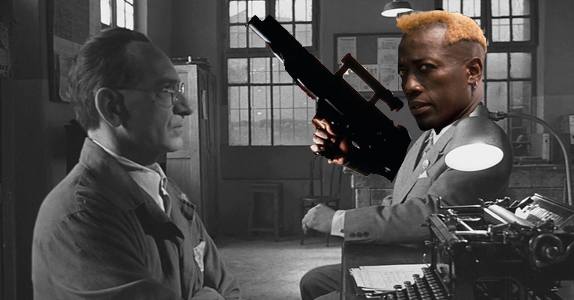 But by far the biggest approved hijinks were reserved for the promotional screenings. This was in the day before radio stations took them over and (I know this sounds odd) sanitised them. Hoyts used to encourage each location to come up with nutty stunts to promote films (we even had a budget) and myself and a now well-known film editor (who also then shared a radio spot with me) were charged with being the ideas men. We hired fire safety suits for Outbreak – not realising just how little you could see out of them (especially when they fogged up) – and in our piece de resistance had "Batman" abseil down through our panel ceiling for Batman Forever (we had wanted to run a zip line from the Dunedin Town Hall across the Octagon but although our technical manager was keen,  the complex manager was less enthusiastic).  OSH would have kittens if anyone tried any of that these days.
So much like 35mm projectors, Hoyts Octagon has gone the way of the dinosaurs. Still, we'll always have Forget Paris.
James Croot is an occasional film reviewer for Flicks, as well as the film editor for The Press newspaper and a film commentator for Radio Live.