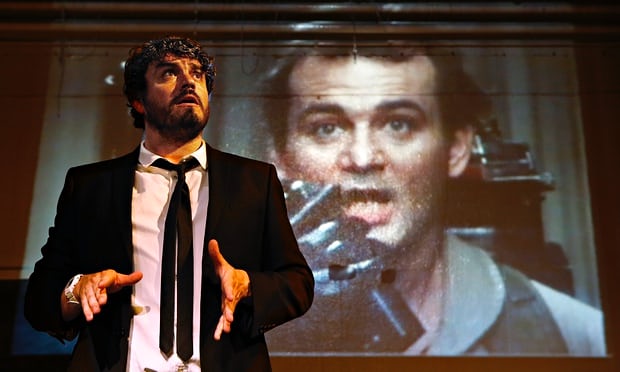 Edinburgh Festival award winner Ross Sutherland is bringing his acclaimed show Standby for Tape Back-Up to Auckland and Wellington later this month. It has been performed over three hundred times and every performance is unique. Sitting onstage alongside a VHS player, Sutherland transforms a piece of 80's tech into a redemptive form of group therapy as he is accompanied onscreen by Bill Murray, Michael Jackson, Will Smith, and a cast of forgotten ghosts from a pop culture past. Steve Newall spoke to Sutherland about this hard-to-describe show, conjured from a long-forgotten tape of childhood memories.
---
FLICKS: Hi there, Ross.
ROSS SUTHERLAND: Whoa, I'm sorry. Have I just missed your call beforehand? I am so sorry. I was on another line, and it ran on. So I'm so sorry about that.
No worries, that's exactly what I figured had happened. Not a problem at all. I used my downtime to try the phone number that's listed on 'The Disaster Artist' billboard, promoting the new James Franco movie about 'The Room'. He's put up a billboard that's like the one that Tommy Wiseau put up. And it's got a phone number that goes to a mobile that apparently he's taking calls on from time to time in character.
Amazing [laughs].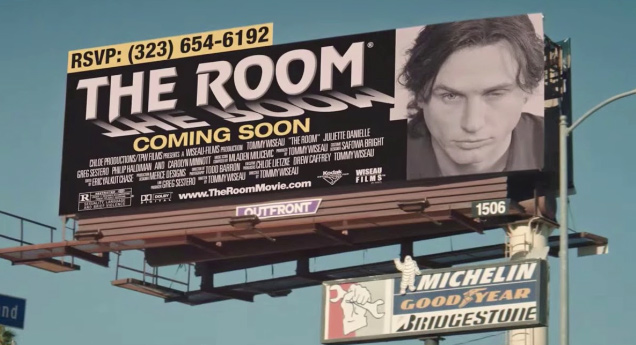 Are you familiar with 'The Room', Ross?
You know what? I know it's kind of a legend now, and I'm slow to the show really. It's so embarrassing. I'm a fan of Neil Breen films, which I think are in quite a similar category to The Room. But no, still haven't seen it. I really feel like you need to see it in a cinema, as well, or at least with a big bunch of people.
I think so. I'm not a big audience participation guy. I certainly don't like forced audience participation. There's a bit of that Rocky Horror stuff going on in those screenings. Was that Neil Breen that you said?
Neil Breen. If you get a chance to watch his film Fateful Findings…
Oh, okay. I've seen the trailer, but haven't actually seen the feature.
I mean, edited, directed, starring Neil Breen… he's probably done the soundtrack too. It's incredible. In that way that connects really bad films to films of complete genius where you have no idea where it's going to go next. You just can't anticipate anything that's going to happen in it. It's a lot of fun. Yeah, I know what you mean about audience participation. I find that hard myself.
I sense a segue coming up, because I think what you're sort of touching on with 'Fateful Findings', and films of that ilk, is that we have become really over-familiarised with certain forms of entertainment. Some audiences are really struggling to connect with things that make them feel different to everything they see normally. And I have a sneaking suspicion that that's what your show is going to do as well.
Sometimes it's quite nice when you set yourself such a series of kind of arbitrary and bizarre rules, which you are kind of following from the get-go. Just by following those rules, I think you end up making a lot of very, very weird decisions along the way. And I think you justify making those weird decisions by going, "Well, I still haven't broken my rule. So it still works." And then five years later I've still got this thing where I'm kind of doing this strange kind of hypnotic, live, synchronised, kind of like commentary track over an old VHS tape I found in my attic – and it starts to feel quite normal.
It definitely is a strange show and I'm aware that the success of it has been based purely on word-of-mouth. I think partly because it's quite a hard thing to kind of describe. Another thing is, people are going back multiple times to see it, partly because it's quite dense. Because it's effectively a little bit like The Wizard of Oz and The Dark Side of the Moon's aspects of synchronicity. I think when you kind of like tune into it suddenly you start to notice a lot more connections between what I'm saying and what's going on on the screen. So I think with multiple viewings, the audience starts to get more in sync with what's going on on the screen. And so I think that helps it may be selling it to people because people are saying, "I'm going back again. Do you want to come too?" But it's always a struggle to describe it.
I was wondering if this is something you probably need to do just every interview, right… How do you pitch your show that the people interviewing you are probably not very good at pitching to the audience in the first place? And how do you keep doing that without giving too much away or devaluing what's special about that for yourself?
Yeah, it's hard. I think I have a sense of it. And this is true even with my first draft I was doing. I focused more on the techniques and then realised I should just be talking about the story. I mean, by finding this old videotape that used to belong to my granddad, I found this weird way back to him just through a tape both me and him just made together over a course of about eight or nine years with us just randomly chucking stuff on it. And usually automatically taping over what the last thing was, the previous one you just put on the tape. But yeah, suddenly I came across this weird old collection of TV shows, and game shows, and bits of film, and then was immediately transported back.
Ghostbusters is on there and stuff like that. And I'm very familiar with Ghostbusters. But I watched that so many times in course of my life. But then you get an advert break and then an advert will pop up. And I'm like, "I know I haven't seen that advert since I was seven years old." And that would have some kind of weird lightning bolt where this powerful piece of nostalgia will hit me. I just want it to kind of take that feeling and bottle it somehow.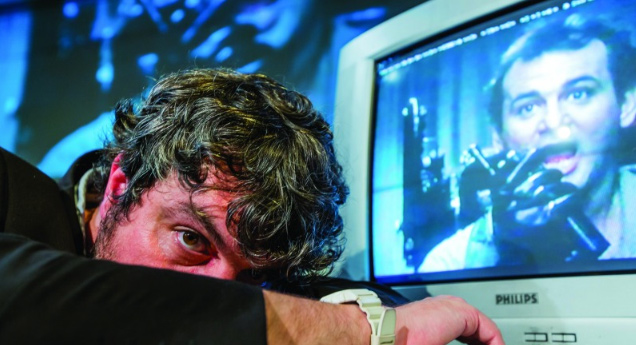 We keep going back and revisiting things like 'Ghostbusters'. But when we see them for the first time, we're so informed by everything else like the context around them, and that's the stuff that disappears.
Yeah, absolutely. What surprised me about this show is because I use a lot of repetition, a lot of looping, I found that you could take something which was already very much in someone's head – like the opening credits of The Fresh Prince of Bel-Air just for the fact that it was the opening of every show and it was a well-syndicated show., so everybody's seen that just a whole bunch of times. If I just gave someone a random kind of camera in the street and said, "Here's some money. Could you go out and could you remake the opening credits of The Fresh Prince," people would at least know what they had to do. They already know the order of the shots. I don't know. Maybe not. But it's already a series of sequential images– a long sequence of images that were already so deeply ingrained in people's brains. I found that you're already starting at quite a deep level inside of people's brains.
And by looping it and talking over the top – and it's got a rhythmical way where I'm synchronising shot to shot with the footage – you could decontextualize it so incredibly fast. You could kind of augment that original kind of feeling. And I could place it into the context of my life. But I feel that also maybe because the things I'm talking about are still quite broad because I'm talking about grief, that would also be something that audience members would also be able to connect to in their own way. I think grief is a particular sort of phase where we particularly attuned to things as well. Even just seeing a pigeon and you're like, "Oh, that's my uncle Eric telling me he's okay." We're desperate for signs, and we'll take them wherever we can find them.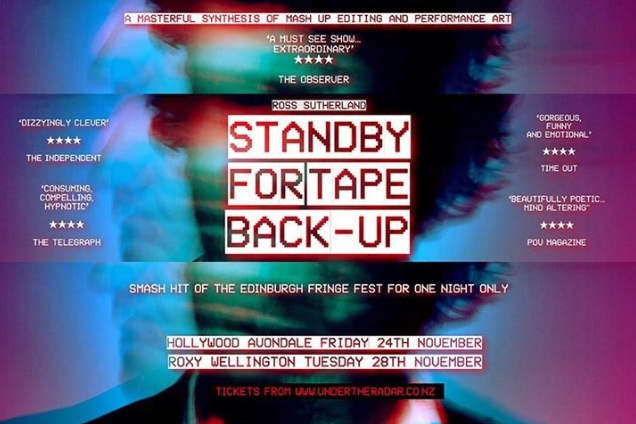 Obviously, New Zealand and the UK share a decent amount of pop culture. What's the strangest place you've found that the show connect with an audience?
That's a really good question. I'm trying to think of where I've taken it. I did a section of it in Bangladesh, in Dhaka. I think I did the Fresh Prince bit in Dhaka. I actually was surprised how well Stand-By plays at non-English speaking film festivals. It did really well in Buenos Aires. Even in that version, I wasn't doing it live, it was watching the video footage with me as a voiceover and with subtitles at the bottom of the screen. And I thought it wouldn't actually work because you'll be too distracted by looking at the subtitles. You won't be able to do the process of both listening and looking at the same time. But I think actually, to a certain degree, it still does.
I think maybe luckily the things I've sort of chosen to pick on are so well-known that even if you don't know the footage directly, I think that because I use a lot of looping, it very quickly seeps in. There's a bit where I use a little bit of a game show from Britain, The Crystal Maze. And though I think people don't necessarily have that version of it, they will relate to however that same idea was sold in their country. So everyone's got a version of that. But I think I'm aware that there's a certain amount of leading people into it. And so I'll kind of talk it through because vision is such a more seductive force than sound, I kind of know that when the screen gets too visually busy people won't be able to listen to my voice clearly. So then you can kind of get into it through a bit of repetition.
---
Ross Sutherland brings Stand By for Tape Back-Up to New Zealand this November:
Friday 24th of November – The Hollywood Cinema, Auckland
Tuesday 28th of November – The Roxy, Wellington