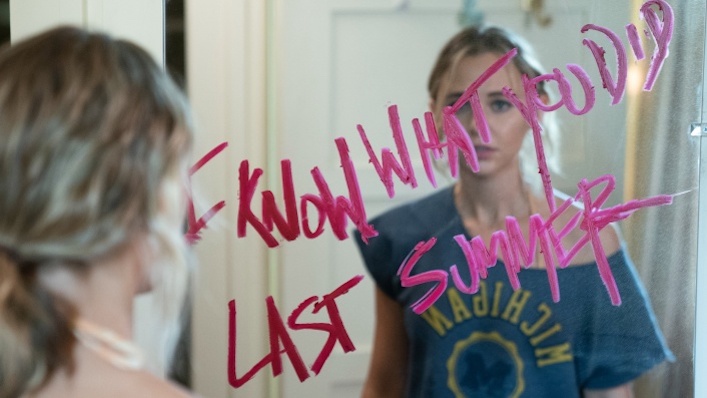 The I Know What You Did Last Summer spin-off series arrives on Prime Video in October

---
A new generation's about to have an unforgettable summer of the wrong kind in this spin-off series of the classic '90s slasher.
For every generation—millennial, X, or Z—the coming-of-age rites are about the same. Everybody's gotta experience wild parties, falling in and out of love, and disposing of their first body with a close group of mates.
Jennifer Love Hewitt and Sarah Michelle Gellar had to handle it back in the '90s and a new gang of teens will be up to the challenge on Prime Video this year. A thrilling TV adaptation of I Know What You Did Last Summer will premiere on Prime Video on October 15, with the first four episodes available on launch and new episodes landing every week until November 12.
Sign up for Flicks updates
The original slasher saw a group of friends covering up for each other after they're guilty of a hit-and-run murder, only to receive haunting letters from somebody who won't let them forget the sinister accident. Prime Video's 2021 reboot should follow basically the same steps, except the messages are of course in the form of emoji-laden DMs (to be precise, 'I'm Coming 4U' with a clown emoji…which tells me the sender is probably over 30).
The I Know What You Did Last Summer series stars Madison Iseman, Bill Heck, Brianne Tju and Ezekiel Goodman as some of the targeted teens, who are just trying to enjoy some Euphoria-esque parties and hookups before they start getting picked off one by one. Olivia Rodrigo is totally right, complaining in the trailer below, "it's brutal out here!"
Guilt, trust, life and death: it's a lot to deal with, on top of the usual pressures of teen life. Here's hoping that the more extended, character-based format of a TV series gives the splashy '90s franchise a bit more room to breathe, and to develop those stereotypical high-schooler roles into something fresh and new.
Who's guilt-tripping these poor sexy teens? Will this show be as proudly bonkers as executive producer James Wan's recent release Malignant? And, most importantly of all, will season two be titled I Still Know What You Did Last Summer? Let's not get ahead of ourselves now…