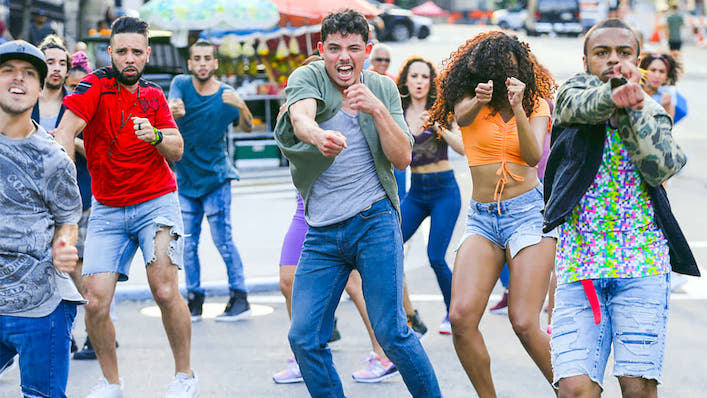 Watch the first 8 minutes of In The Heights

---
It ain't the '50s anymore: original, big-screen movie musicals are a delicious rarity. If they're not either a fantastical reimagining of an existing rocker's songs (see Bohemian Rhapsody and Rocketman) or a disturbing blancmange of CGI and autotune (The Greatest Showman and Cats, anyone?), they simply don't exist.
Or so we thought. Eight minutes of film is about to change your outlook, because Warner Bros. has kindly released the opening number of new movie musical In The Heights.
Created by Hamilton's Lin Manual Miranda (who stars in a supporting role here as a shaved ice vendor), In The Heights focuses on the lively New York borough of Washington Heights, and the diverse neighbours there who dream of winning a life-changing lottery. Below, Anthony Ramos introduces us to his bodega, abuela (who's not really his abuela) and ambition of returning back to his native Dominican Republic. All in song and rhyme, naturally.
Jon M. Chu brings a similar colour and vivacity to his last success Crazy Rich Asians, but this time he's working with an all-singing all-dancing cast that includes Broadway professionals and established film and TV talent (Jimmy Smits, Stephanie Beatriz, Dascha Polano). La La Land was pretty good, admittedly, but it's undeniably refreshing to see a screen musical that prioritises performing ability above established star quality (again, The Greatest Showman and Cats. I will never forget.)
If you loved the opportunity to see Hamilton on Disney+, In The Heights has all the right recurring qualities. Obviously Lin-Manuel Miranda's music and lyrics are just as percussive and catchy ("Everybody's stressed, yes/But they press through the mess/Bounce checks and wonder what's next") bringing modern styles of R&B, rap and Latin pop into the showtune format. There's a lot of Alexander Hamilton, too, in the migrant lead character Usnavi's dream of making good in America, and flashbacks of an older Usnavi in the musical number above suggest that he does in fact make it back to his birth country somehow.
Exactly how it all comes together will be revealed on June 24, when In The Heights arrives in cinemas all around Aotearoa (with sneak screenings this weekend). We can't wait to venture out into the cold to see a sweaty, summer-set musical with plenty of talented people performing their hearts out on screen. If you want to be part of the action make sure to keep your eye on some nearby session times through the link below.