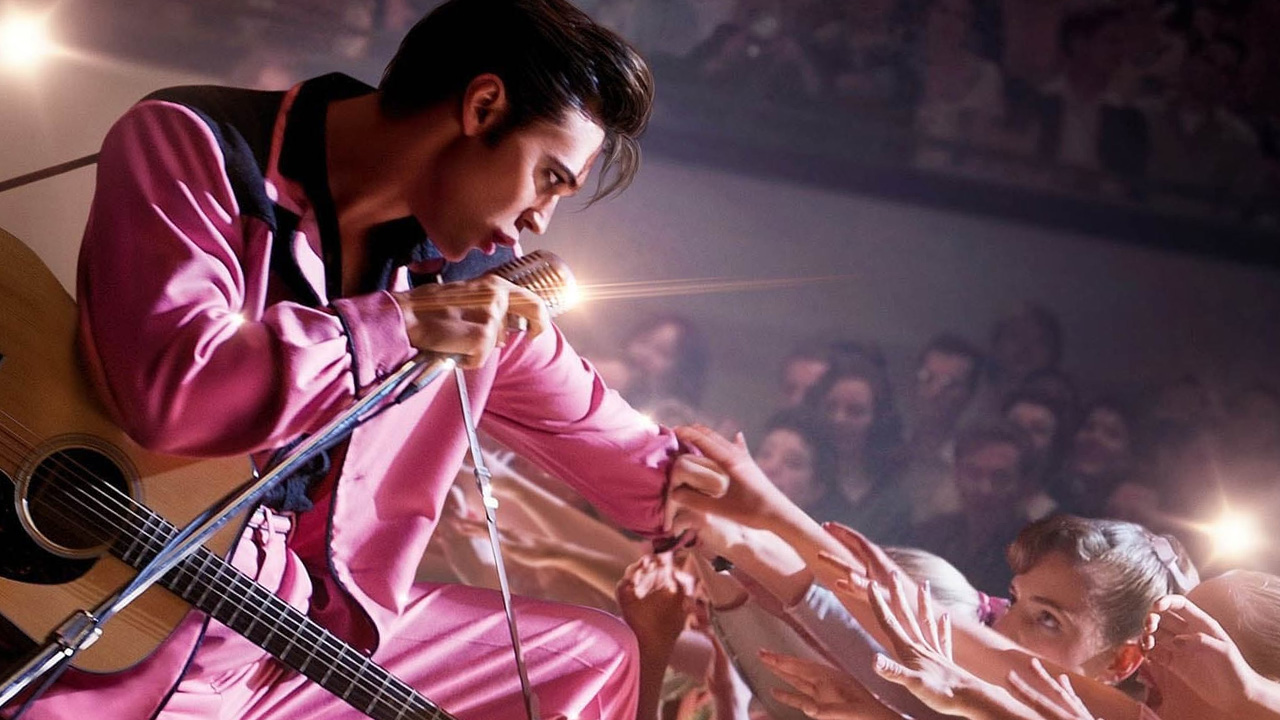 Baz Luhrmann's Elvis is mythology, not biography – and it's all the better for it

---
Tom Hank's domineering manager Colonel Tom almost threatens to overpower this overblown Elvis hagiography—which is really saying something, since it's a dang Baz Luhrmann film. Travis Johnson hails The King.
Musical biopics tend to be fairly rote affairs, by and large, constrained by the facts at hand and the strikingly similar paths that many of their subjects follow. That's why, while Jake Kasdan's sublime parody Walk Hard: The Dewey Cox Story might be specifically taking shots at the Johnny Cash movie Walk The Line, its choke is open wide enough that almost every film in the subgenre is caught in the spray, even later efforts like Bohemian Rhapsody and Rocketman.
The talent to formative tragedy to rampant success to shameful excess to redemption (or death) narrative track can be navigated blindfolded. With Elvis, director and co-writer (along with Sam Bromell, Craig Pearce, and Jeremy Doner) Baz Luhrmann is still beholden to the broad strokes of Elvis Presley's life, taking us from his impoverished rural childhood to his 50s stardom, 60s slide, the fabled 68 Comeback Special (a highlight), and finally his 70s decline and death. But Luhrmann is aiming for mythography rather than biography. As played by the striking Austin Butler, Elvis is not a man but an icon—an avatar of rebellion and rock 'n' roll, sexy, swaggering, and brilliant.
He's almost a religious figure: the blue-suede-shoed messiah who will heal the racial divides of 20th century America by sublimating down and dirty Mississippi Delta blues with heavenly Gospel choruses into something White America can venerate. Indeed, an early, brilliantly edited sequence dramatises this, cutting between a live performance of "That's All Right" and Elvis as a child (Chaydon Gray) being seized by spiritual fervour in a Black revival tent—literally being invested with the holy power of music.
Of course, Elvis did not heal those divides, and he died young, crucified by his own addictions at the age of 42. Luhrmann makes the odd—and perhaps unwise—choice to tell the tale of his musical messiah from the point of view of his tempter: his manager Colonel Tom Parker, played by a saturnine Tom Hanks, who makes a good fist of twisting his avuncular charm to sinister ends. It works and it doesn't.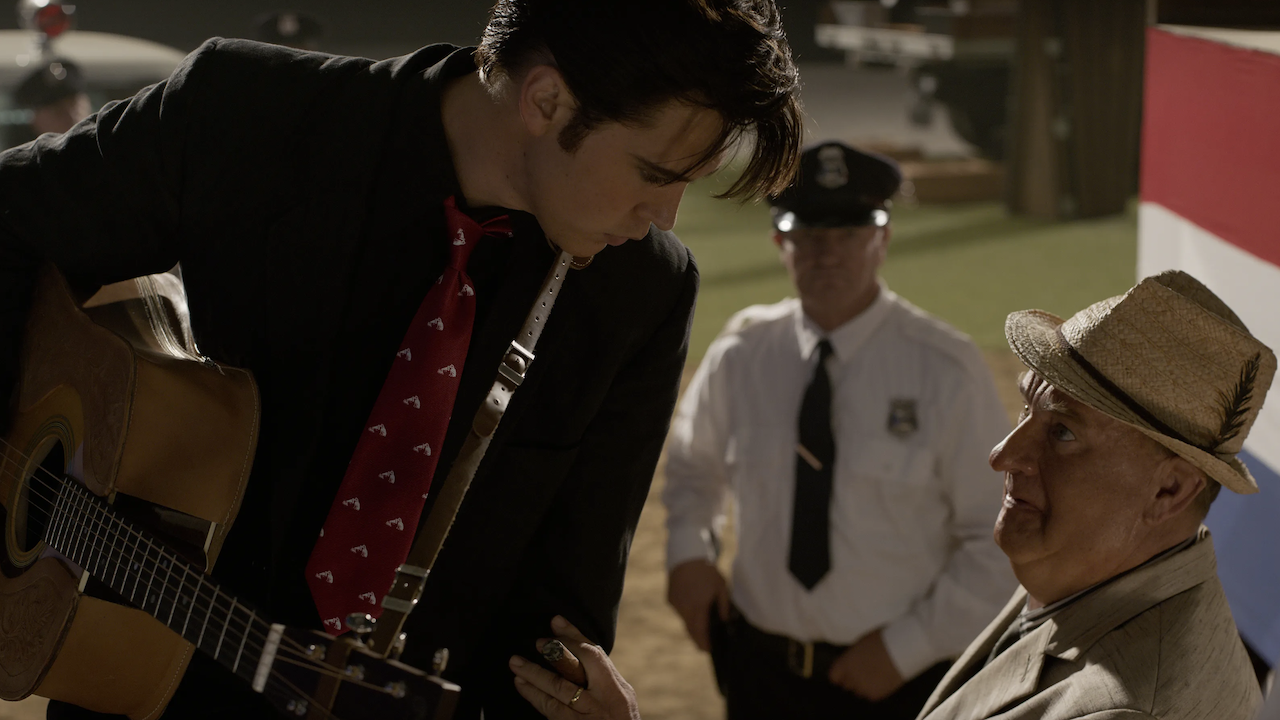 The need for some kind of narrative device to bridge the episode's of Elvis' packed story is clear, but Hank's OTT performance and pantomime Dutch accent frequently overpower the story. Quite an achievement when you consider that this is a Luhrmann joint, with every single element on screen trying to overpower both the audience and each other.
Nonetheless, Luhrmann's "subtlety is for cowards" approach still impresses, and it's appropriate we got a new film from him at a time when many pundits are pontificating on the nature of "maximalist" (aka as subtle as a brick to the face) cinema. It's like the king (and the King) was roused from his throne to sally forth and show us how its done.
Sign up for Flicks updates
Luhrmann's consummate, if overcooked, command of the frame, the cut, and the audio are all on display here, offering up an experience that's not so much narrative as kaleidoscopic. In fact, I suspect the only thing keeping the film tethered to formal storytelling is the insistence of the market that there be at least some kind of story throughline.
There are problems, to be sure. We don't get much sense of Elvis as a human being, and his interior life remains uncharted territory. On reflection, the film falters whenever it does slow down to invest its central figure with some kind of recognisable human feeling, although Olivia DeJonge as Priscilla Presley handles the bulk of the emotional work with grace and aplomb.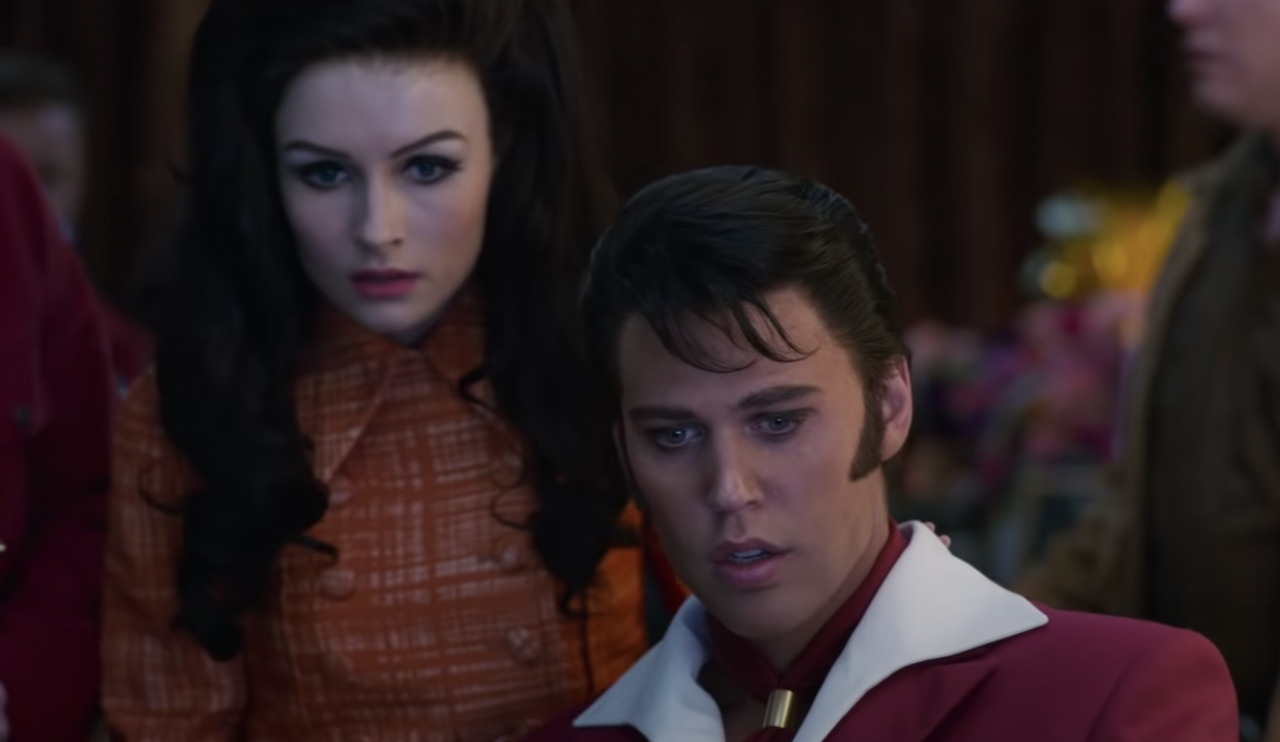 While the film grapples with some of the darker elements of the Elvis story, some—such as Priscilla's age when they first met—are glossed over, while others are entirely excised, and the final, morbid phase of his life is observed as a greater distance than all that precedes it. But this is a film about a monument rather than a man and cutting away from its demolition is understandable.
It's hard to think of a better match of filmmaker and subject than Luhrmann and Elvis, and the director certainly does a better job here of describing the dizzying highs and damning lows of success and excess than in the ill-considered The Great Gatsby. It's difficult to say if fans will get the Elvis movie they wanted, but it's absolutely Baz Luhrmann's Elvis, generally for the better, although occasionally for the worse.