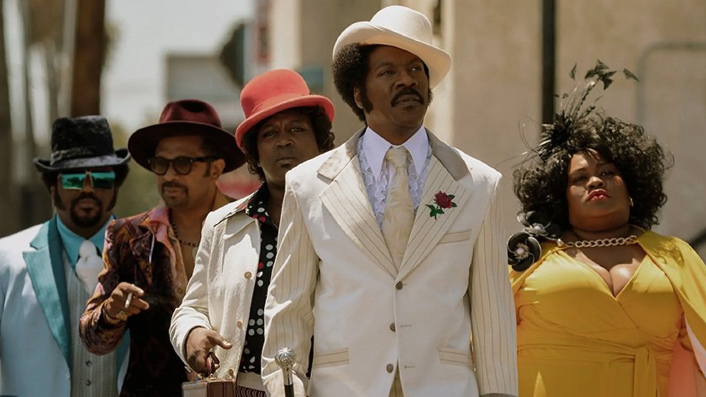 Eddie's back! Netflix's Dolemite pic is the feel-good movie of the year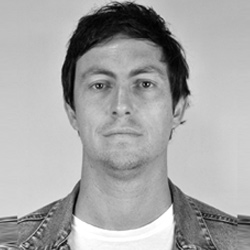 ---
Eddie Murphy is real-life struggling comedian Rudy Ray Moore who created the comic character of Dolemite—a cane-wielding pimp reciting raunchy comedy routines before setting out to make a blaxploitation film. Watch this on Netflix, writes Steve Newall, and you'll be grinning at the screen throughout.
Know this—when you sit down to watch Dolemite Is My Name, you're going to spend the best part of two hours grinning at the screen. Like me, you might even exclaim multiple times "Eddie's back!" (this part is optional). Whether or not you already know the story of Rudy Ray Moore's emergence as raunchy comedy character Dolemite, and the release of the 1975 blaxploitation film of the same name, there's so much to enjoy in this story celebrating one man's creative tenacity—rivaling that of The Room/The Disaster Artist's Tommy Wiseau (if not as uniquely deluded about his abilities).
Rudy Ray Moore is a role Murphy was born to play, his own '80s stand-up career having drawn on the profane hilarity that characterised Moore's Dolemite recordings (as well as those of contemporary Redd Foxx). Now aged 58 and having been relatively absent from the screen with only a few live-action appearances since his Oscar-nominated turn in Dreamgirls over a decade ago, it's a thrill to see that Murphy has lost none of his charm. As the 48-year-old Moore, straining to fit into his stage trousers and still working a daytime retail shift while he now somewhat despondently pursues stardom, Murphy's screen charisma goes a long way to explaining how Moore manages to never alienate his friends (a gang including Craig Robinson, Mike Epps and Unbreakable Kimmy Schmidt's Tituss Burgess), even when the new stardom scheme he cooks up might seem to them as doomed to fail as the last.
Watching Murphy's portrayal of Moore become cocksure as he develops his pimp persona, you can't help but cheer him on. As an older underdog, you can sense his history of setbacks, and see Moore's off-stage cheerfulness as its own sort of persona, revealed as such when it's peeled away in moments of seriousness. Through it all, Murphy is magnetic—when you're not ogling the consistently impressive period production design.
Sign up for Flicks updates
Ever the hustler, eventually the foul-mouthed proto-rapper figures he needs to get involved in the movie business. Without a shred of experience, Moore teams up with an artistically worthy playwright (Keegan-Michael Key), and they go about putting together an everything-and-the-kitchen-sink blaxploitation pic fueled on confidence alone. This marks the entrance of Wesley Snipes, and… well, holy fucking shit. Try to take your eyes off him while he flamboyantly chews the scenery as actor/director D'Urville Martin. You can't, and that's simply magnificent.
If Eddie's back, on the strength of this, Wesley is too (no, his What We Do In The Shadows series cameo didn't quite get him back in the frame like Dolemite Is My Name does). With any luck, they can sustain this with next year's comedy sequel Coming 2 America (also directed by Dolemite Is My Name's Craig Brewer). Until then, lap up these performances in a big-hearted tale of success against the odds, a celebration of victory on one's own terms. This may not mine the same grueling dramatic terrain of other showbiz pics or be the most artfully-made film, but it's just as engrossingly mythologising and wonderfully watchable as any other against-the-odds tale you care to name.
Honestly, days after watching it, it makes me happy just thinking about it—this is the epitome of a crowd-pleaser.