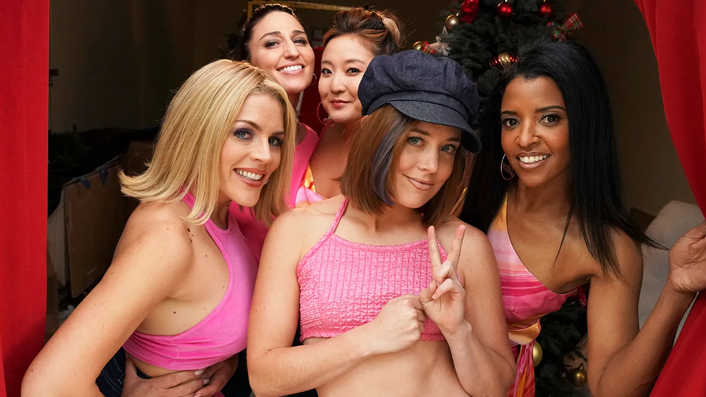 Fictional Y2K girl group comeback comedy Girls5eva is gr9 fun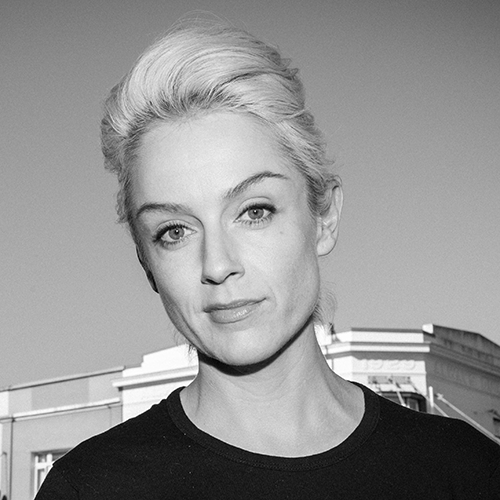 ---
A turn-of-the-millenium girl group gets a second shot at fame in new comedy series Girls5eva, streaming now on TVNZ On Demand. It's full of laugh-out-loud moments and show-stopping performances, writes Sarah Thomson – and just try getting the featured Girls5eva tunes out of your head.
"Gonna be famous five-eva /
'cause four-ever's two short.
Gonna be famous three-getha /
'cause that's one more than two-gether."
Famous 5eva – Girls5eva
Never have the opening couplets of a fictional turn-of-the-millenium girl group hit done such perfect heavy lifting.
In January 2020, NBCUniversal announced to investors in its (now year-old) streaming platform, Peacock, that future programming would include a Tina Fey exec-produced comedy about a Y2K era girl group, 'Girls5eva', "getting the band back together" in the post-Eilish age.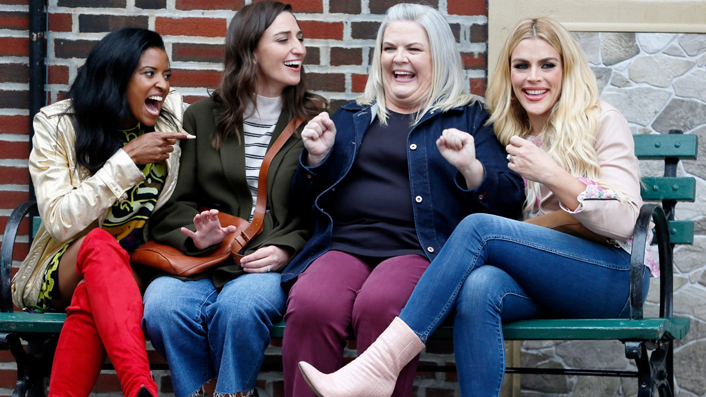 'Getting the band back together' is something Fey has shown she excels at across her projects, here reuniting talent in both cast and core crew from alma maters 30 Rock, Unbreakable Kimmy Schmidt and NBC's longstanding comic launchpad, Saturday Night Live.
While Fey's involvement may have pleased investors and trade papers, Girls5eva is a decidedly Meredith Scardino creation. A key writer for Schmidt and The Colbert Report, among others, Scardino's comedy screenwriting credits stretch back to the very era Girls5eva lovingly lambasts—the heady, VH1-saturated, butterfly-hip-tattooed early 2000s.
Aiding her in often pitch-perfect musical distillations of early naughts pop are the talents of fellow Schmidt alum, Jeff Richmond, with the pair responsible for the majority of Girls5eva's genuinely funny original songs:
"Girl you put me in the mood /
let's do kissing but never nude.
Look who went through puber-dude /
it's the Boyz Next Door [Boyz Next Door]."
Boyz Next Door (Puber-Dude) – Boyz Next Door
Set present day, the now "forty-blahblah" year old girl-group protagonists are invited to deal with the contradictions between their lives, then and now, when an up-and-coming rapper samples their biggest hit. Thrust into an ever-so-tiny spotlight twenty years after their short success, should the women attempt to capitalise on the glow, fuelled by what Girls5eva winkingly admits to be current pop culture's pillaging of the past for nostalgia?
Anchored by eight time Grammy nominated singer/songwriter, Sara Bareilles, playing Dawn—"the chill one"—the modern G5E includes an incredible Busy Philipps (Freaks and Geeks, Dawson's Creek, Cougar Town), Paula Pell (SNL), Ashley Park (Emily in Paris) and the total quadruple-threat that is Renée Elise Goldsberry (The Good Wife, Tony award winner for Hamilton). Well, 'modern' G5E doesn't actually include Ashley Park's Ashley—"the fun one"—we should clarify: the character tragically passed away in an incident involving the edge of an infinity pool.
Sign up for Flicks updates
Girls5eva is not immune to snacking on the plentiful low hanging fruit its subject matter provides: finely crafted dips into millennial Total Request Live nostalgia; a Max Martin analogue who verges on Swedish Chef pastiche; a leering pop mogul who's recently undergone 'sensitivity training'; well played shots at reality television's obsession with judged singing contests… the list continues.
But it's also full of laugh-out-loud moments of wider perception; expert distillations of the ridiculous contradictions of our highly media-saturated human nature.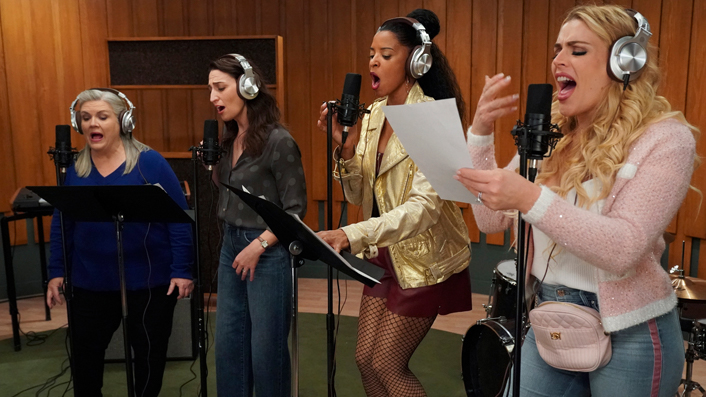 Depending on who you ask, the early naughts are an era of popular music best remembered for serving up pervy versions of Christian-valued just-pubescent horndoggery. When revisiting that era, as the show does in frequent flashback and reference, it's a fine line to tread in creating humour from the era's annals.
How does one recall those big burrowing earworms with fondness without also acknowledging their role as part of a wider, potentially damaging, commercial machine? Why do women end up so often not in charge of the profits they create? (Free Britney!) What happens when they try and reclaim that power? Was it even 'power' to begin with?
Throughout Girls5eva, there's a true kind of success in attempting to ask these questions while landing jokes for the twenty-twenties built upon already screamingly preposterous historical foundations.
(Here's a limited sample of said history.)
A success bolstered by the show's generally well-handled whips in tone, much like the best of Scardino comic fare, between the nostalgic, the ridiculous/surrealistic and more earthly issues, like: aging; LGBTQI+ erasure; motherhood; media exploitation; female independence.
Add truly show-stopping performances from Goldsberry (if you didn't know you needed 'The Maskical: The Musical' in your life, you do now) as well as Phillips, and you have an incredibly bingeable joy of a programme, whether or not you happened to be a pop culture consumer during history's peak-Sugababes-era. Oh, and just try getting the featured Girls5eva tunes out of your head.
As the group put it best themselves: "So, what are you waiting five?"