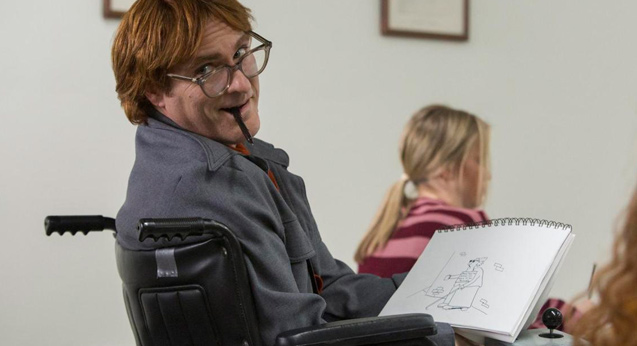 Joaquin Phoenix immerses himself in Don't Worry, He Won't Get Far on Foot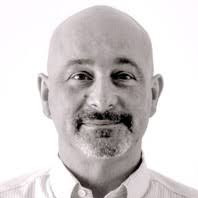 ---
Charting the late John Callahan's rocky road from alcoholism, through the car crash that left him a quadriplegic, to taking the twelve steps of Alcoholics Anonymous and gaining notoriety for his frank and darkly humorous cartoons, director Gus Van Sant (Good Will Hunting and Milk) employs a no-frills, naturalistic style, in a warts and all, decidedly unheroic portrait of a man battling his demons on the way to recovery.
As Callahan, Joaquin Phoenix immerses himself in the role, whether playing his inebriated younger self, or careening across Portland, Oregon's streets in his wheelchair at speed, he inhabits his character with total commitment. The supporting cast are top notch too, with Jonah Hill a stand-out as Callahan's guru-like AA sponsor, and Jack Black as the guilt-ridden drunk, Dexter. The main roles for women are less developed, with Rooney Mara's hospital therapist so angelic as to seem little more than a product of Callaghan's fevered male gaze.
Less about overcoming physical adversity and more focused on John's coming to accept himself, his past and his unknown mother, the central performances make up for an overly lengthy run-time, jumbled narrative, and male-centric focus. Some judicious editing could have hugely benefited the tale, but employing animated versions of Callahan's caustic cartoons to reflect on their real-life inspirations is an effective device, and Danny Elfman's jazzy score is a delight.
Eschewing Hollywood triumph-over-disability clichés, Callaghan learns to trump his self-loathing, relying on his cartoons as his way to challenge perceptions of alcoholism, disability and good taste. Don't Worry, He Won't Get Far on Foot is neither an easy title, nor an easy film, but its focus on self-acceptance as a route to recovery is well worth the effort.