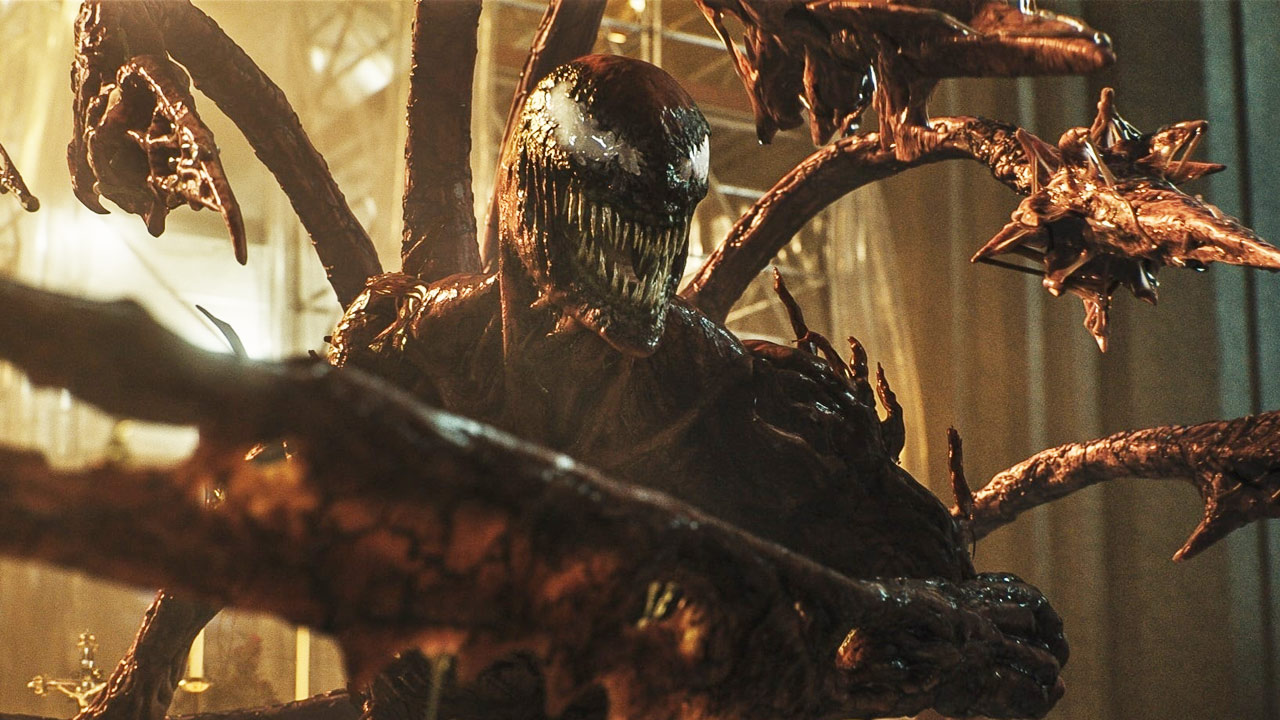 Let there be carnage indeed: the Venom sequel is sly, sharp and wickedly funny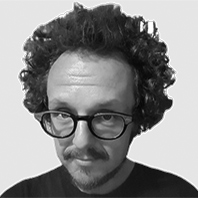 ---
Let There Be Carnage is what the first Venom movie should have been: a devilishly different comic book blockbuster that's visually and verbally interesting—plus it's pretty damn funny, writes Luke Buckmaster.
What a shame the original Venom was so dull and unimaginative, and such a grotesque parody of delayed puberty—because the sequel kicks arse. Had the series commenced with Let There Be Carnage, it would've bolted out of the gates as one of the freshest comic book franchises going around: absurd but wickedly funny, sly, and flat-out weird. Like Ghost Rider and the various Hulk movies, Venom views superpowers through a Jekyll and Hyde lens: a liberating but corrosive influence for the protagonist to resist and avoid, like the moral vampire trying to get by on grape juice instead of the good stuff.
Like Seymour Krelborn, who attempted to satisfy a flesh-chewing extraterrestrial plant with droplets of his own blood, Eddie Brock (Tom Hardy) tries to convince the titular symbiotic alien who lives inside him to settle on chickens instead of humans, addressing it in the manner of a miffed landlord: "you live in my body, you live by my rules." But the damn thing is ravenous and is the devil on Brock's shoulder—always expressing, through virulent demonic growl, the most terrible solution to any problem. This was apparent in the predecessor but things are different this time around; the peculiarly distinctive sequel is a shrewd comedy.
At one point, during a moment of heightened drama, Venom tells Brock—a journalist whose life has been upturned by the horrible thing attached to him, which in effect creates a split-personality disorder—to "pull up your big boy pants and take it!" When the alien shortly later adds "don't worry buddy, I will get you through this," it dawned on me that this is the story of unlikely besties, not just about the negative voices inside ourselves that won't shut up. A solid companion piece is Seth MacFarlane's very funny Ted: another film about a childish alternate personality stuck to an adult man, whose decorum-destroying companion is a fantasy representing life sans responsibility.
The blandest threads in Let There Be Carnage follow the emergence of villains Frances Barrison (Naomie Harris), who can manipulate sound energy by screaming, and serial killer Cletus Kasady (played with sleepy creepiness by Woody Harrelson). Barrison's story is particularly extraneous—her role isn't fleshed out, and her presence never matters—which is a shame, especially given that her backstory opens the film. Kasady is a garden variety sadist, sentenced to death by lethal injection, who invites Brock to see him in prison where he tries on the old "me and you are the same" chestnut.
Instead of showing some trepidation about his impending death, Kasady gets Shakespearean and warns that "something wicked this way comes"—a more loquacious way of saying "bad shit's gonna happen." He transmogrifies into a terrible bloodied red version of a Venom-ish creature, a bad arse version of a bad arse, and breaks free of prison—not before killing a guard who pleads with him to be spared on the grounds that he has a family, such words of course being the kiss of death for any movie character.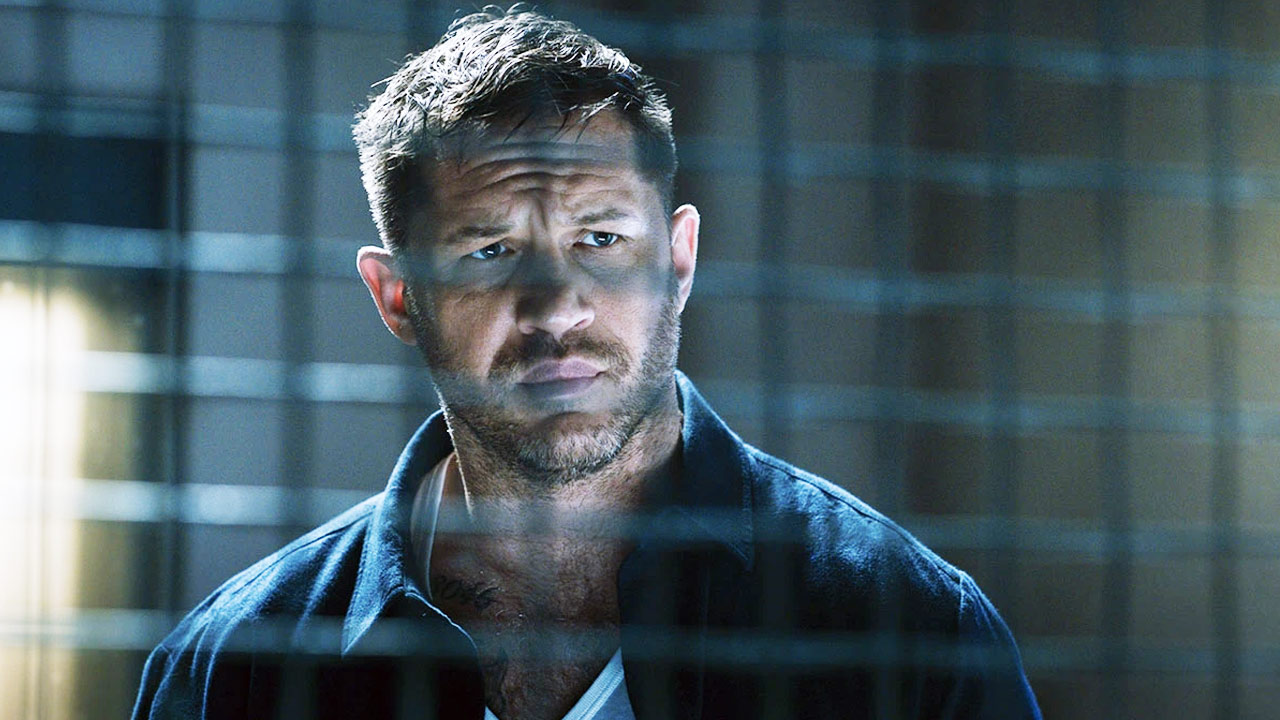 This plotline builds towards a showdown between a villain with a visual, literal split personality, and a hero with the same, as well as an additional villain with no split: three bodies, but also kind of five bodies, each with their own voice and personality—resulting in one great big cacophony. The action scenes are the least engaging aspects of a film that is visually and verbally interesting, director Andy Serkis (best-known for portraying motion capture characters) imbuing it with an impish sense of humour, the jokes (with the exception of Venom's verbal sprays) often not having clear beginning or end points.
When Venom, separated from Eddie, attends a dark night club where glowing neon bracelets are draped around his neck, and addresses an adoring crowd in an impassioned speech calling for an end to animosity against aliens, it's clear the film is taking the piss. But Serkis and screenwriter Kelly Marcel do so through situational absurdity rather than self-conscious wink-winking. This fine scene is a Bad Boy Bubby-esque moment: the disgusting eccentric, raised with animalistic values, laps up attention—like Bubby performing bad beat poetry with an alternative band—from an audience he relishes but will never understand. And probably wants to eat.
The vibe is dark, monstrous craziness, with no chance for a breather until the final credits roll. The role of the "antihero" is well known: the hero who acts unconventionally. But what about the anti-villain? One villainous character (Venom) certainly acts unconventionally in Let There Be Carnage. There are three other villains (Barrison, Kasady and alien symbiote Kasady) who are conventional, more or less, plus there is antihero Brock, who is unconventional, but becomes more conventional when he fuses with Venom to save the day. Quite a lot of voices. Quite a lot of carnage.