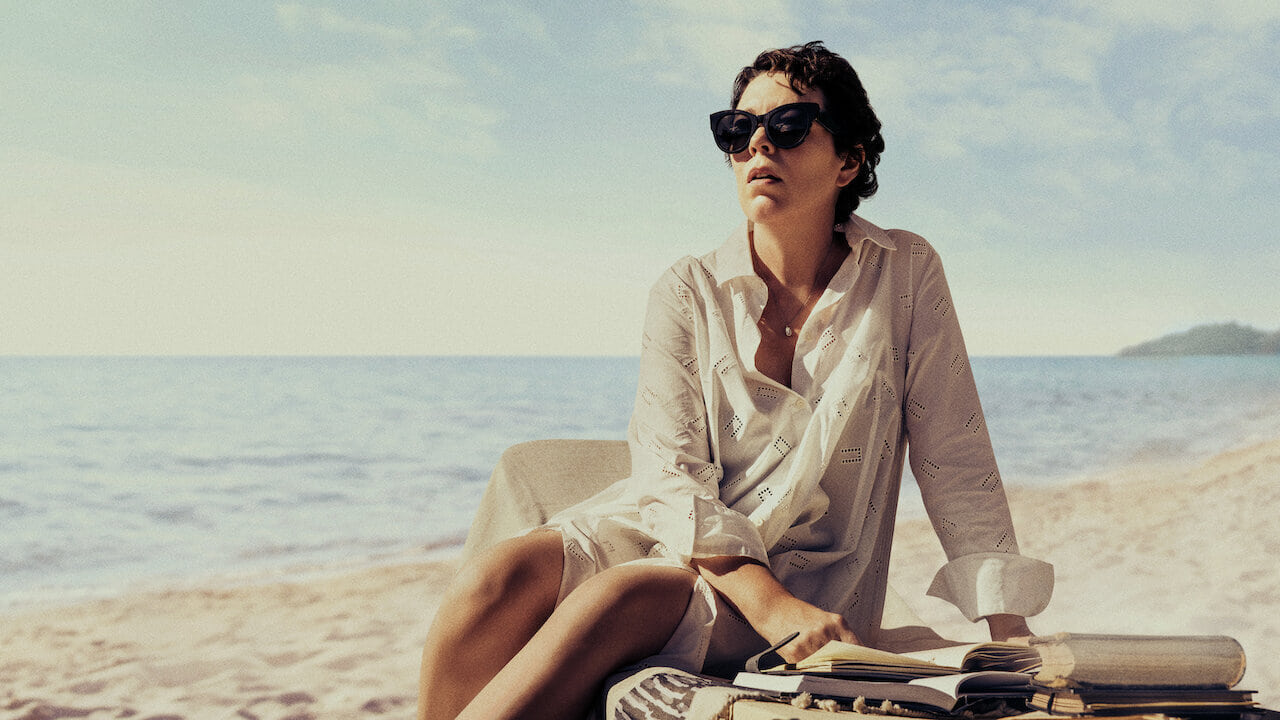 Olivia Colman can't take a holiday away from herself in aching drama The Lost Daughter

---
Maggie Gyllenhaal's directorial debut casts Olivia Colman as a smug, single-minded tourist. Get lost in this "brilliantly uncomfortable" cinematic vacation with critic Rory Doherty.
A clear motivation is often touted as necessary for an audience to engage with a character. We need to identify why someone acts the way they do, what's driving their behaviour, to follow their journey. But sometimes, a lack of transparency compels an audience more than relatability ever could.
Sometimes, as in the case of Maggie Gyllenhaal's The Lost Daughter, an opaque motive for dubious behaviour is considerably more effective in getting a viewer to ruminate on its character's hidden psychology.
In her directorial debut, Gyllenhaal has created a complicated and quietly venomous ensemble. Adapted from the novella by Elena Ferrante (author of My Brilliant Friend and the rest of the Neapolitan Novel series), it follows the Grecian island holiday of the academic Leda (a perfectly pitched Olivia Colman), whose holiday bliss is impeded by an entitled American family.
They're introduced in a brilliantly uncomfortable beach invasion where the matriarch Callie (Dagmara Domińczyk) insists that Leda must move from her beach lounger to accommodate their obnoxious masses. Leda declines to shift. It's the first sign of the tension that pervades the film; overstepping social niceties and boundaries, seemingly out of sheer glee of the discomfort that will be caused.
The film's title has many meanings, but its most literal interpretation refers to a short sequence where Callie's daughter Nina (Dakota Johnson) realises she can't find her own daughter on the beach. Panic breaks out, as the band of hot-headed Queens residents scramble to find the missing child. Leda ventures out and emerges—calm, collected, if a little smug—with Nina's daughter unscathed.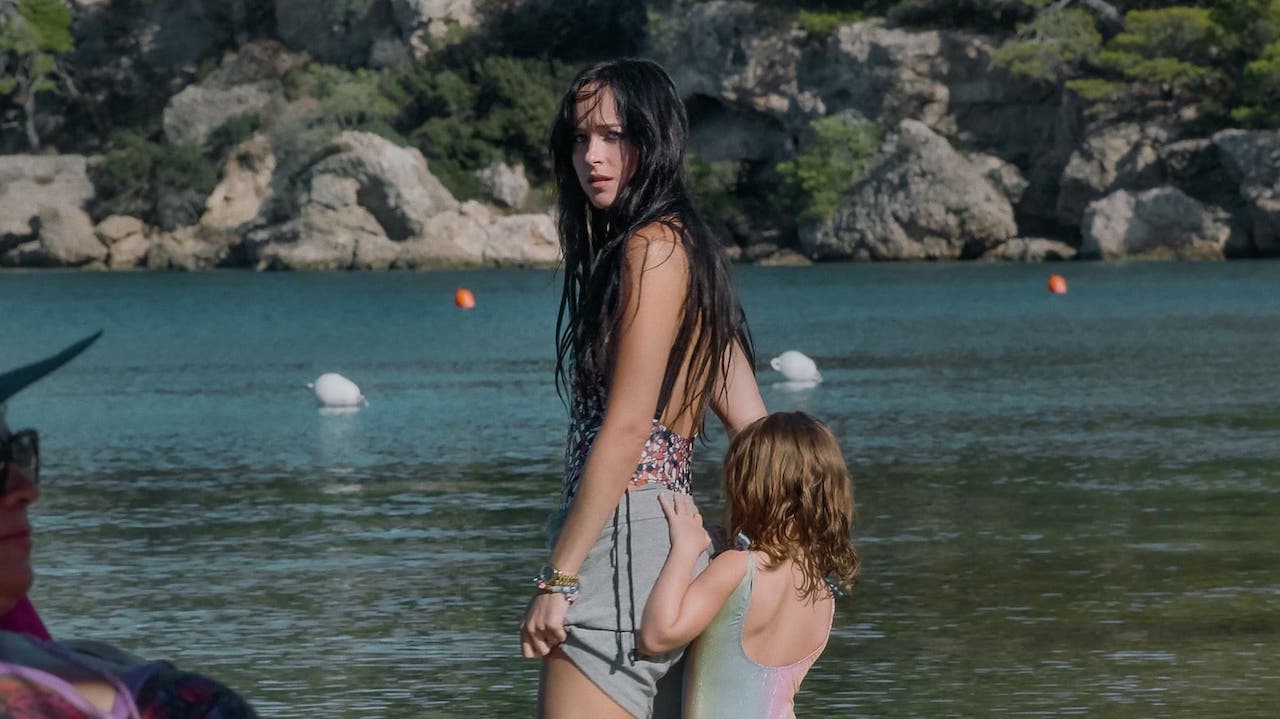 Leda's initial uncomfortable interaction with Callie and Nina is soon dismissed, but Gyllenhaal doesn't let relationships remain amiable for any length of time, quickly veering Leda into passive aggression and sly derisions. Her insults aren't slick, effortless, or overwritten; she's not a smartest-person-in-the-room Aaron Sorkin character, despite regularly being more clever than those around her (and knowing it). The impact of her meanness is felt due to the precarious social codes she transgresses, the ones holding mutual politeness together. Being this openly rude just feels wrong.
The help she gave Nina and Callie is further undermined by the reveal that Leda has secretly held onto a misplaced doll, the search for which frustrates the brash holidaymakers for the rest of the narrative. Why does she do this? Is it to instil a rift between a mother and daughter? Petty, selfish revenge? Leda's way of maintaining some link to another relationship and its troubling memories?
All is revealed (or further obfuscated) through a series of flashbacks to Leda as a young mother, effortlessly played by Jessie Buckley. As her relationship with her husband and young daughters is coloured, as the present tinges memory and the past affects her behaviour, The Lost Daughter feels heavy with the ache of not being able to recover something, or someone, that we recognise now is lost.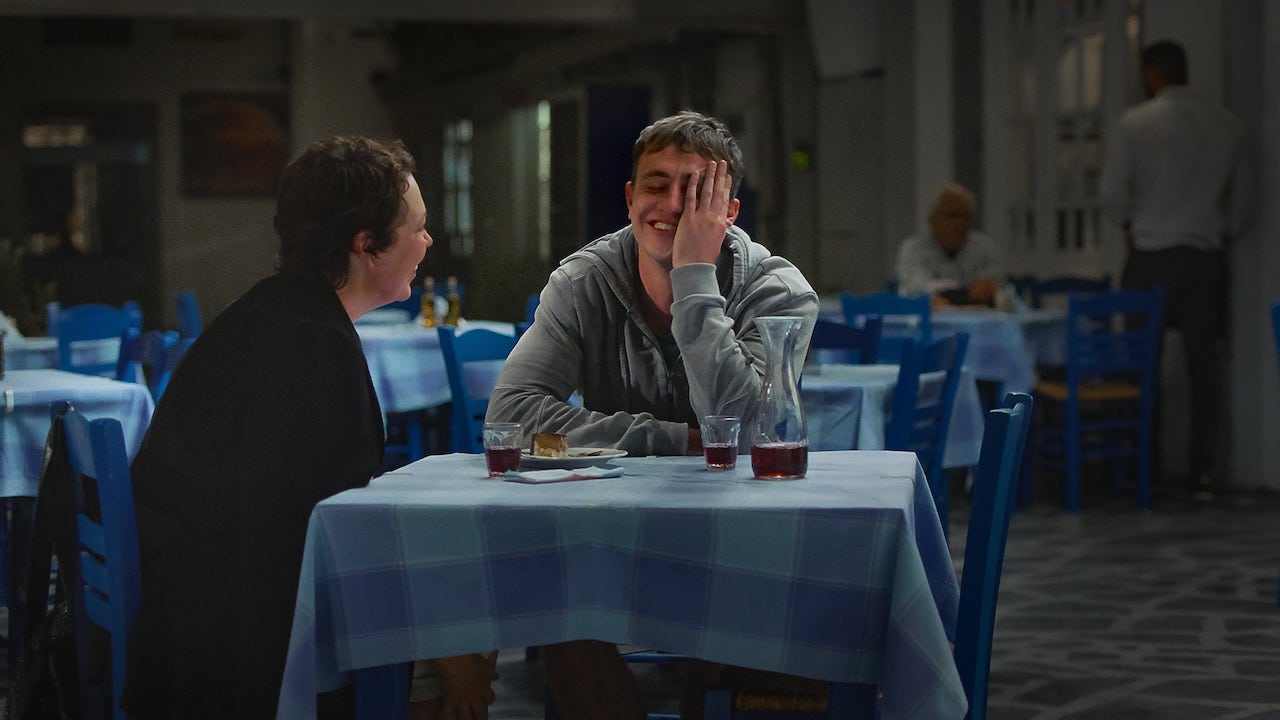 What's so effective about Gyllenhaal's character study is how single-minded its protagonist is. Leda's selfishness manifests not just in her combative actions, but even in her attempts at intimacy. The men who work on the island—older, hardened Lyle (Ed Harris) and young, charming Will (Paul Mescal)—both take a shine to Leda. Through their conversations, it's revealed she isn't letting her guard down to foster any real connection, but because these men mean nothing to her. With all the film's women, Leda operates on a strange contradiction; she thinks she's better than them, but still needs their approval.
The script pierces with sharp insight and dialogue; lines like, "Children are a crushing responsibility" pack a lot of weight in a film where kids provide constant anxiety, whilst their parents seem always detached from them. Structurally, the screenplay can feel a little sagging. Scenes could use tightening to focus their impact, and on a macro level, the 120 minute runtime seems overlong for an adaptation of such a slim book.
But otherwise, The Lost Daughter is consistently impressive. There's little to fault in the character construction, where everyone acts as a distorted reflection to each other, in a film that reminds us that our absence can be more harmful than our presence.