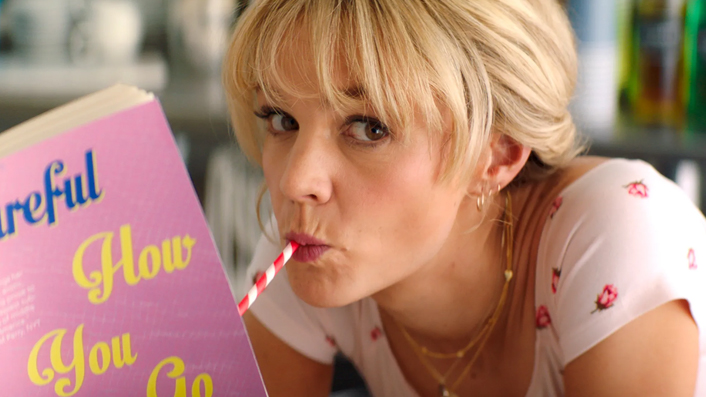 Rarely is a film as decisive, deliberate or devastating as Promising Young Woman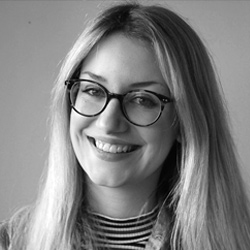 ---
A woman (Carey Mulligan) tries to right a wrong from her past by taking revenge on predatory men in Promising Young Woman (in cinemas January 7). With stunning performances from Mulligan and her supporting cast, and a truly searing vision from director Emerald Fennell, it's a withering and sardonic critique that is unafraid to say what it means, writes Katie Parker. 
Content warning: This film discusses issues surrounding sexual assault.
When we first meet Promising Young Woman's protagonist Cassie (Carey Mulligan), she is doing what she does every weekend: sitting alone in a bar, eyes bleary, barely able to stand, the textbook definition of a mess. Watching from afar is a group of bemused, bawdy men. The nicest one (Adam Brody) attempts to help her home safe…only to somehow take her back to his apartment. Watching her gradually pass out, he finally makes his move—only to discover that Cassie is in fact stone-cold sober, and ready and waiting for this exact scenario.
See also:
* All movies now playing
* All new streaming movies & series
Living at home with her concerned parents, and working unenthusiastically at a local cafe, Cassie's life revolves around this late night hobby: going to bars, pretending to be blackout drunk and then terrorising the lecherous men who see her inebriation as equal to (or even better than) consent. Her former life, as a gifted medical student attending college with her best friend Nina, ended seven years earlier when a college campus sexual assault led both girls to drop out. Now, Nina is dead and all Cassie can do to keep herself sane is take revenge on men just like the ones in her past who were never held to justice.
But just as Cassie's hobby threatens to consume her, a run-in with former classmate Ryan (an incredibly charming Bo Burnham) offers her the chance of romance, happiness—and a potential path away from her weird, dangerous little night life.
In a post-#MeToo world, it would have been easy for first time director (and season 2 Killing Eve showrunner) Emerald Fennell to consider this quite enough for audiences to chew over. Permeated with an uncomfortably cute, candy coloured aesthetic and soundtracked with a droll collection of bubblegum pop, Promising Young Woman initially plays Cassie's vigilante escapades for pitch black comedy: cathartic, yes, groundbreaking, no.
But Fennell has something much deeper, and darker, in mind for Cassie's journey, and a very specific destination to which all this is leading—one that may be as divisive as it is distressing, and which, ideally, should remain as unspoiled as possible before viewing.
As a rape-revenge thriller, Promising Young Woman is about as far a cry from the classic tropes of the genre as one could get: never do we see flashbacks to the assault or the tragic aftermath, nor is the word "rape" ever even uttered. Instead, like Cassie, we are faced with only the harsh reality of the present—and a bunch of people who seem to think that phrases like "we were kids" and "she was drunk" can change the facts of the past.
Yet even without violent images or crass descriptions, Promising Young Woman is an incredibly confronting watch—the slow, wry buildup perhaps making the film's stunning conclusion even more of a gut-punch. What you make of these final moments will depend on you—reactions could easily span from adulation to anger, and admittedly I am still mulling over where I sit on this spectrum.
Arguably though, this is Promising Young Woman's masterstroke: It may start out coy, but the final act leaves no room for doubt: Fennell's film is as scathing as it is uncompromising, a withering and sardonic critique that is unafraid to say what it means. With stunning performances from Mulligan and her supporting cast, and a truly searing vision from Fennell, rarely is a film as decisive, deliberate or devastating as Promising Young Woman, as it marches to its contentious, crushing conclusion.