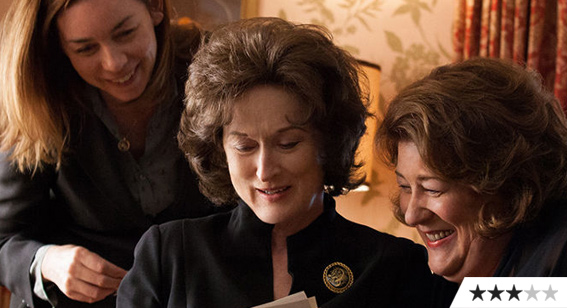 Review: August: Osage County
---
Katharine Hepburn once said that while watching Meryl Streep you could see the wheels turning in her head. That's a rare distraction, but it invades Streep's otherwise impressive turn as a pill-addled matriarch in Tracy Letts' adaptation of his Pulitzer-Prize-winning play. Streep so inhabits the complex Violet in August: Osage County that it's virtually impossible to envision anyone else in the role, let alone focus on the other stars in the film. But as she rides the highs and lows of the meds, her performance teeters between the brilliant and the OTT.
Julia Roberts as the most brittle of Violet's daughters, however, is outstanding; her character's epiphany is worth the admission price alone. Hers is one of many authentic performances in a film that demands much of its strong cast, many of whom, Roberts included with her scant makeup and greying roots, transcend themselves in the process.
Still, like the landscape in which this emotionally gruelling story is set, the opening is flat and slow. It also takes a while for its theatrical source material to find its footing on the big screen. But Letts ramps up the caustic, sometimes funny assaults, mummy issues and shocking skeletons, particularly during one riveting yet simple scene set around the dinner table.
Whether you can stand the shrillness with which this takes place is a matter of personal taste. But the beauty of the story is its ability to convey a breadth of meaning. This could be any family, wrestling with the (often unspoken) tension between siblings, parents, husbands and wives, not to mention races, classes and generations.