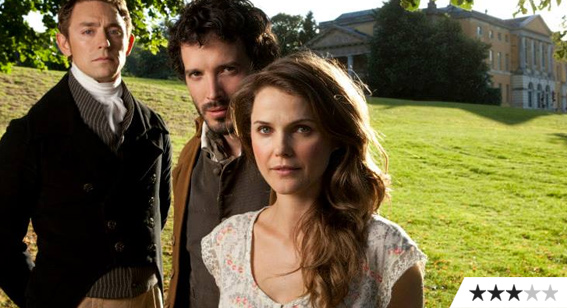 ---
Bridget Jones may be dead but Mr Darcy is well and truly alive in this incredibly silly, not-terribly-literary but very funny comedy. The Jane Austen theme park setting – in which guests are promised to enjoy a romance with one of the suitors while pretending to live within the claustrophobic social rules and courting rituals of the Regency era – means that broad humour, rather than witty satire, rules the roost.
Austen fan Shannon Hale wrote the original novel on which this is based, adapting it for the big screen with writer-director Jerusha Hess (Napoleon Dynamite), and Twilight author Stephenie Meyer as producer. Much of it feels like a daft theatre production that somehow spilled onto celluloid. But its giddy, farcical energy means even the non-bookish will get a laugh out of it.
Flight of the Conchords' Bret McKenzie is one of the milder comic characters, as is the flawless Keri Russell as protagonist Jane; elsewhere the ensemble is mad, camp or both, particularly Jennifer "Stifler's Mom" Coolidge, playing the ignorant Yank who comes out with garbled attempts at the "tally-ho!" dialect, and Georgia King as a hilariously earnest wannabe.
Although the pretending starts to wear thin after a while, and the heroine's motivations feel desperately old-fashioned, ultimately the story is about what's real and what's fantasy. This gives the stars, including a dapper JJ Feild as the Darcy-like Mr Nobley, quite a few layers of subtext to play with. Austenland is bound to become the guilty pleasure of the spring.